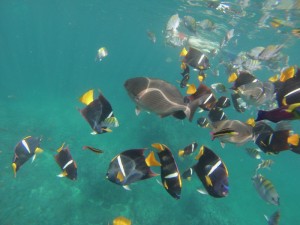 My second trip out of the country was to the Caribbean. Toronto was my first cross-border experience but I don't remember much from my terrible 2's.
Travel to many parts of the Caribbean is an affordable option for Americans looking to step out of the country. Whether it's taking a cruise or hopping on a plane to Jamaica, you can often get more value for your dollar than traveling to Europe.
We particularly liked traveling with our kids to the Cayman Islands. During the off-peak season it was quiet and more affordable.
Grand Cayman is small and can be expensive. However, as you'll find with any destination you visit, there are ways to save money so that you can treat your family to Turtle Farm and Seven-Mile Beach.
Another country relatively close to home that requires a passport and is popular among American travelers is Mexico.
Mexico's history and geographical diversity are attractive draws. Flights to cities like Cancun and Puerto Vallarta from major American airports can be quite affordable. This is a plus for families looking to travel to Mexico.
We've only scratched the surface of our personal exploration of Mexico. For ideas on where to go and what to do in the Caribbean and Mexico, check out any one of the posts below:
Travel To Mexico
A Video Tour Of Puerto Vallarta
Puerto Vallarta Dolphin Experience At Dolphin Discovery
Exploring The Mexican Riviera At Palladium Hotels And Resorts
Travel To The Caribbean
Nassau, Bahamas – The Queen's Staircase
Carnival Sunshine On-Foot Excursion: Cayman Islands National Museum 
The Real Thing About Things To Do In Jamaica With Kids 
Family Friendly Resorts In Jamaica: Palladium Hotel And Resorts
Annually, we make it a point to visit at least one country in the Caribbean or state in Mexico. Have you been wanting to take a family vacation to either of these areas? Stuck on how to start?
Let us help you plan your next adventure.