Most popular thing to do in Gettysburg
World renown as the historic Civil War town, the majority of visitors who are looking for things to do in Gettysburg come for a tour of the Battlefield.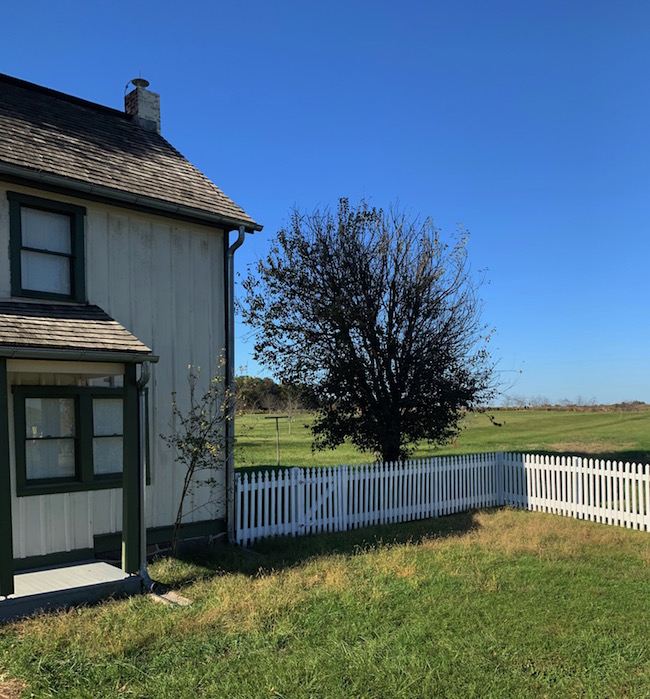 And whilst the Civil War battlefield is a major attraction in Gettysburg, it's not the only draw. Thanks to a growing generation of basement brewers and distillers, Gettysburg's beer, wine, and spirits trail is also attracting visitors from Maryland, D.C., Virginia and other Pennsylvania counties.
The Adams County Pour Tour officially launched in May 2018, comprised of 14 wineries, breweries and distilleries. Today the marketing arm of Destination Gettysburg counts 20 partnered wineries, meaderies, breweries, distilleries, and cideries in its collective.
How the Pour Tour Works
The Adams County Pour Tour is available year-round. You traverse on a self-guided journey tasting various alcoholic libations in Gettysburg and throughout Adams County.
Where to get an Adams County Pour Tour passport
You can pick up a "passport" in one of three ways. You can get one at the Visitor Center, order it online, or grab one at any of the Partner stops on the tour.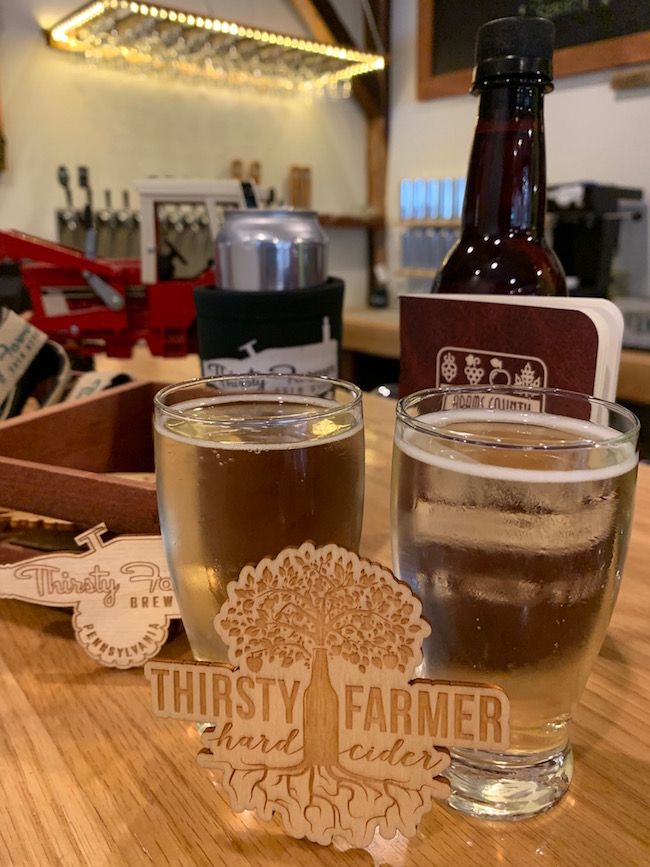 For every drink you enjoy at one of the 20 wineries, breweries or distilleries, you receive a stamp in your passport. The more stamps you accumulate, the closer you get to receiving a Pour Tour prize.
– For 5 unique stamps you receive a set of coasters.*
– For 12 unique stamps you receive an Adams County beer glass.*
– for 20 unique stamps you receive a branded bag of goodies.*
*"Prizes may vary and are subject to change throughout the life of the program."*
Pour Tour Partners
During a hosted stay with Destination Gettysburg, I had a chance to meet some of the partners behind the Adams County Pour Tour. Learning about the farm to glass process of an operation like Thirsty Farmer Brew Works, for instance, provides context for why some farms diversify their business model to include not only produce but also their own alcohol products.
Boyer Cellars
Jack's Hard Cider
Thirsty Farmer Brew Works
Halbrendt Vineyard & Winery
Adams County Winery
Brookmere Wine & Tasting Room
Center Square Brewing
Dawg Gone Bees
Appalachian Brewing Company – Gateway
Battlefield Brew Works
Mason Dixon Distillery
Mount Hope Winery
Knob Hall Winery
J&P Winery
Reid's Winery: The Cider House
Fourscore Beer Co.
Buddy Boy Winery Tasting Room
Tattered Flag Tap Room
Adams County Winery – Gettysburg Wine shop
Appalachian Brewing Company – Battlefield
Pour Tour Stops
Here is an interactive map of the Pour Tour Partners. You can see from this Gettysburg Pour Tour map where each shop is located with respect to the downtown Gettysburg area.
Food on the Pour Tour
Please plan your meals accordingly as you go through the tour. Only nine of the twenty stops serve food. Those establishments include:
Mason Dixon Distillery
Thirsty Farmer Brew Works
Adams County Winery
J&P Winery
Center Square Brewing
Fourscore Beer Co.
Appalachian Brewing Company – Gateway / Battlefield
Battlefield Brew Works
The Adams County Pour Tour Shuttle
If you want to partake in the tour and ride safely, you can purchase tickets to catch the Adams County Pour Tour Shuttle. You'll receive water, a free gift and safe reliable transportation to and from a variety of stops.
Types of Wine to Expect on the Adams County Pour Tour
Many of the wines you'll taste on the Pour Tour are sweet wines. Thanks to an abundance of fruit orchards in the area, you'll find very few dry wines on this particular trail.
I personally prefer dry reds but some of the sweet wines I tasted and loved were the Rebel Red, Tears of Gettysburg from Adams County Winery; Crabapple Imperial from Boyer Cellars; and the Pink Catawba, White Sangria, Niagara, Peach Wine from Mount Hope Winery.
Types of Beer to Expect on the Pour Tour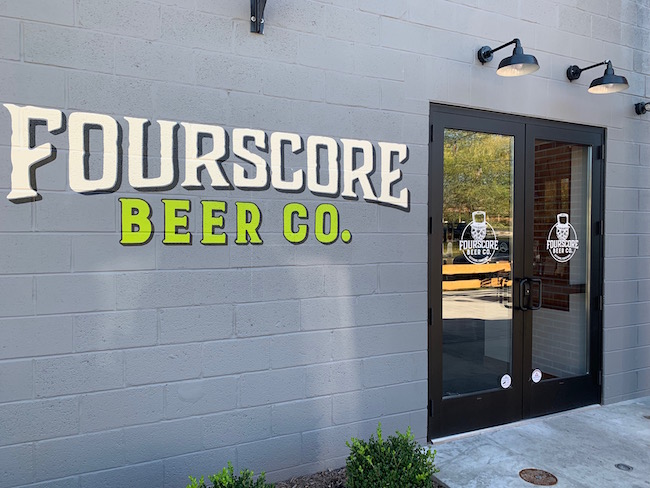 You'll find a lot of craft beers at the breweries on this tour from IPAs to Lagers, Stouts, and Ales. Many of the breweries also offer seasonal beers that loyal customers come back for over and over again.
Fan favorites include the "Hefe"weisen from Thirsty Farmer Brew Works and the Time Keeper from Fourscore Beer Co.
Interesting History and Facts on a Few Pour Tour Partners
Boyer Cellars
This five generations operation has been grinding since 1900. The family of farmers specializes in growing fruit trees including peaches, pears, nectarines, cherries, apples, and more.
They boast 500 acres in productions with 100 of those acres being apples.
Boyer Cellars offers a full-service garden center and tasting room. Their market is open from Spring until Christmas and their popular labyrinth with over 1000 shrubs planted in the maze is free and open daily.
What to Try: Crabapple Imperial
Thirsty Farmer Brew Works
The family behind Thirsty Farmer Brew Works was originally fruit farmers. This fully operational farm has been around since the 1930sz
The dad Milton Knouse made porters and stouts in the basement as a hobby for over 25 years. Family members all individually started brewing beer and realized they should start making it for sale.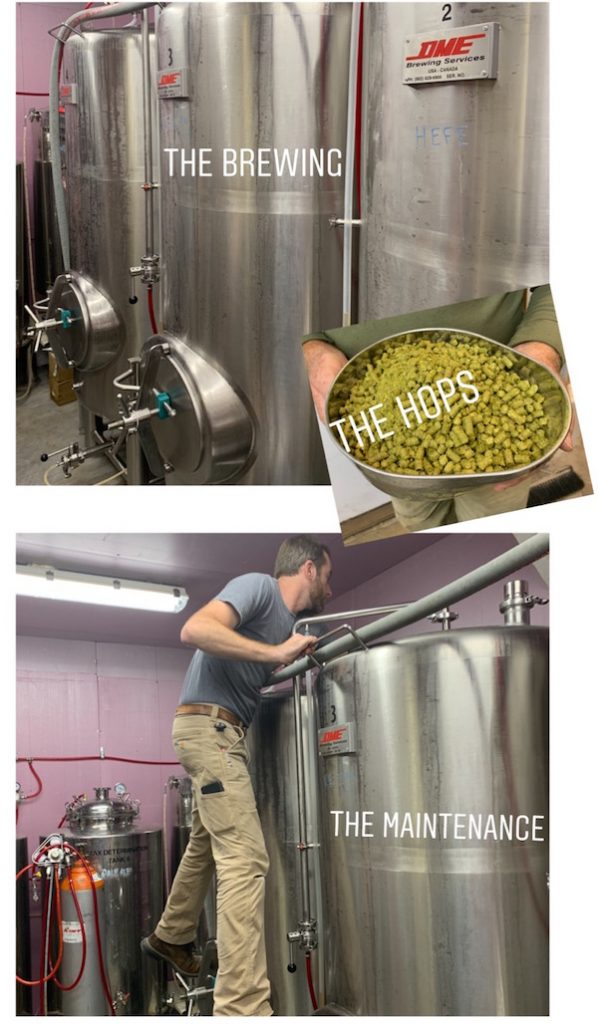 They started with small 30-gallon batches to test demand. After realizing the plan would
work, 25 family members went on vacation together and voted on a name before crowdsourcing the logo.
Thirsty Farmer's mission is to make the Farm a family-oriented place for people to enjoy.
What to Try: The onion rings, warm apple cider donuts, pulled chicken sandwich, Mac and cheese. Their most popular beer is the "Hefe"weisen.
Fourscore Beer Co.
Opening in July of 2019, Fourscore is the newest brewery in downtown Gettysburg. The Little brothers run the operation offering 12 varieties of beers.
Mount Hope Winery
They produce all the beer for the Pennsylvania Renaissance fair. Their downtown tasting room opened in 2018 with a microbrewery onsite.
The Mount Hope 80 acre estate is located in Lancaster PA. Mount Hope produces wine by the juice, not by crushing the grape. They bring juices in from all over the country as well as outside the country to accomplish this, manipulating the product how they want to get the taste they're after.
In addition to wine, they also produce spirits including rum, bourbon, gin, and vodka.
What to Try: Gettysburg Battlefield Series – Pink Catawba, Niagara
Adams County Winery
Adams County's original winery, Adams County Winery offers one of the oldest wines made in Pennsylvania. They grow eight different varieties of grapes, with a vineyard that spans 12.5 acres.
The 80-acre farm is PA preferred which means most of the grapes they use in their wines (aside from the concord and Niagara) are Pennsylvania- grown.
What to Try: Rebel Red, Tears of Gettysburg
Mason Dixon Distillery
The building that houses Mason Dixon Distillery was built in the early 1900s and served as the Gettysburg Furniture factory. Owned by a father and son team, Mason Dixon Distillery grows some of its own grains used in its spirits on leased battlefield land.
The owner, Yianni Barakos, goes for getting biggest flavor out of his grain
What to Try: The lavender lemonade and rum punch are on point! As are the Brussels sprouts.
Appalachian Brewing Company
The company has been around for over 20 years. The original location is located in Harrisburg in a building bought for $1 in 1997. ABC was the first brewing company to come back to that area since 1946 prohibition.
They produce four types of beers: ales, lagers, stouts, and IPAs.
What to Try: For non-beer drinkers, check out the cider.