Flying in to sunshine and 80 degree weather from clouds and frost, the Riviera Maya is a welcomed reprieve. The slightly confusing and disorganized scene at Cancun customs is easily dismissed when you know that relaxation, a piña colada and the beach are waiting for you on the other side.
The Riviera Maya is 90km away from Cancun International Airport. No less than a dozen people will harass you, offering up their services for a ride to your destination.  [Tweet "Tip: Make sure you secure your transportation BEFORE you get to Cancun. The onslaught of "Hola.." can be overwhelming."]
Once you're securely in your ride, you can sit back and enjoy the miles-long strip of resorts that line either side of Carretera Cancún Tulum.
Grand Palladium Kantenah
Palm trees cradle the entrance to Grand Palladium Kantenah Resort & Spa. Unfortunately, I didn't capture the shot because I was too engrossed in my convo with fellow passenger, Raggs creator Toni Steedman. She was hyping me up about what to expect during my upcoming weekend, including most immediately, a cold drink and a stroll along the beach.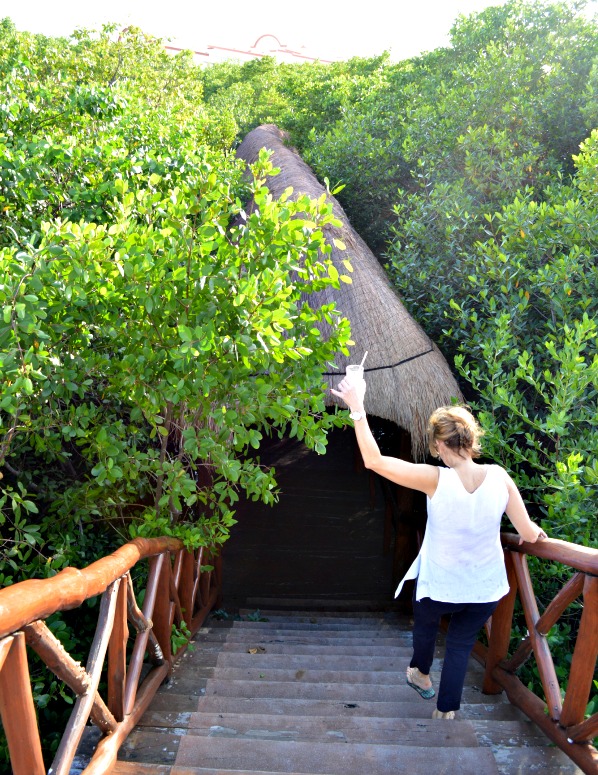 Fret not, I have other images to share. Just visit my Palladium photo gallery for a more visual post. You know the old saying…"a picture is worth a thousand words." In that vain, here are my Cliffs Notes highlights of the Palladium Riviera Maya and my visit there.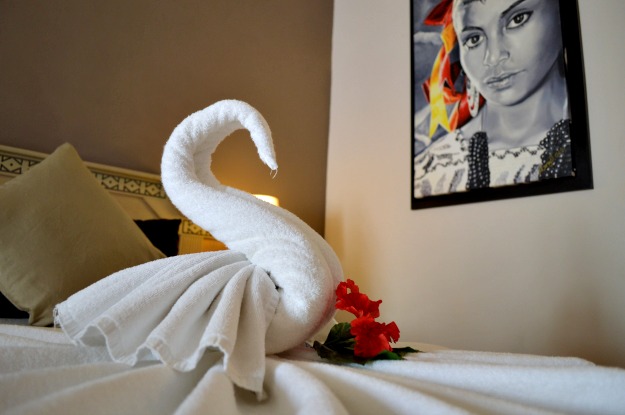 Loved my junior suite room. I had it all to myself and it was LOVE-ly! From my balcony all I could see was lush foliage. The welcome basket from the resort with the accompanying fruit and cheese plate brought the tropics next to my night stand, permeating the air with a mix of sweet smells that took turns and didn't compete.
The beach and accompanying view. How can any Riviera not be gorgeous!? I mean seriously. Still fully-clothed with my winter gear (sans coat and gloves), I walked jealously past beach goers relaxing on hammock, sand or chairs, drink in hand, while I worked, taking photos and gathering intel on the resort. Where I was able to join them is at highlight #3.
Bars, bars, and more bars. There are twenty three (that's right, I said 23!) in total on the property. The great thing about an all-inclusive: drink as much as you want, when you want at any bar that you want. And, it doesn't have to be alcoholic. But it's there. Not one to pass up a piña colada, that was my first drink on the resort. My host babysat hers while I drank mine with a vengeance and with no regard to its potentially debilitating contents.

Those naughty Palladium pirates.

Nightlife – To say I was pleasantly surprised by the caliber and quality of the performances is an understatement. I was almost shocked! Come on, you've been to an all-inclusive and on cruise ships where you suck up the cheesiness of the show, chalking it up to the nature of the way way way off-Broadway beast. It is what it is. However, both the Raggs kids show and the nightly adult show were really good. The adult's pirate show was the bomb. Pole dancing females and males? Right!
Smiling Faces – Although I was the only black woman, on the whole resort the 4 days that I was there, the majority of the people I met were friendly, especially the employees. They were accommodating and seemingly happy to be working there. I did encounter one ignorant guest who questioned my access to the exclusive adults-only area but I quickly let her know what time it is without having to get ugly or ruin my stay. At the end of the day you realize, people like that need to travel more.

Food was spectacular!

The food! All I can say is I ate damn well. The buffet was ridiculous and the specialty restaurants where you can dine at no extra cost, exceeded my expectations. My favorite spot: Punta Emilia Restaurant where we enjoyed delicious grilled seafood on the beach.
Antonio from Zentropia Palladium Spa – Yes, the spa facilities were nice, specifically the infinity pool and having two large saunas, but his expert hands blew all of that away. Usually, I don't request men, but my host Toni S. gave me the inside track on Antonio so I had to see for myself. I was glad that I listened to her. He is awesome. Get. Him.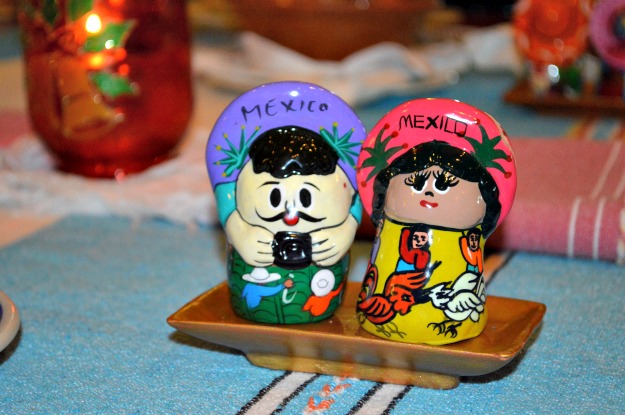 So, those were the highlights. Here are a few things that were a challenge for me:
The distance between the gym and my suite. It's hard enough to be motivated to workout on vacation, but to be almost 1/2 a mile away? No indoor gym time for me. Best remedy: walk on the beach or take a run on any of the walking paths.
The lack of people that looked like me, ordinarily it's not a big deal but I gotta be honest, I was surprised by it in a Mexico resort. Hopefully this write-up will encourage more people of color to go.
The lack of separation of the sexes at Zentropia spa. There were separate bathrooms but no separate locker areas or relaxation spaces when you don't want to be in the pool.
Overall it was a fabulous experience.
Tip: The property is huge! I'd suggest purchasing the higher tier vacation package so that you can be driven around by cart wherever you want to go, when you need it. Other than that, enjoy Palladium Riviera Maya's offerings like everyone else.
Palladium Hotels and Resorts sponsored my trip to Palladium Kantenah Resort & Spa. As always, all opinions expressed within are my own.