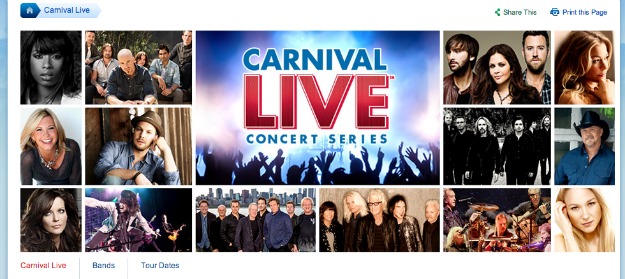 As I sit here on my very late Amtrak train back home to Maryland, desperately trying to ignore the clock approaching 2 am, my only solace is that I watched a fabulous intimate live show in Manhattan. Carnival unveiled yet another one of its new brand enhancements as a part of the $500 million multi year initiative to improve guest experiences.
The two-hour event was held at The Cutting Room music venue on New York's East side filled with Carnival execs, PR peeps, media, investors, travel agents and other special invited guests.
Carnival President and CEO, Gerry Cahill, set the foundation for the presentation, noting that CCL has serviced 60 million guests over its 41 year history. With that longevity and to ensure customer loyalty, Cahill points out that the company recognizes the need for continuous innovation.
Carnival LIVE
Carnival LIVE is the latest improvement in Carnival entertainment and is being launched across all CCL ships in the brand. Senior VP of Guest Operations, Mark Tamil, went into details about the partnership with Creative Artists Agency (CAA), a top LA talent agency, to book the 15 artists on its starting roster.
Jennifer Hudson, Lady Antebellum, Jewel, LeAnn Rimes, and a dozen other big names have been signed to perform 49 Carnival concerts while in ports of call. Cruises guests attending these intimate concerts will pay a nominal upcharge, a fraction of what they'd normally pay in a traditional concert venue.
Grammy award winning artist Jennifer Hudson was a great opening act yesterday for Carnival LIVE.
Personal Notes
To say that Jennifer tore the small stage up with her bellowing voice, piano man, and over qualified backup singers is an understatement. I knew I liked her before but I'd never heard her sing live.  She hit my music funny bone a couple of times, especially with her rendition of the DreamGirls hit song "And I am telling you", which skyrocketed her into the musical stratosphere. Check out the LIVE performance here:
Predictions
That's a teaser of what guests can expect on their next Carnival cruise vacation. I suspect that people will be even more deliberate with their sailing dates if they're fans of any of the artists in the Carnival LIVE series. Carnival may even see a demographic shift with their sailings, reflective of the headlining performer.
Click here for a list of upcoming tour dates. Who would you cruise to see perform?