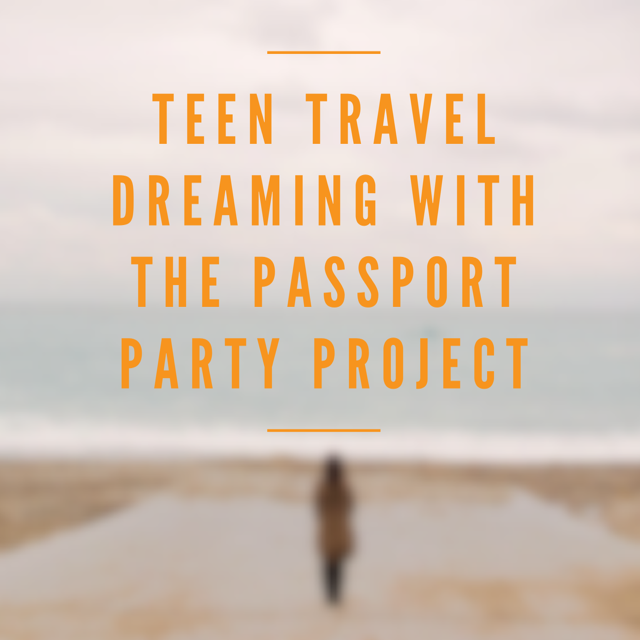 As I read the answers of several Passport Party Project prospects I thought back to what my life was like at 14. What were the major highlights? Was that the first year that I really started dreaming about a life of travel?  I can't imagine how much more enriched my world would have been experiencing an organization like The Passport Party Project (PPP) as a teenager.
I decided late last summer to volunteer with The Passport Party Project as a travel Mentor to a teen girl. What I know is true is that there's a lot to be said about the #powerofthepassport.
The Passport Party Project
The Passport Party Project is a National Geographic award-winning grassroots global awareness initiative for underrepresented American girls ages 11-15. In June 2016, 15 American teen girls equipped with 15 passports will land in Toronto for nine days of exploration, culture and learning. The program's overall concept is: "Learning, growing, experiencing travel, and traveling with heart." You can learn more about the organization on The PPP website and even donate to the initiative.
Teen Dreaming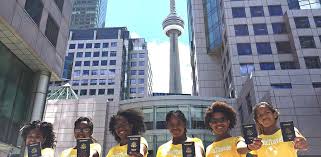 At 14 I was midway into my first year of boarding school and entering my second. I got chicken pox that year. I became friends with kids from all over the world. And this was probably the time when someone or someone(s) piqued my interest in travel.
I had been exposed to the travel bug by the stories of my classmates who hailed from all corners of the world. I learned first hand about Switzerland, Italy, Spain, Korea, and Mexico. My daydreams of standing in those places began making imprints on my future.
"Why do you want to travel?"
14-year old Passport Party Project Teen Travel Ambassador Nayah's application response said that she wants "the opportunity to experience different cultures, explore new places and learn about life in places" she doesn't see everyday. "I want to be well-rounded and grow as a person from being exposed to life outside of where I grew up or live now. I love the freedom that traveling brings, knowing that I am not limited to where I can go."
As I stared at her photo, and contemplated her responses, I reminisced about life in those days.
My hope is that Nayah follows her travel dreams. There's so much in store for her if she does. Beginning with her participation in The Passport Party Project, Nayah will learn about what it means to be a global citizen. She will also learn what it's like to travel on her own, forge relationships with strangers, step out of her comfort zone, give back while traveling, and more.
I don't know everything that she will experience – none of us ever do when we open ourselves up to a world of travel.
Where do you want to travel?
This is one of my favorite responses of my travel mentee, Nayah: "I would really love to go to Europe because I love food and beauty! I want to eat pasta in Italy, be mesmerized by the architecture in Greece and sit front row at Fashion Week while eating beignets in Paris. Europe has such a rich and diverse culture and people from all over the world have made the various countries their home."
As we get to know one another, I'll share with her my experiences in Europe: eating pasta for a semester in Italy while on student exchange; standing in front of the Parthenon with my husband in Athens for our anniversary; traveling on an overnight couchette train in Paris during a free weekend from classes, gorging on crepes, pastries and bread; and visiting London annually for both business and leisure while learning something new each time.
Nayah's Travel Advice
Nayah has a thing or two to teach me as well. As an Oakland native, she has inside knowledge of 3 cool places for me to visit should my travels take me to her neck of the woods. Here's where she suggests and why:
Grab a bite at Fenton's Creamery because it's a legendary eatery with the BEST ice cream ever!
Check out the Lake Merritt neighborhood for it's historical beauty, eclectic vibe and rich culture. It's virtually impossible to feel out of place in such a diverse neighborhood.
Venture to the Mormon Temple at night. It's a beautiful landmark that looks like Disneyland from far away and offers an incredible view of the SF Bay Area.
I think I have a true travel lover on my hands. What a wonderful testimony to be able to experience purposeful travel at a young age. The Passport Party Project makes an impact that can not be measured. I look forward to witnessing Nayah's growth, evolution and transformation in the months to come.
Thank you to the following awesome sponsors who are making many things possible for The Passport Party Project and the 15 Phase 3 Teen Travel Ambassadors for 2016:
Holiday Inn – Chicago O'Hare Rosemont
Thank you also to partners Mocha Moms, Inc. and Supporters Pack for a Purpose and Visit Oakland.