FlipKey hosted my stay in Greece. I was not compensated for the following content. All opinions expressed are my own.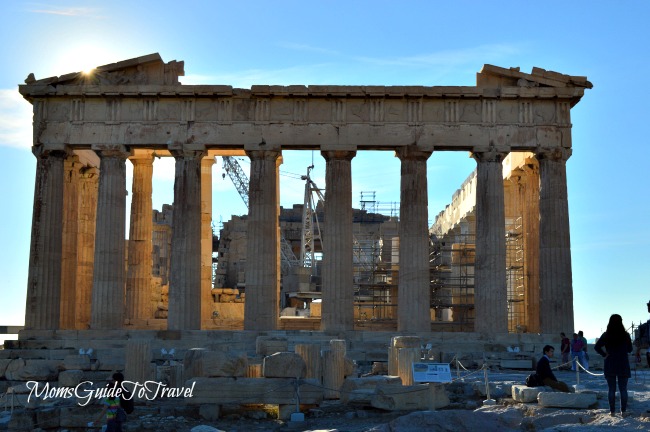 I had seven days in Greece and I wanted us to live like Athenians – as much as we could in that short span of time. Instead of staying in a hotel, I decided we should rent an apartment.
I had a good experience renting an apartment in London last Fall so I thought why not give it a try in Greece. My London rental was low-key, spacious, inexpensive, private, allowed me to cook and wash my clothes, and had its own unique style. Whenever I tell people that I prefer renting apartments in Europe over booking hotels, they ask….
Is renting an apartment overseas better than staying in a hotel?
Short answer: It depends on your travel style and what you're looking for. I personally feel more immersed in a place when I rent an apartment. Something as simple as bumping into neighbors on the elevator or in the lobby makes me feel more like a resident than a visitor. 
If you want to live like a local, then renting an apartment is the way to go. If it's not important to you, then staying at a hotel will work for you. 
If you enjoy small challenges like figuring out how to work foreign appliances, then rent an apartment. If you'd rather keep it simple when it comes to your accommodations, then book a hotel. 
How to choose an apartment rental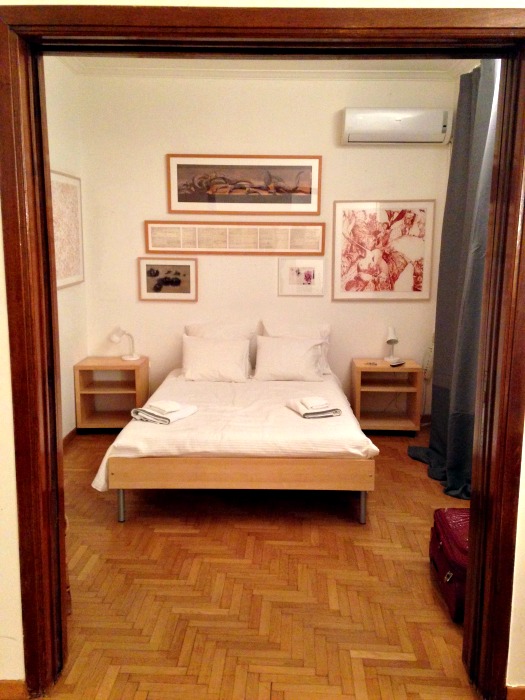 Choosing a local apartment takes some research and patience. I don't like rushing the process. Be mindful that there are dozens of apartment rental websites. Sometimes you'll find that an owner will list a single property on several of them, which can suck if a property gets double booked.
If you give yourself enough time, you won't face the unfortunate circumstance of being left out in the cold. 
Look for rental sites that provide some sort of guarantee or a calendar that shows when a rental was last updated. FlipKey's calendar system shows when an apartment is available. However, I've found that some owners aren't as diligent as they should be with updating their calendar. I wish there were a way to boot them out of the database or block their listing when they don't update weekly. In the meantime, here are…
10 tips to consider when renting an apartment in Greece
For my trip to Athens, Greece, I took several things into consideration as I was choosing an apartment:
Read the reviews and the apartment description carefully. This is where patience comes in to play. I read each and every review, no matter how many are listed. I compare those reviews to the apartment's description. Sometimes renters mention something really helpful about the apartment that's not written in the description. For instance, one of the apartments I looked at mentioned that the property was in a really quiet and picturesque neighborhood. Well, a reviewer concurred with that part of the description but added that the place was really far out from the city. The apartment was no longer an interest for me.
Decide on your daily budget. If you can find an apartment that's cheaper than a hotel room that fits within your daily budget, then I say go for the apartment. You'll get more for your money in terms of space and can save even more by using any kitchen facilities.
Scrutinize pictures closely. Pictures can be deceiving. Bathrooms, bedrooms and kitchens are the most important rooms. If a rental is lacking clear visuals of these areas and just fills up their portfolio with shots of the living room, balcony, exterior, or surrounding attractions, it's a sign that the owner may be trying to hide something. Believe me, if the kitchen, bathroom, and bedroom are amazing, the owner will want to show it off. 
Read the owner's responses. I like to see how the owner responds to reviews.

 

If they are unprofessional or unapologetic where it's clear that they should be, I count that as a strike. If the owner responds to every renters' message I count that as a plus. A responsive owner online will make a responsive owner off-line. FlipKey's messaging system made it easy for me to ask questions of the owner before I made my final decision.
Consider the location of the apartment. Is the apartment in the center of the city, easily accessible by foot and near restaurants? We chose an apartment that was within three minutes walking distance from Syntagma Square, a busy and popular central area in Athens. Restaurants, stores, transportation, and banks were also convenient to our apartment. FlipKey's map function showed a general idea of where the apartment was located which helped me to make some final decisions.
Have a Plan B. Have a backup plan in the unfortunate circumstance that something goes wrong with the rental. It doesn't happen often but you could possibly find yourself in a situation where you might have to move. The owner could have horribly mis-advertised the apartment or they could turn out to be difficult. An apartment rental gone wrong earlier in the year had all the elements of why you need a plan B. Unfortunately we didn't have one and we had to stay where we were.
Have all the owners contact information. Get the owner's phone number and make sure to give them yours. Let the owner know how they can get in contact with you while you're traveling. We were running late on our way to Greece but the owner had the means to get in contact with us.
Plan in advance. Give yourself plenty of lead time when you're in the research phase for back-and-forth emails. Some of the owners that I contacted were very relaxed in their communications. It would take two or three days for people to get back to me. Don't chase an owner. If they're slow to respond online chances are that they'll be slow to respond off-line.
Get doorbell details.

 

The owner we were dealing with in Athens chose to meet us in the apartment. However, she failed to inform us which bell to ring and every name was in Greek letters. In an act of desperation I rang a few of the bells. Luckily one of my choices was correct. After ten minutes, the owner came downstairs to the lobby and met us. A better option would have been to make arrangements to meet us in the lobby of the apartment building.
Take pictures. Once you arrive at the apartment, take pics of your surroundings and keep a record of all emails and correspondences. This tip is more a post-rental bit of advice but still worth mentioning here. You always want to have some sort of documentation in case any problems arise after your rental or you need proof of anything.
Renting apartments for vacation stays is growing in popularity and demand. If you follow these 10 guidelines I think you'll have a pleasant apartment rental experience in Greece or wherever you choose to live like a local.