As soon as I stepped into the Omni Shoreham hotel in Washington, D.C. I knew that it was one of those hotels that's more than just a place to sleep. This AAA Four Diamond luxury resort is a treat for families or girlfriends visiting the District looking for relaxation, comfort, and history, all in one setting.
From the time you pull up to the valet-only parking area to the minute you walk into the Shoreham's grand historic lobby, you know you're in for something special. There's so much going on around you (and I mean this in a nice way), that you have to just stop, pause, and allow your eyes and ears to take it all in. The chandeliers, furniture, floral accents, column banners, door men, bus boys, front desk attendees, concierge, and international foot traffic are fleeting visual distractions from the classical architecture that defines the lobby space. Yet, all of these elements, in some part, contribute to the thought that runs through your mind: "Wow, this place is nice."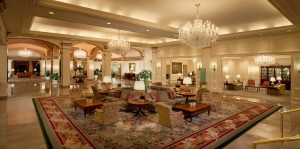 I visited the Shoreham to experience one of the Omni's various getaway packages, just in time for the start of the summer. The Girlfriends Reminisce Getaway had me and my BF's names written all over it – relaxation, hanging out, and shopping. Everything that's "going on" inside the hotel almost trumps the gamut of things happening outside of it. The attractions around the corner from the Shoreham's doors, surprisingly became secondary "to do's" for my weekend.
SERVICE
The service at the hotel was impeccable. No wonder it was named one of the Washingtonian Magazine's Great Places to Work. Our waiter from the Robert's restaurant told us he had been working there for 20 years and said that he loves "his hotel." He mentioned a female co-worker who has been an employee for 30 years, a rare occurrence these days. From the bottom to the top, just about every employee that I encountered was not only pleasant, helpful and friendly, but exuded a subtle pride to be working at the resort.
AMENITIES
For families, the Shoreham works well. An outdoor pool, large rooms, milk and cookie room service, a cafe, onsite restaurant, ample indoor and outdoor seating, hammocks, a garden area with plenty of grass to run and play, are all convenient amenities for traveling families. In addition, the hotel is just a few blocks away from the D.C. zoo and across the street from one of the D.C. tour buses.
ACCOMMODATIONS
For girlfriends, the Shoreham is the ultimate getaway in the heart of a busy city. I was definitely spoiled by my accommodations. My suite had enough space to throw a party, a formal dinner, and a book club meeting, all at once (although I didn't). One of seven presidential suites, the Abraham Lincoln Suite, measures well over 900 square feet. A foyer, kitchen, living room, dining room, sitting room, balcony, and large king suite define the space. Classic decor and furnishings help to make it cozy.
The king bed in the suite looked much larger than my own king bed. This might be a product of the four large down pillows, 800 thread count sheets and the silky soft comforter. If I had to describe the bed in one word, I'd call it plush. I slept quite comfortably with no thoughts of the mattress being too soft or too hard. As Goldilocks would say, "It was just right."
Once my friend and I settled down for the evening, we enjoyed Thai food at the dining room table and wine in our robes on the couch (just as we had envisioned in our minds).
If you're visiting D.C. and are looking to catch your breath with a friend in a luxurious historic setting, the Omni is an excellent choice. Forget about calories, forget about budgets, forget about the noise of the city and enjoy everything that the Shoreham has to offer. I know we did.
To see more pictures of our accommodations and surroundings, check out our weekend album here. And here's a sample Girlfriend Getaway Itinerary:
Friday Afternoon/Evening
Arrive at Shoreham
Grab a coffee at the Cafe
Catch-up in suite with your friend
Grab dinner at Robert's Restaurant (Scallop appetizer…yum!)
Wine in room
Saturday Morning/Afternoon
Grab a coffee and danish at Cafe
Catch D.C. tour bus across the street
Sightsee, shop, eat in D.C. via tour bus stops (off-and-on access until 5:30pm)
Saturday Evening
Freshen up for dinner
Order take-out
Eat in room and chat with your Bestie
Wine and a movie
Sunday Morning
Breakfast/Brunch
Enjoy last moments of Shoreham luxury
Depart
 * Photos Courtesy of the Omni Shoreham.
The Omni provided me with a 2-night stay at the Shoreham hotel in D.C. to perform this review.