Have you been meaning to get away for some much needed down-time? Well, just in time for Mother's Day (or any other day until September 2013, because really, who needs an excuse?) Omni Hotels and Resorts is offering The 'Reminisce' Girlfriend's Getaway package.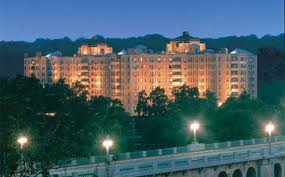 When you book your stay and bring a dress to donate to Donate My Dress, you'll receive two $50 Bloomingdale's gift cards per room. Omni will also give you ideas on where to shop in the area. It's a great opportunity to reminisce, relax and retreat while doing a little donating and shopping at the same time. Here are further Package details:
Deluxe accommodations
Concierge pre-call to assist with special requests
Welcome amenity
Bring in a gently used cocktail dress to donate. Drop boxes will be located at the front desk
Two $50 gift cards to Bloomingdales to use online or any store location
Destination Shopping Guide
Turndown service
Package prices depend on availability
Donate My Dress is a national organization that encourages girls and women to donate gently used prom and cocktail dresses to others who need them. Do you have a few sitting around in your closet like I do? And since I won't be needing them for a cruise any time soon, here's a chance for someone else to be blessed. Love!
For more information, visit Omni Hotels online at www.omnihotels.com.
*Photo credit: Omni Hotels.