Last week I came across a tweet from the Sandals Foundation about a fundraiser they were doing for an incubator in Black River, Jamaica. I got excited about the fundraiser because I've been to this rural part of Jamaica and I know that there are great needs there as well as in other areas of this beautiful country. While on a horse excursion through a small mountain village in Lucea, I rode past dilapidated shacks and shoeless boys that looked like my own sons, a pang of guilt filling my heart. (Watch a short video here.) I thought about all the sneakers crowding the closets of my home that could be put to good use in this village. I've been racking my brain for months about what I can do to be a blessing to another family. How could I give?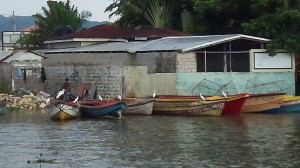 I still haven't answered that question yet but I think the Sandals Foundation is a good start. They help to improve people's lives in the Caribbean and preserve the natural surroundings. Giving takes on a new meaning when you've stepped foot on the soil or met the receiver of the donations you're giving to.
The Sandals Foundation runs several community, education, and environmental programs in the Caribbean. For this sorely needed incubator, they held a fundraiser on Monday at the Lime Acre Villa of Gordon Stewart, chairman of Sandals Resorts. Their simple aim is to raise funds to purchase an incubator that could help save the lives of babies in Black River. The Pediatric Ward can only accommodate 24 children, something that many of us know nothing about with the mega hospitals we live near by.
So, here's your opportunity to do something nice for other moms on Mother's Day – ones you and I don't know but with whom we share a common desire: a healthy and thriving baby. I ask you to give whatever your heart leads you to contribute – a little from many goes a long way. You can donate HERE.
FYI: The Sandals Foundation did not ask me to post this fundraiser and are not affiliated with Mom's Guide To Travel.