Shannon Entin is the Northeast editor of Road Trips for Families. She blogs at 100routesacrossamerica.com. Shannon has two kids, a 13 year old son and 7 year old daughter. You can find her on Twitter @shannonentin and @100routes.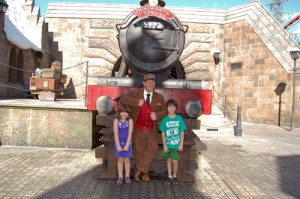 Shannon lives in Bloomsbury, NJ – northwest Jersey, very close to PA.
ABOUT NEW JERSEY
Many people have a narrow view of NJ. They think crowded NYC suburbs or they think the Shore. There's SO much more! One of the things I love most about where I live is its proximity to a number of diverse areas. I'm within an hour and a half drive of New York City, Philadelphia, the ocean, and the mountains! Some of our favorite family places are: Ringing Rocks Park, The Crayola Factory, Delaware Water Gap, Grounds for Sculpture, Sesame Place Theme Park, Bowman's Hill Tower, Delaware River Tubing.
WHERE TO STAY
I live in a rural area. There are lots of great B&Bs around here, but they aren't typically family friendly. If your family is looking for something other than a traditional hotel experience, I'd highly recommend the Great Wolf Lodge in the nearby Pocono Mountains, or Lambertville House. Crystal Springs Resort is further north, but another amazing place to stay.
TRAVEL STARTS
My parents would often take "Sunday drives" when I was younger. We would get in the car and just drive around. I grew up in the Adirondack Mountains of New York state where there's so much to see. While I didn't recognize it when I was younger, these Sunday drives had a big impact on my love of road trips. I've loved traveling since I was young, but I think I only recently realized how important it is to me to travel with my kids and cultivate adventurous spirits!
WHAT PARENTS SHOULD KNOW/KEEP IN MIND WHEN TRAVELING WITH KIDS
I think the most important thing for parents to remember is to build in extra time! Be prepared for the unexpected. You may plan three hours at a zoo and find your that your kids just can't tear themselves away from the peacocks! My daughter recently spent over an hour following a peacock around a zoo. She named it and talked to it. And I was able to accommodate her interest because I hadn't over-scheduled our trip. And I got some great photos! 🙂
BIGGEST CHALLENGE TRAVELING WITH KIDS
Fighting siblings!  Arrrgghhh! I often wish I had a sound-proof barrier I could put up between my kids in the back seat.
ALL THE PLACES SHANNON'S LIVED AND TRAVELED
I've lived in upstate NY and northwestern NJ. Outside the USA, I've traveled to London, Niagara Falls, Toronto, Montreal, cruised to Bahamas and Western Caribbean (Haiti, Grand Cayman, Jamaica), and spent a day in Tijuana, Mexico. Within the USA, I've been all over the Eastern US, from Maine to Florida. I've been to Las Vegas, Lake Tahoe, San Francisco, San Diego, skiing in the mountains of Utah and Colorado, and driven across country from NJ to Utah and from Chicago to NJ. Wow – writing all this out makes me feel so lucky!
FAVORITE DESTINATION SO FAR
That's a tough question. I have several favorites for different reasons. I really love cruising. It's such a fun, relaxed way to travel. The downside is you don't get to really "see" the destinations you stop at because you're typically taking the "Americanized" excursions. But it's a great way to get a glimpse of several different locations. I absolutely love the Rocky Mountains in every season of the year. And Disney World is also very high on my list of favorites!
MOST SPECTACULAR RESORT/HOTEL
Royal Caribbean cruise line is the best "resort" I've stayed in. The Venetian Hotel in Las Vegas is pretty spectacular, too.
WHERE TO NEXT
We'll be driving from NJ to Charlotte, NC in June. Haven't quite figured out the itinerary yet, but we'll spend a few days in Charlotte and then make several stops on the way back north. We're also hoping to get to Niagara Falls this year. We're going back to Disney World (I'll be running the Disney Princess Half Marathon) in February 2013. But I'm most excited about our plan to live in Colorado or Utah for 6 months in 2014!
Thanks to Shannon for being a part of this week's Mom Traveler Spotlight.