Christmas, Christmas, Christmas – yes, tis the season for giving but what about when December 25th has come and gone? Sometimes there are random days throughout the year when you want to give someone special a little something something to say thank you. Or maybe you want to send them a "hi", or "sorry", or just a gift for no reason. Well, guess what? There's an app for that. And this Yiftee app review is going to give you my opinion about it.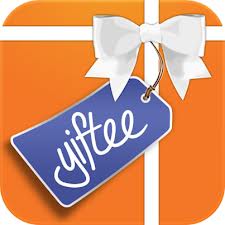 When I was approached to check it out, I immediately thought it was a cool idea. There's always a moment through the year when I'm thinking of a friend or someone I know is having a bad day, and I just want to send them a little something that will help them smile. A cup of coffee, an ice cream cone, a beer, a margarita, a cupcake; any of those little gestures can go a long way and I don't always have the time to take someone out to do those things. The Yiftee app, which is basically a form of micro-giving, takes care of that for me. I decided to gift my hard-working husband and a friend with a beer. It was my way of saying ,"take a load off boys, drinks on me."
How it Works
You download the app from the iTunes store.
Set up your account
Find a local merchant and choose a real gift, usually for less than $20.
Pick a friend and send them the gift by either email, Facebook, or their cell phone number – leave them a note.
They'll get a message stating that you gifted them – it will have a link to redeem the gift.
You pay for the gift with a credit card or Paypal.
That's it. You're done. They have the gift and a smile for the day. All they have to do is take their phone to the merchant, click on the link, and they'll see a prepaid MasterCard on their phone to use with the merchant for the amount that you gifted them. The cashier will process it like a normal credit card for that amount. All they have to do is punch in the numbers on the card.
I self-gifted to test the app out from a recipient's perspective and redeemed my gift. It was simple. I had to explain to the bartender what to do because he'd never heard of it but it wasn't an issue. He was cool. All I had to do was pay the difference.
I really like this app – a lot. I have a feeling some special friends of mine are going to say the same thing.
Disclosure: I received Yiftee credits to sponsor this review. All opinions expressed are my own.