The 2016 Mazda CX-5 is a sleek fuel-efficient cross over vehicle that's fun to drive. What's new in the 2016 CX-5 ranges from exterior updates to interior upgrades and drive system enhancements. Although driving the Mazda 6 was sexy, crazy and cool I much rather being higher up on the road. Guess I'm just an SUV kinda girl.
But let's take things one step at a time, shall we?
With SKYACTIV Technology, the Grand Touring AWD model is nothing short of a suped up family SUV.
2016 Mazda CX-5 Fuel Efficiency
At 26 MPG city/highway, and gas prices at less than $2.00 per gallon I spent only $18 to fill the tank.  With two separate school drop-off and pick-ups those are fuel-economy numbers I can get behind.
Since I drive a lot It's important that a vehicle can support my driving habits. Mazda estimates average annual fuel costs at $1750 which is higher than what I'm spending now on gas for a 2005 Ford freestyle.
At current gas prices in Maryland, we'd probably average 39% less than Mazda estimates.
But I digress. So what's new in the 2016 Mazda CX-5?
New Features in the Mazda CX-5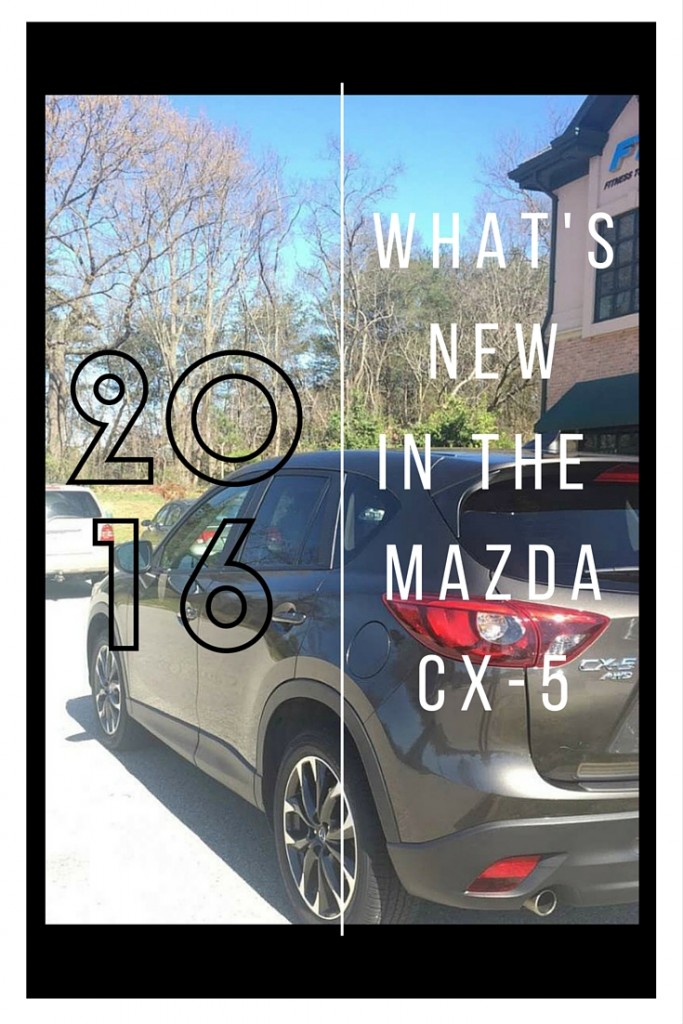 Exterior wise, the grille is more refined than the 2015 model.  And the 19-inch alloy aluminum wheels were redesigned. Other updates were made to the dash, the center stack and console, an electric parking break and reduced cabin noise.
The 2016 also received new trim accents, more comfortable front and rear seats. A new range of Mazda I-Activesense advanced safety technologies which include Driver assist features such as:
Radar cruise control
Smart Brake support
Blind Spot Monitoring
Rear Cross Traffic Alert
Okay! So now that we're done with all the boring stuff and I've covered some of what's new in the 2016 Mazda CX-5, let me tell you what I like most about the SUV and how she drives.
The wide sunroof is perfect for letting wind and sunshine in. An accurate in-dash GPS system excellent for helping me not get lost. Bose speakers are ideal for drowning out loud kids and for blasting Prince. Parchment interior color leather seats are perfect for styling, profiling and matching similarly colored purses. They are NOT perfect for messy little boys.
Blind spot monitoring is great for safe driving against people who want to sneak up on your left. 184 horsepower Sport mode is perfect for speeding by people who want to sneak up on your left but with fuel efficiency.
Starting at $21,795 for the basic model, even at a $32,340 sticker price for the model I drove the 2016 Mazda CX-5 fits within my budget and won't put me in the poor house. The features for the Grand Touring AWD model with optional equipment would give me what I need to chauffer comfortably and roll the way I want to roll.
Check out the standard equipment and optional equipment below for more details on what you get with this vehicle.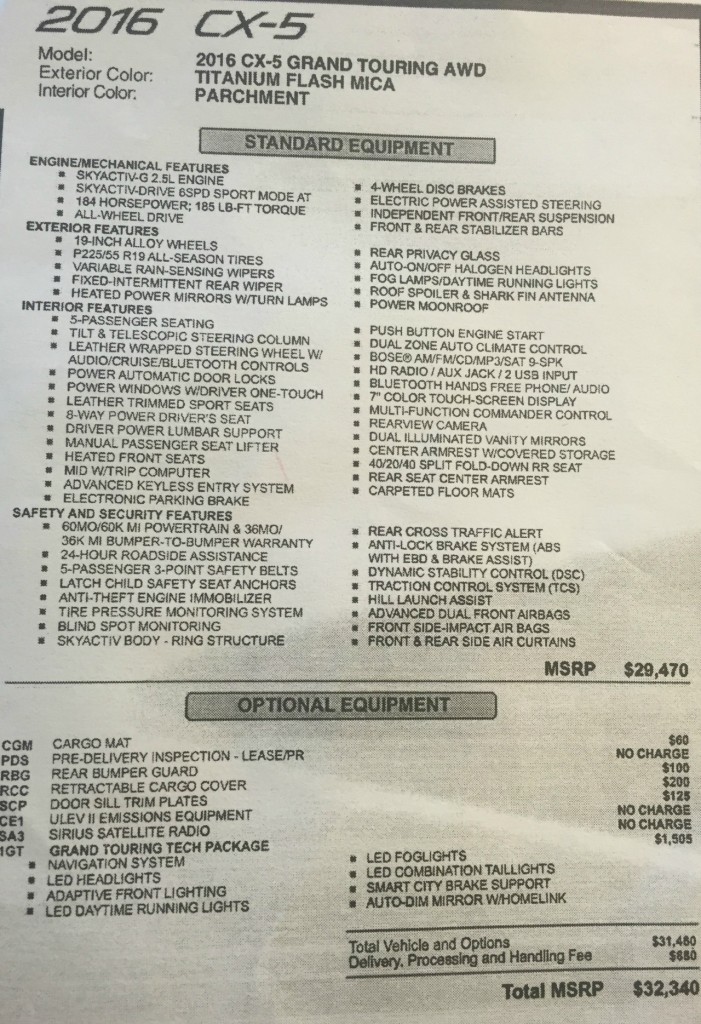 I test drove the 2016 Mazda CX-5 for this review. However, all opinions, sly comments, and drooling expressed within are my own.