I seriously need a vacation but not a sit-around do nothing vacation, an active fitness vacation. I have a triathlon coming up in August and I need to stay focused. I've written several times about the challenges of sticking to a diet and staying fit while on travel. It's one of the hardest tasks for me and many others. I'll be as dedicated as a monk while I'm home but once I get to a destination (especially if I'm cruising), it seems like all rhyme and reason and discipline go out the door.
I like that resorts such as Club Med Sandpiper Bay help you stay on course. You know the drill – most of us follow it. Days 1, 2, and 3 start off with a disciplined bang but by day 4, the good behavior begins to wane. You sleep a little later, indulge a little more, and then bam! You're off course. However, even amidst the gourmet dining, the spa, the music, and dancing, there are serious opportunities at Club Med Sandpiper Bay to maintain and improve your fitness and training.
Whether you're training for a tri, bike race, or marathon, the resort appears to have all the ingredients to keep you on course. It also has sports and fitness clinics including golf, tennis, cardio, and strength. It's easy to take your exercising outdoors, making it an integrated part of your vacation, instead of some "inconveniently" scheduled time at the indoor gym.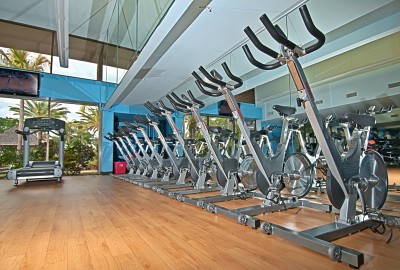 I might have to talk the ladies on my Iron Girl team into doing a 3-day girls-only getaway to train at Club Med's triathlon clinic for our next race. Why not, right? The biggest challenge I can foresee is trying to get comfortable with a new trainer in a short period of time. It usually takes a few sessions to get a rapport with each other. On a 3-day getaway, I guess we'd have to bypass "being comfortable" and just get to business. Besides that small detail, everything we need seems to be in one place: training, motivation, a spa, dancing, and sun.
And, if we decided to bring our kids, there's plenty of activities to keep them occupied while we train…a balancing act we all struggle with at home. Club Med is hosting me for a couple of nights to check out the resort and its fitness amenities for myself. I'll let you know what I think.
*Photos courtesy of Club Med.