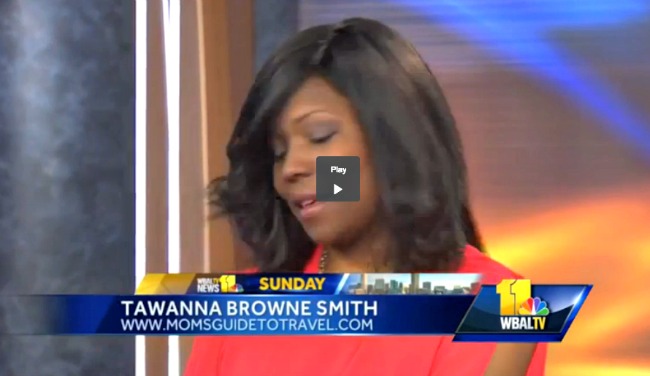 This travel segment originally aired on WBALT-TV 11 Baltimore. You can also watch it on the site here. In the segment I talk about several travel products that I love which help make my life easier.
Video Transcript
JENNIFER: DAN SAYS CHANCES ARE YOU ARE GOING SOMEWHERE. WHEN YOU TRAVEL, THERE ARE THINGS TO TAKE WITH YOU TO MAKE YOUR TRIP EASIER. FAMILY TRAVEL STRATEGIST, TAWANNA BROWNE SMITH IS HERE. GOOD MORNING. LET'S TALK ABOUT THE LUGGAGE AND HOW FAR IT HAS COME.
THIS IS ONE OF MY FAVORITE PRODUCTS. THIS IS REALLY FOR THE SOLO TRAVELING MOM OR DAD. THIS IS CALLED THE RIDE ON CARRY ON. ESSENTIALLY IT IS A CHAIR THAT WILL HELP TO REPLACE YOU CARRYING AN ADDITIONAL ROLLING STROLLER. YOU PUT YOUR CHILD IN THE CHAIR.  YOU STRAP THEM IN. THEN THERE'S THE SEAT BUCKLE HERE. THEN YOU HAVE YOUR LUGGAGE. THEN YOU JUST PULL THEM.
JENNIFER: HOPE THEY ARE SAFE AND OKAY.
THEY ARE SAFE BECAUSE THEY ARE LOCKED IN IT. YOUR LUGGAGE IS GOING TO BE PACKED. YOU DON'T HAVE TO WORRY ABOUT IT TIPPING OVER. THE WEIGHT IS BALANCED. THIS IS A HEADREST THAT'S A TURNTABLE THERE FOR THEM.
JENNIFER: I CAN SEE HOW THAT WOULD WORK.
WHEN YOU GET ON THE PLANE, YOU PUT IT INSIDE. YOU DON'T HAVE TO DO THAT.
JENNIFER: ALL RIGHT. LET'S TALK ABOUT THIS STUFF. THIS IS MEANT TO MAKE LIFE EASIER. YOU ARE NOT CARRY ANYTHING.
IF YOU WANT TO BE BAGLESS, IT HAS 17 POCKETS. YOU CAN PUT A MINI PAD AND CELL PHONE AND LOOP YOUR HEAD AND MONEY IN THERE. YOUR TRAVEL DOCUMENTS CAN BE IN THERE. YOUR ID IS IN THERE AS WELL. YOU CAN ALSO PUT A CAMERA IN HERE. THERE ARE SEVERAL DIFFERENT WAYS YOU CAN USE THIS. WHEN YOU GO THROUGH SECURITY, JUST TAKE IT OFF AND PUT IT THROUGH THE SECURITY TRAY. YOU ARE DONE.
JENNIFER: IT IS LIGHTWEIGHT. I IMAGINE IT COMES IN MANY COLORS.
YES, IT DOES. AND ITS AVAILABLE FOR MEN AS WELL.
JENNIFER: NOW CHECK THIS OUT. LOOK AT THAT.
THIS IS A REALLY INNOVATIVE PRODUCT. I HAVEN'T SEEN ANYTHING ON THE MARKET LIKE IT. THESE ARE BRIDGELESS EYE WEAR. YOU ARE PROBABLY WANDERING WHAT IT WAS. NOISE CANCELING HEADPHONES FOR YOUR EYES. THEY ARE LIKE SUCTION CUPS. THEY BLOCK OUT AMBIANT AND UVA LIGHT. YOU CAN USE THIS ON THE PLANE WHEN PEOPLE HAVE THE SHADES OPEN, AT THE BEA CH TO BLOCK OUT THE SUN, IN THE CAR TO TAKE A NAP.
JENNIFER: ALL RIGHT. THIS IS AN ARMREST.
THIS IS AN ARM PILLOW. IT IS THE LITTLE THINGS THAT COUNT. THIS LITTLE THING MAKES YOUR — THIS CUSHION MAKES YOUR — FLIP IT ON THE ARMREST AND MAKES IT MUCH MORE COMFORTABLE. IT IS ADDING FIRST CLASS TO YOUR ECONOMY CLASS. IF YOU DON'T HAVE THE OCCLES YOU CAN USE IT FOR YOUR EYES.
OR USE IT AS A LUMBAR CUSHION IN THE CHAIR. IT'S MULTIFUNCTIONAL.
ALL RIGHT. MATCHING OUR CLOTHES HERE.
YES, THIS IS THE HARD CASE SPINNER LUGGAGE. AND IT HAS DUAL ACCESS. I TOOK THIS LUGGAGE WITH ME TO SPAIN. THE FIRST T HING THAT I LIKE IS IT HAS THE TSA APPROVED LOCKS. YOU DON'T HAVE TO HAVE AN ADDITIONAL LOCK TO PUT ON IT. THESE JUST LOCK IN. YOU HAVE THE COMBINATION. THEN YOU CAN ACCESS YOUR LUGGAGE IN TWO WAYS. THERE'S A FRONT WAY TO ACCESS IT AND —
JENNIFER: OF COURSE IT IS GOING TO STICK.
OF COURSE. IT HAS THE DIFFERENT COMPARTMENTS. THIS IS CARRY ON LUGGAGE. THIS IS APPROVED FOR YOU. IT ALSO WORKS INTERNATIONALLY. I CAN ACCESS IT THE BACK WAY.
JENNIFER: THAT'S GOING TO HAVE THE BIGGER CAVITY. ALL RIGHT. YOU ARE COMING BACK IN THE NEXT HOUR. WHAT ARE YOU GOING TO BE TALKING ABOUT THEN?
I'LL BE TALKING ABOUT PACKING TIPS STRATEGIES.
You can watch the second segment about packing tips here.