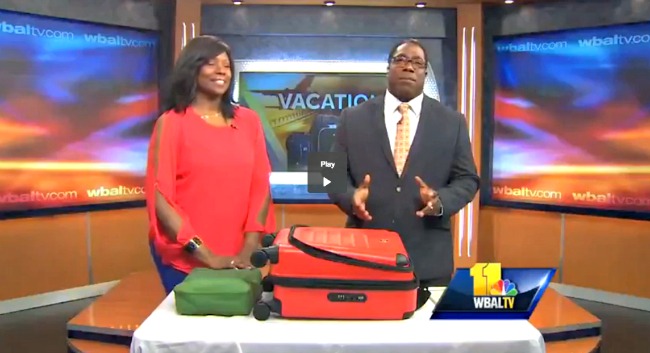 This video originally aired on WBAL-TV 11 Baltimore on Sunday June 28th. You can also watch it on the WBAL-TV site here. In the segment I share some packing tips and give pointers on how to pack your luggage.
Video Transcript
(courtesy of WBAL-TV 11)
WELCOME BACK. TAWANNA BROWNE SMITH IS GOING TO SHARE HOW TO PACK.
I'M GOING TO SHARE PACKING TIPS. IT IS ABOUT ORGANIZATION AND EFFICIENCY. DON'T JUST THROW IT IN. YOU WANT IT TO BE NEAT. WHEN YOU GET TO YOUR DESTINATION AND YOU NEED TO LOOK FOR SOMETHING, YOU WANT IT TO BE EASILY ACCESSIBLE. I ALWAYS LOOK FOR PRODUCTS THAT ARE GOING TO MAKE MY LIFE EASIER WHEN IT COMES TO PACKING.
FIRST OFF, LET'S TALK ABOUT ORGANIZATION. I LIKE TO USE PACKING LIST CARDS. YOU KNOW, MY HUSBAND ALWAYS WANTED ME TO PACK HIS SUITCASE FOR HIM AS WELL. I HAD MY TWO KIDS TO PACK FOR. I CREATED THESE FOR MY FAMILY. HERE'S THE DAD PACKING LIST CARD.
THAT'S ALL OF YOUR STUFF. ON THE BACK, WRITE IN WHATEVER YOU NEED.
BARRY: DAD'S PACKING LIST. THEN I HAVE MY OWN.
YES, I LEAVE THEM IN THE LUGGAGE. YOU CAN ALSO USE AN APP. I PERSONALLY LIKE TO CHECK THINGS OFF. I'M A LIST TYPE OF PERSON.
YOU WANT TO LOOK FOR LUGGAGE OR BAGGAGE THAT HAS COMPARTMENTS. THIS IS FOR THE ORGANIZATIONAL SIDE OF THINGS. THIS LUGGAGE IS FROM THE SAME PEOPLE THAT MAKE SWISS ARMY KNIVES. HERE IT SHOWS YOU EXACTLY WHAT YOU CAN PUT INSIDE THIS LUGGAGE.
BARRY: LITTLE POCKETS HERE. DEEP POCKETS THERE.
EXACTLY. HERE YOU PUT YOUR SMALL GADGETS LIKE A SMALL PHONE. THEN YOU HAVE YOUR IPAD. THE OTHER COMPARTMENT IS WHERE YOU WOULD PUT YOUR CLOTHING.
IN THIS, I'LL SHOW YOU AN EXAMPLE OF USING PACKING CUBES. THESE ARE LITTLE WONDERFUL BAGS TO HELP YOU KEEP YOUR CLOTHING ORGANIZED. IF YOU ARE SHARING LUGGAGE WITH SOMEONE, THIS IS GREAT. THIS IS A CARRY ON SO YOU MIGHT NOT.
BUT YOU CAN KEEP YOUR STUFF SEPARATE BY USING DIFFERENT COLORS. THIS EXAMPLE — I'LL USE MY KIDS. I GIVE THEM A BLACK PACKING CUBE. IN MINE, I USE A GREEN COLOR. EVERYONE KNOWS WHAT COLOR THEY HAVE. I HAVE SOCKS IN THIS. THESE ARE CLOTHING. LOOK. FITS NEATLY IN THERE. I'M MAXIMIZING THE SPACE. I ROLL CLOTHES IN ORDER TO MAXIMIZE SPACE.
BARRY: YOU GOT TO GET IT IN.
I GOT TO GET IT IN. I'M A WOMAN. I DON'T LIKE TO FORGET THINGS.
BARRY: YOU TALK ABOUT THIS BEING A CARRY-ON BAG. THIS IS ENOUGH FOR ONE OR TWO DAYS?
THIS IS A WEEK'S WORTH OF CLOTHING.
BARRY: HOW MANY PEOPLE?
ME AND A 7-YEAR-OLD. EAGLE CREEK IS A WONDERFUL COMPANY FOR THE PACKING CUBES. THEY COME IN DIFFERENT COLORS. SOME PEOPLE JUST USE ZIP LOCK BAGS. IF DEPENDS IF YOU WANT TO SPEND MONEY.
THERE ARE SEVERAL DIFFERENT COMPANIES THAT SELL THE PACKING CUBES. IT IS MAKING SURE THAT EVERYTHING IS COMPACT. IT GIVES YOU COMPRESSION TO FIT MORE IN. YOU DON'T NEED THEM IF YOU KNOW HOW TO ROLL THINGS. THIS ALLOWS YOU TO HAVE EASY ACCESSIBILITY.
IF YOU GO TO THE HOTEL ROOM AND YOU WANT TO PUT YOURSELF INSIDE THE DRAWER, TAKE THIS. I DON'T LIKE TO PUT MY CLOTHES IN THE DRAWER. BARRY: JUST LEAVE THEM IN THERE.
BARRY: OTHER PEOPLE TALK ABOUT FOLDING.
IF THE MILITARY HAS BEEN DOING IT FOR ALL OF THESE YEARS — IFS THE CORRECT WAY. SOME PEOPLE ARE METICULOUS. THIS IS PERFECT. ROLL THE CLOTHES. DON'T FOLD THEM.
BARRY: WHAT ABOUT THIS? THIS SECTION HERE — YES. I'M TELLING YOU I LOVE. I HAVE TWO MORE BAGS IN HERE. THIS IS MY TOILETRY BAG. WHEN I HAVE TO GO THROUGH TSA, IT IS A QUICK BAG, THEY CAN SEE THROUGH IT, I PUT IT THROUGH THERE.
BARRY: ON WITH THE BAG, YOU HAVE TO PULL OUT LAPTOPS .
I HAVE PRE-CHECK. SO NO. YOU JUST HAVE TO PULL THIS OUT AND YOUR LAPTOP. THAT'S WHY YOU WANT TO GET A CLEAR BAG OR A ZIPLOCK BAG.
BARRY: THE WAY IT IS DESIGNED, YOU CAN GO TO THIS SECTION.
YOU WOULD KEEP ALL THE THINGS IN THE FRONT SECTION. THIS BAG AS IT STANDS UP, ALL YOU HAVE TO DO IS UNZIP IT A LITTLE BIT TO PULL AND GRAB WHAT YOU NEED.
BARRY: ALL RIGHT. WE APPRECIATE YOU COMING IN AND SHARING THE TIPS. ESPECIALLY THE PACKING TIPS.