Have you been to one of the top cleanest beaches in the United States? Do you know who the contenders are? Cleanliness is probably the top deterrent for families considering travel to the beach with their young kids. Luckily, for the past 23 years, the Natural Resources Defense Council has been publishing an annual Beach Report that gives beach-goers guidance on the water quality of the most popular beaches in the country.
I wish my mother knew about this report when we were growing up. Maybe we would have been spared the maladies of Riis Beach in New York. Then again, going to Riis Beach is like a right of passage for any native New Yorker I guess. Funny enough, and contrary to my belief, it didn't make the list for worst beaches, where water samples "exceeded public heath standards more than 25% of the time from 2008-2012."
To this day, I associate an evening in the bathroom after a day at the beach to with the "cleansing affects of salt water." This correlation is a myth. In fact, I don't ALWAYS go to the bathroom after a day at every beach. Just some beaches. Apparently, the ones that do cause an unwelcome invitation to the bathroom, are ones where the water might be contaminated. Swimming in polluted water can cause gastrointestinal  issues as well as pinkeye because of viruses, bacteria, and parasites in the water. Most of us don't connect the dots at the end of the day. I sure didn't.
Where does the water pollution come from? According to a USA TODAY interview with NRDC senior attorney Jon Devine, it comes from storm runoff from roadways, parking lots and other hardscapes.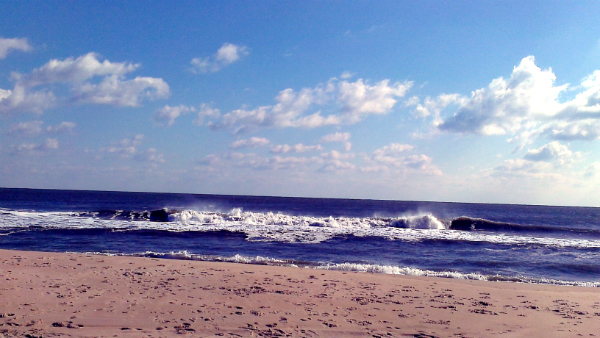 I've walked on three of the thirteen popular beaches that the NRDC has awarded a five- star rating for low violations, frequent water testing and prompt public notification: Dewey Beach in Delaware; Rehoboth Beach in Delaware; and Ocean City in Maryland. The others on the list are in Alabama (Gulf Shores Public Beach, Gulf State Park Pavilion); California (Bolsa Chica Beach, Newport Beach, San Clemente State Beach); Michigan (Bay City State Recreation Area); Minnesota (Park Point Franklin Park, Lafayette Community Club Beach) and New Hampshire (Hampton Beach State Park, Wallis Sands Beach).
What beach are you traveling to this summer? Do you know how clean (or unclean) the water is?