Choosing vacation rentals when you're traveling with your family isn't always a cut and dry task, especially when you're looking for something a little more than your standard hotel. My best friend has contracted me for the task of planning her family's summer vacation to New England. She knows that I love planning trips and I have no problem spending the time doing research.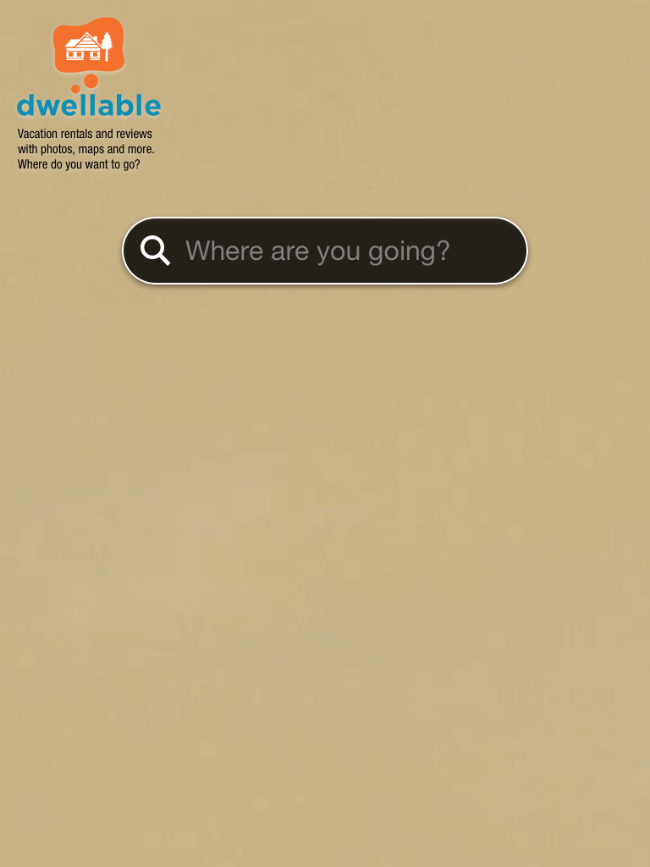 One of the reasons why I don't mind doing the research is because I know where to look for answers. But this doesn't mean that my process couldn't use some extra help with innovative search tools that help me save time. Enter Dwellable's new vacation rental app for the iPad. Here are 3 adjectives I'd use to sum up the experience:
Time-Saving
Efficient
User-Friendly
I know Dwellable from working with them in the past when they came to me to feature my New Smyrna Beach post so I was happy to see them take things a little further and list property rentals. You can check out a quick recording of how I used the Dwellable app to do a search for vacation rentals or read about it below.
So, I like the home page of the receding water and the opening question "Where are you going?" You can't tell from my screenshots that there's water actually moving back and forth on sand, but it is, and it's very inviting – a nice touch. Once you type in the first few letters of your destination, you'll start seeing the places where Dwellable has listings. So, in my case I wanted to check some properties in Vermont for my BFF.
I like that in the first bit of results I get back, I can scroll down easily on the iPad and see the listings with quick descriptions, clear property previews, a picture, and the price. The first search, which had no parameters except for the destination, yielded 571 rental properties. What I liked about this was that I don't have to waste time clicking into each listing to find out how many beds/baths were available. Then, in the upper right corner, staying on the same screen, I have the option to filter further using a easy slider. I use it to adjust my price range,  determine my number of beds/baths, choose what amenities I'm looking for and sort my results from lowest to highest, vice versa, number of beds/baths, etc. Once I made adjustments, I quickly narrowed down my results to 132 properties.
What's nice about the app is that you can see your results in multiple different views.
If I look at the Dateboard, this is a huge time-saver because it lists the properties in an excel-like format adjacent to a scrollable calendar for a quick and easy look at availability in my property results. The unshaded gray areas are nights where my properties are unavailable. Cool! Again, I don't have to click into each individual one to know what I'm working with and get more information. I can scan and see who's a contender.
Once you click onto one of the listings, then you can get more details like multiple pictures, property amenities, etc – all while staying within that same excel sheet screen. Pictures say a thousand words so if I don't like how a property looks, I X out of that listing quickly and scroll down to the next one. This takes me all of 3 seconds to determine yay or nay. I can also favorite the ones that I do like for further comparing and analysis later. I can also email the results to my friend, straight from the app. Cool, cool, cool!
One of the other views that I really liked was the map of where the listings are located. It looks a lot like Google maps and functions like it as well, using pins as points for where the properties are located. You can see a wide view of where the listings might be scattered about or scroll in closer to see actual streets. This is a great feature especially for the person taking a road trip, who may want to find a rental that's close to a specific road.
I go into other details on the video, so check that out but overall I think the Dwellable app is a win-win and nicely simplifies the process for choosing vacation rentals. They may not have an inventory as large as some of the bigger travel searching sites but they're young and still growing. You can download the FREE app here in the iTunes store: https://itunes.apple.com/us/app/dwellable-vacation-rentals/id507215257 and if you don't have a Mac product, not to worry, the app is also available for Android devices.
So, where are you going?