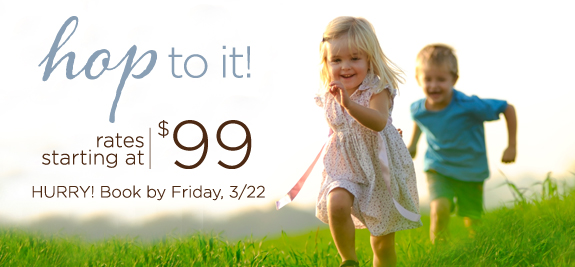 Sometimes it pays to be last minute. I remember the good ol' days when a certain online travel site was the go-to web page for last minute flights and hotel stays. Granted, you had to place bids but the savings far outweighed the uncertainty of getting a decent departure time. Nowadays, brands like the Omni Hotels are offering up last minute Spring Break deals without the middle man. No bidding. No uncertainties. And if you haven't booked your Spring break accommodations just yet, guess what – you're in luck.
Omni Hotels and Resorts announced a wallet-friendly guest package called "Hop to It" for last minute Spring getaways. So, if you're looking for a Spring break deal, then you have to act fast. The package is only available for three days, from March 19 to March 22, and can be used for stays from March 22 through April 4. Rooms at select properties will be available for $99, $119, $129, $159, $199, and $229 at favorite Omni destinations across North America. One of my favorites is the Omni Shoreham D.C., and at $99 a night for this fabo historic hotel, that's a steal. Even if you're local to the area, this would be a good excuse to plan a staycation and visit nearby local attractions like the DC Zoo or even just relax at the hotel. The rooms are comfortable and cozy and you get a first-hand look at early D.C. history through the pictures and displays on the main floor of the hotel.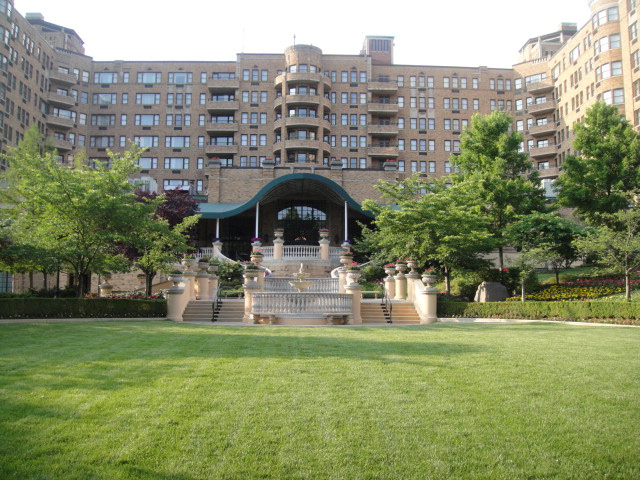 Another one of my favorite Omni hotels is the Omni Berkshire Place in Manhattan. Rooms are available at $229 a night, and for where the hotel is located in the city, it's prime real estate and a good buy. You're right around the corner from some of the best shopping and mouth-watering restaurants in New York. But then again, your luxurious room and those plush signature Omni robes may hold you prisoner to a day of vegging.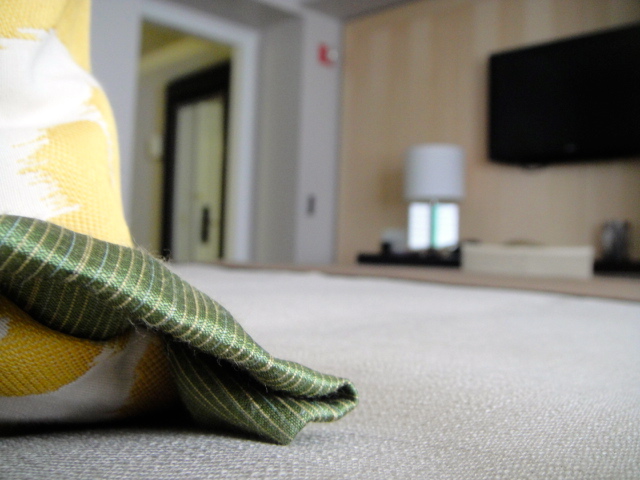 Here are some other destinations and incredible "Hop To It" rates that you'll find:
| $99/night | $119/night | $129/night | $159/night | $199/night | $229/night |
| --- | --- | --- | --- | --- | --- |
| Washington, DCOmni Shoreham | Tucson, AZOmni Tuscon National Resort | San Diego, CAOmni San Diego | San FranciscoOmni San Francisco | Amelia Island, FLOmni Amelia Island Resort | New York, NYOmni Berkshire |
| St. Louis, MOOmni Majestic | San Antonio, TXOmni San Antonio at the Colonnade | Providence, RIOmni Providence | New OrleansOmni Royal Orleans | Hilton Head, SCOmni Hilton Head Oceanfront Resort | |
| Richmond, VAOmni Richmond | San Antonio, TXOmni La Mansion Del Rio | New Orleans, LAOmni Royal Crescent | Los Angeles, CAOmni Los Angeles | | |
| Jacksonville, FLOmni Jacksonville | Pittsburgh, PAOmni William Penn | New Haven, CTOmni New Haven Hotel at Yale | Chicago, ILOmni Chicago | | |
| Irving, TXOmni Mandalay at Las Colinas | Montreal, QCOmni Mont-Royal | Corpus Christi, TXOmni Corpus Christi | Bretton Woods, NHOmni Mount Washington | | |
| Houston, TXOmni Houtson at Westside | Indianapolis, INOmni Severin | Charlottesville, VAOmni Charlottesville | Boston, PAOmni Parker House | | |
| Denver, COOmni Interlocken Resort | Houston, TXOmni Houston | Charlotte, NCOmni Charlotte | Bedford, PAOmni Bedford Spring Resort | | |
| Dallas, TXOmni Dallas at Parkwest | Fort Worth, TXOmni Fort Worth | | Austin, TXOmni Austin | | |
| | Dallas, TXOmni Dallas | | | | |
| | Austin, TXOmni Austin | | | | |
| | ChampionsGate, FLOmni Orlando Resort atChampionsGate | | | | |
| | Atlanta, GAOmni Hotel at CNN | | | | |
The "Hop To It" last minute Spring Break deals are just the kind of relief us last-minute travelers need. For additional information, or to book accommodations, visit omnihotels.com or cal 1-800-The-Omni. Your kids and your wallet will thank you.