I couldn't visit the Kissimmee/Orlando area without taking a detour to the beach. The pool and water parks are fine but my boys love the beach! If you have small kids, you know what I mean. So, we headed out to New Smyrna Beach, which is about a 90 minute drive from Kissimmee. It is well worth the travel time.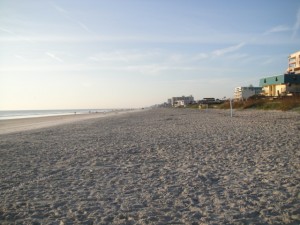 Once you clear the Kissimmee area and theme park traffic, your demeanor changes. As fun and exciting as it is to be around tons of attractions and amped travelers, it's good to take a little break.  While I'm a fast-paced New Yorker through and through, my husband is an old-fashioned Southern man who enjoys the slower paces of life. I like to "keep it moving" when I'm traveling but out of respect for him and my 4 and 8 year olds, I do my best to add balance to our vacations. And balance means down-time.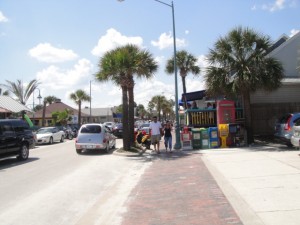 New Smyrna Beach is a sleepy beach town Northeast of Kissimmee. It's the second oldest city in America, after St. Augustine. Located near the Atlantic Intracoastal Waterway, just south of Daytona Beach, New Smyrna enjoys run-off traffic from visitors to the Kissimmee area. It's nice to know that thousands of families besides ours crave the beach and work to sneak it in amidst the visits to the attractions. Some people would argue why not just go on a beach vacation instead of doing both. I say, why not do it all? Cliche time: I like having my cake and eating it too!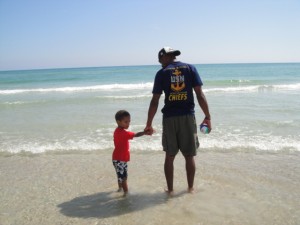 At New Smyrna Beach, you can drive on the beach, run, bike, walk, surf, swim, and just relax. The pace is laid-back and calm. The people are friendly and there's plenty of sand real estate where you don't feel like the beach is overcrowded. Ice cream shops, bars, and seafood restaurants area a plenty, as are other cute stores.
There are several places to eat on Atlantic and Flagler Avenue. When you go to Flagler, take a slow drive down or better yet, walk. This strip is very much a part of New Smyrna Beach's identity and a great way to spend part of your day in the area. Most of all, take a load off from attraction overload and just relax at the beach. Be sure to take a look at more of New Smyrna Beach through pics HERE.