I'm always excited to watch and review new films. Unfortunately, I don't get to do it as often as I'd like. Naturally, when I was approached to watch and review The Heart of Christmas movie, I thought to myself, "Perfect, just in time for the holidays." Initially, I didn't know what the movie was about. Once I read the synopsis, I realized I was all too familiar with the story.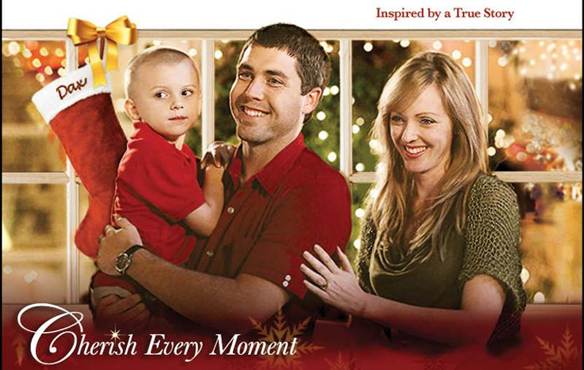 Story behind The Heart of Christmas movie
This true story is about Austin and Julie Locke, and their young son Dax, who's diagnosed with cancer. The movie introduces us to another family, the Walsh family, where the mom, Megan, works for extra income at home while juggling graduate school. She's a modern-day mom, but she's "unaware of how her ambition is crowding time with her family." In contrast to the Locke family, who, after learning of Dax's diagnosis, are cherishing every moment of every day, Megan is letting time pass her by.
On Halloween, she reluctantly agrees to take her kids to trick-or-treat in the neighborhood. When she passes by a house being decorated for Christmas, she's confused. Michelle, a neighborhood friend of Julie's, explains that Christmas is coming early to the Locke's home. She hands Megan a business card with the Locke's online journal, leading her to read their story, while forewarning her that her life will be changed. The next day, in the midst of Megan's hectic life, she takes a break to check out the Locke's website and is quickly consumed by the family's story. She learns about their battle with leukemia and other families they meet at St. Jude's hospital, who are going through something similar. Sure enough, she is touched and decides to….this is where I have to stop. I don't want to give away too much of the movie; it's a sweet film with strong lessons, very much worth watching. You can see the trailer here.
Heart of Christmas lesson
I appreciate that there are no big names in this movie; the message doesn't get lost on stardom. You'll see one or two familiar faces but your focus will remain on the story. The movie is about faith, support, encouragement, and enjoying every moment of every day.  It's a firsthand look into the life of families battling childhood cancer.
Heart touches my heart
The Heart of Christmas movie hits close to home, so it took me a little longer than I had anticipated to watch and review the film. We're also facing this battle, and although our youngest has a different form of leukemia, the struggle is still the same. Cancer touches families and communities in very real ways; I can attest to that. However, just like the family, we stay positive, and make the most of our day. The study guide that accompanies the DVD is a great complement to the movie and is useful in processing the lessons of the Locke's journey. Funny enough, it's helping me with my own.
Giveaway

I'd love for everyone to see The Heart of Christmas but unfortunately, I only have one DVD to give away. Just leave a comment below about what Christmas (or any other holiday) means to you. One lucky winner will be chosen by random on Tuesday, December 18, 2012 to receive the DVD and accompanying study guide. If you don't win, you can find the movie at Walmart or digitally download it at: http://www.vudu.com/movies/#!content/373025/The-Heart-of-Christmas.
In the spirit of Christmas, share this post with a friend. Good luck and enjoy the day!