$650, $598, $800 – those are the ticket prices I pulled up when I was searching for a direct flight from Baltimore to Wilmington airport early last month. I was traveling to the Brunswick Islands, NC and the closest NC airport to this part of the coast was Wilmington. I'm not sure why ticket prices are so expensive to this small airport but they were averaging higher than what I'd pay to go further to places like Miami, Orlando, Texas and sometimes, California. The flight is only a little over an hour!
Enter Spirit Airlines in the 4th quarter of the travel planning process. The PR agency that was coordinating my visit found me a $120 roundtrip ticket on Travelocity to Myrtle Beach, SC, a 45-minute drive. So, they booked me on Spirit.
Why I never considered Spirit Air
I'd briefly heard about the airline in conversations about low-cost airlines but I never looked into the carrier for myself because 1.) I didn't think they they served my market; 2.) I try to stay loyal to a few airlines in order to rack up the miles; 3.) I've generally been able to find affordable tickets on the major carriers; and 4.) Disclaimer: the majority of my travel is business and someone else is expensing my flights.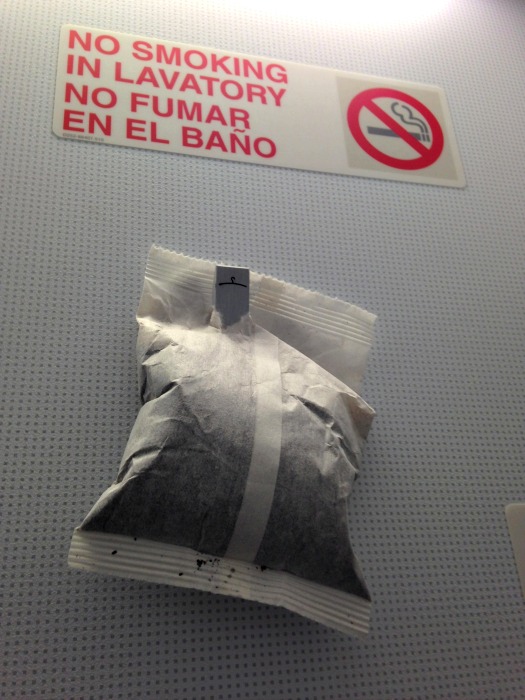 I'd never heard a positive review about Spirit Air so I was VERY apprehensive when I learned that I'd be flying with them. However, I chalked my upcoming "adventure" as a part of my research. Potential vacationers need to know the different ways that they can get to the Brunswick Islands from my area.
Here's the bottom line: Some people need more affordable flying options – that's what Spirit Air is to the airline market. That ultra-discount, more affordable option.
Spirit Airline's Policy
The company makes no bones about who they are and what they offer. If you look at their bright yellow website or their inflight rack cards, you will see that they call their style of flying "bare bones travel." This is what they write (I've underlined what you need to pay attention to if you are considering them)
Plane Simple: We add more seats to our plane because when we fly with more people, the cost per person goes down. Our seats are simple: They don't recline, so you don't wind up with someone's head in your lap. And we don't have Wi-Fi or video, so be sure to download a movie to your phone or tablet next time. A little cozier seating and fewer expensive extras mean lower fares for you.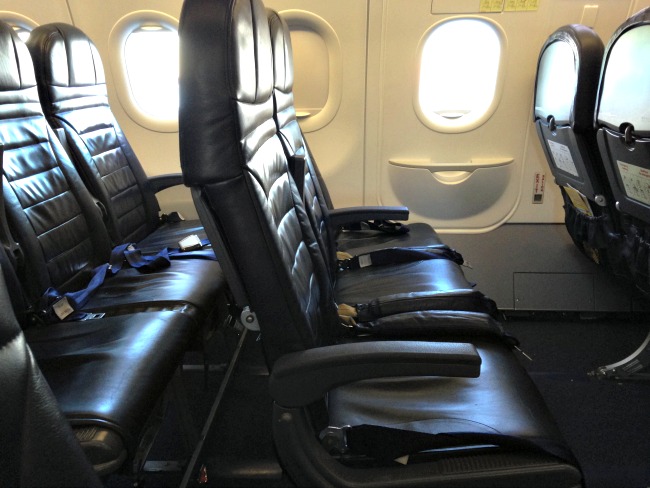 I love the term "cozier seating." The seats are tiiight! If you're a tall or larger frame person or have any mobility issues, factor in that you will have to pay for a more comfortable seat.
Here's what you should know about flying Spirit Air
They charge you for EVERYTHING. As long as you are clear on this going into the game, you won't be surprised. What do they charge for?
1. Printing an itinerary/boarding pass at the airport if you show up without one. Cost: $10
2. Carry-on Luggage. A carry-on bag that's not considered a personal item such as a purse, briefcase, or small backpack. Keep in mind that the carry-on costs more than the checked luggage and the on-line price goes up the closer you get to your departure date. My Cost: $45
3. Checked Luggage. You are charged an extra fee if your luggage is over 40 lbs. The industry standard is 50 lbs.
If you get to the gate and end up having to check your luggage because it's too big for the carry-on sizing bins, you will have to pay $100 which is twice as much as what you would pay if you pre-purchase your checked baggage allowance on-line. Remember also, that waiting to get to the airport to pay for a checked bag is more expensive than paying for it on-line.
4. Seat assignments. You will be charged if you want to choose your seat before the flight, no matter where the seat is on the plane. That's how it appeared when I looked at the seat map for both of my flights. I found dozens of unavailable greyed out seats on the chart and the rest where highlighted with their respective prices ranging from $18-$40 per seat. In order to avoid a seat fee, you will have to accept Spirit's assigned seating when you check in on-line and roll the dice that you'll get someone easy-going at the airport or onboard the plane.
5. There is no first class, it's all no-class. The first row is compromised of the BIG seats which are almost 50% larger than the regular seats and there are only 2 seats on both sides of the plane instead of three. You also get extra leg room, roughly 10".  Because of my ACL tear, I had to opt for the big seat on my return flight and pay the $40 price tag. On my flight going to SC, the agent hooked me up and put me in an emergency exit row when I asked. During online check-in, for some odd reason I was unable to figure out how to pay for my bag AND pre-reserve my seat. I wasn't interested in taking a chance.
6. Edibles and Drinkables. You will pay for all snacks and beverages that the airline provides on board; this includes: water, coffee, tea, juice, soda, etc. They try to cut you a 2-for-1 deal but I don't think many people are buying the "deal." Cost: $2-$9
Make sure you read all the BIG print, there is no fine print about their services and non-services. They tell you clearly that they are "Bare-Bones." Honestly, I was surprised that they didn't charge for using the restroom as some countries in Europe do.
Sound advice you can take to the bank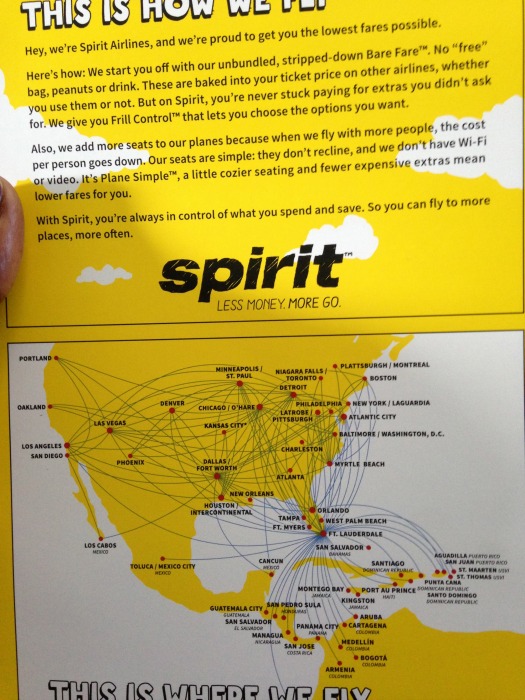 Here's my advice: Weigh the pros and cons for yourself. Are you willing to pay less at the expense of losing the things you (don't realize you) appreciate? Sometimes, we say we want something without realizing what the true cost of that thing is.
After paying for my carry-on in both directions and my BIG seat on my return flight, I paid $90 + $40= $130 in extra fees. Add that to the ticket price and the total cost was $250 for the ticket. If I didn't get a cool agent on my flight down there, it would've been another $25 or $40 for the seat. The $250 spent on flying Spirit was still significantly lower than if I had flown on another airline.
What you should do is add up all the fees, tack that on to your ticket price, then compare with a competitor airline and see where you stand. Factor in all the other items you don't get with Spirit and determine if the savings is worth it to you.
The Cost of Convenience
Other factors to consider based off of passenger reviews I've read:
You could be delayed for hours without any favorable recourse such as:

a refund

routed to another airline

re-booked at no extra fee

a travel voucher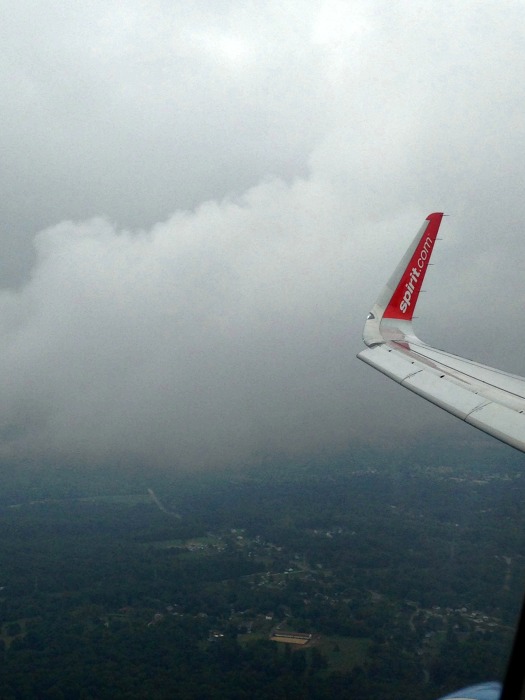 Looking back, I realize how lucky I made out with my flight. The plane left on time. The aircraft looked like a newer plane so my seat wasn't dirty, nor were the windows or overhead. There was a little debris in the seat behind and across the aisle from me but that was the most dirt that I saw on the plane.
The last thing I can personally add about customer service is that It's close to impossible to get anyone on the phone when you call the Customer Service number. I called to inquire about purchasing my seat for the outgoing flight and waited 15 minutes (for the sake of research) before I hung up the phone.
This is advice worth repeating: You get what you pay for. You need to know exactly what you are paying for with Spirit Air and what you get (or don't get). Spirit is the Greyhound and Dollar Tree of the airline industry. They symbolize the cliche "nothing in life is free" (except for toilet tissue).
If you've flown Spirit Air, did I leave anything out? Am I forgetting something? Let me know if you've flown them and leave your experience in the comments so that others can read a diversity of experiences.