On Sunset Beach, even on a Sunday in late September, you can smell the hickory smoke wafting from someone's barbecue. The early Fall sun and an accompanying mild breeze reinforce the laid back atmosphere on the smallest isle of the Brunswick Islands. Empty beach homes still fresh with the echoes of summer sit invitingly on the oceanfront, providing a backdrop for baby boomers still lingering, enjoying a Sunday stroll, bike ride or morning jog.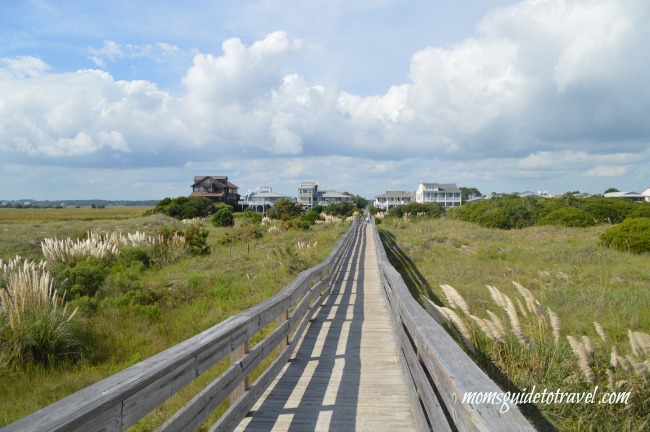 Before April of this year I had never heard of the Brunswick Islands. The Outer Banks was always the first to come to mind whenever I thought about North Carolina islands.
The islands in Brunswick County NC include: Holden Beach, Sunset Beach, Ocean Isle Beach, Bald Head Island, and Oak Island. I visited four of the islands this past week, enjoying stellar Fall weather (except for one rainy day), fun outdoor activities, beach lifestyle, and North Carolina seafood.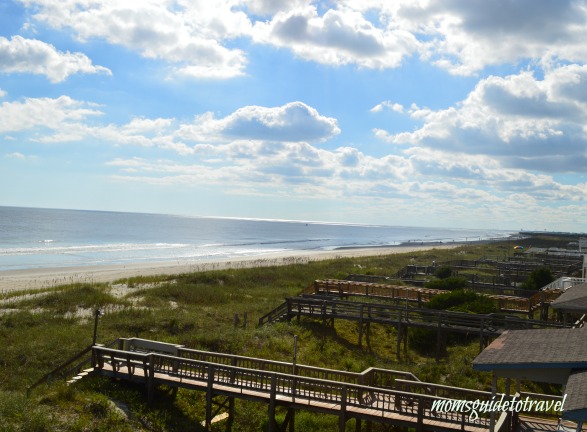 You can fit a lot into a 3-day visit to the Brunswick Islands if you try. What you'll find when you get there is that most people don't stress themselves trying to "fit it all in" while visiting. It's a place filled with relaxed bodies moving in blissful slo-mo, so what's the point?
How To Get There
Coming from the MD-D.C. area, the quickest way to get to the Brunswick Islands is by plane. The drive from the Annapolis area to these Carolina islands averages 7 hours but a flight from BWI to Myrtle Beach is only an hour and 20 minutes. If you fly on a discount airline like Spirit Air (provided you can tolerate their à la carte approach to everything) you can save hundreds of dollars on a ticket. My ticket (purchased just a few days before my departure) was only $120 roundtrip. From there, the drive was an easy 45 minutes. 
Your other option is to fly into Wilmington airport. Prices from the MD-D.C. area average higher but you'll have more departure times to choose from. The drive to the Brunswick Islands from Wilmington takes about an hour.
Visitors to the Brunswick Islands customarily come from Charlotte, Winston Salem, Virginia, NY, NJ, PA, and Ohio – the bulk of which come from other parts of North Carolina. There are plenty of other beaches in NC that you could visit for a relaxing Fall family getaway but I think you'll find something truly special about the Brunswick Islands' beaches. For non-North Carolinians, the Brunswick Islands is one of those last bastions of a "best kept secret."
1. The Mailbox Filled With Letters to Nowhere
At the edge of Sunset Beach just across the invisible area where an inlet once stood, you will find a precarious mailbox in the sand. Inside there will be a journal with thoughts, notes, troubles, wishes, and overall, letters to nowhere. 
The Kindred Spirit mailbox is the 33-year old brainchild of Frank Nesmith and a former girlfriend. They planted the mailbox in the sand dunes and left a notebook and pencils for other beach-goers to leave their thoughts.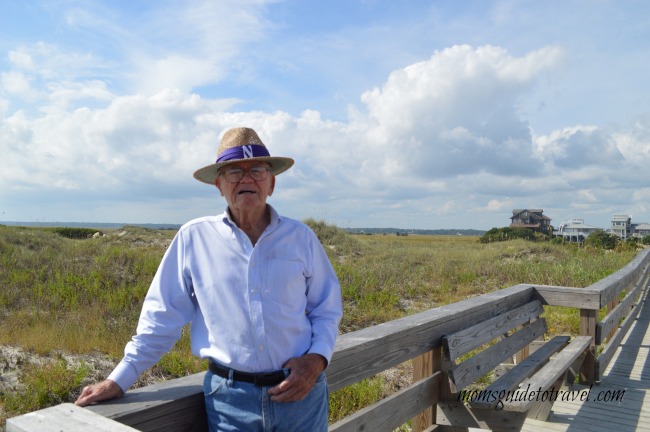 Now in his 80s, Nesmith says that hundreds of notebooks have been filled with notes from visitors around the world. When I asked him why he put the mailbox there in the first place, I expected a romantic tale of love. Instead, with a laugh he pertinently replied, "Because my girlfriend told me to."
2. Brunswick Island's Only Winery
Silver Coast Winery, located on Ocean Isle Beach, produces and sells award-winning wines featuring regionally grown grapes. The winery opened in 2002 and employs a winemaker who hails from New York's Finger Lakes region.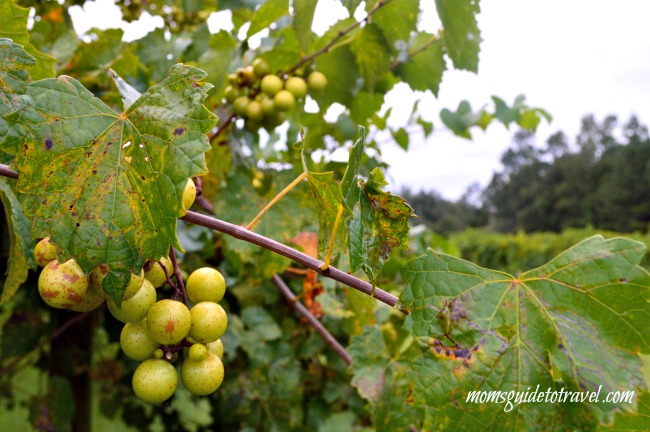 If you visit this time of year, you can catch grapes on the vine as you progress through your tour of the winery. The payoff after your wine 101 lesson is a tasting flight of five of Silver Coast's 15 different varietals. The crowd favorite and current best seller is the Seyval Blanc, a refreshing white wine with fruity finishes. It was one of my favorites, a glass of which I would have loved to have paired with a spicy shrimp dish. The Silver Coast Winery is non-pretentious and makes either a fun girl's night out venue or a romantic alternative to the beach. 
3. Kayak Through The Marshes
Just below the inter-coastal bridge that connects Sunset Beach to the mainland you'll find a busy dock occupied by either incoming or outgoing boaters or kayakers with Summertide Adventure Tours. I was admittedly apprehensive when I saw the kayaks. Your first time at anything, you don't know what to expect.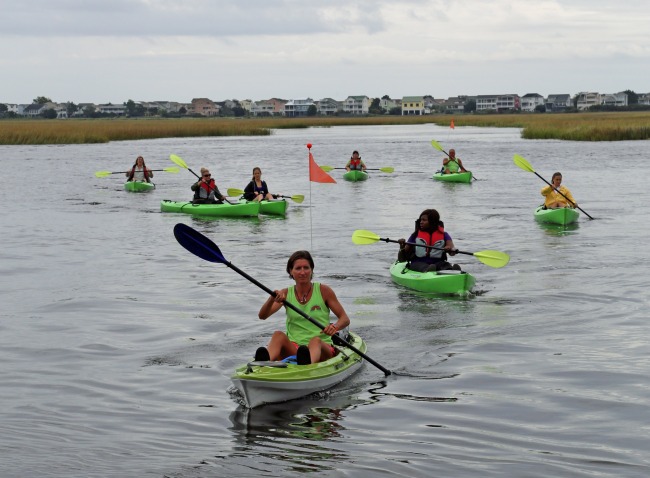 Fortunately, I kayaked with a fun group of women and a pair of patient and welcoming instructors. Kids are welcome to kayak on their own, generally speaking, starting at ages 10-12.
We set out for our kayaking trip at 9:15 am while the tide was still low. This didn't mean we didn't get caught in a few currents but the Summertide instructors are right by your side navigating you through the marsh (and talking you through the process if you run aground into one of the man-made land barriers) while you pass by waterfront homes. In the end, I found kayaking through the marshes to be a relaxing morning activity. 
4. Fish For Your Dinner
Fishing is considered an iconic North Carolina pastime and locals can be found at the Oak Island pier early in the morning. Pay 50 cents to fish from the pier and get some pointers from the regulars reeling in their catch.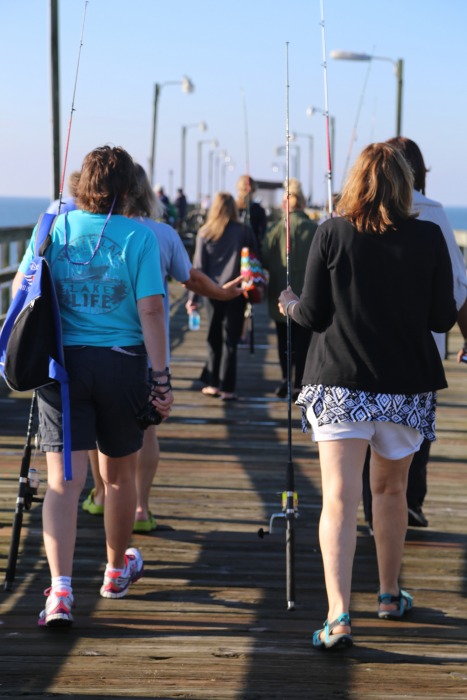 Our group of fishing ladies was all the rage on the quiet pier as we screeched and laughed, cheering each other on while we caught fish. Even the two novices in the group (ahem) enjoyed a successful morning. By the end of our two hours, we caught and released 6 fish and named ourselves the Fishing in Fashion team.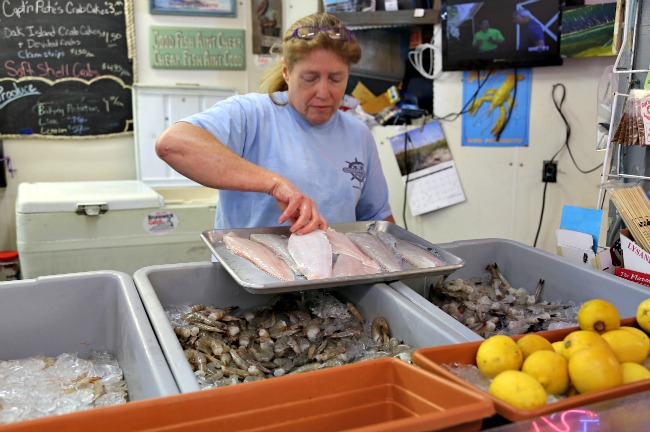 Fishing is not only a pastime in the Brunswick Islands but a part-time way of life for many people that live near the water. As we learned from the son-in-law of Captain Pete's fish market, no one lives solely as a fisherman nowadays. There's not enough money to be made just fishing for a living. However, what still remains is the ability to eat fresh off the water from either your own catch or someone else's morning catch.
5. Climb a lighthouse
What was once the brightest lighthouse in America and second brightest in the world is still a spectacular structure in the Oak Island area. The Oak Island lighthouse was built in 1957 and activated in 1958. It's an all-automatic, all-electric lighthouse that can take on 100-mile hurricane winds without budging.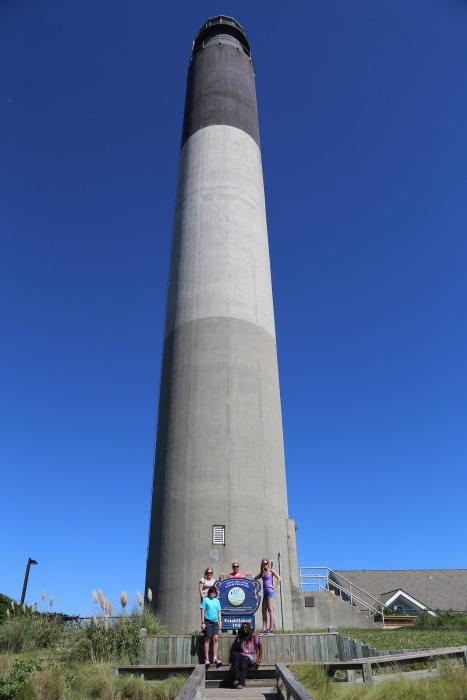 Sitting at 153 feet tall, the lighthouse can be seen from over 15 miles away. The 135-stair climb puts you out on a platform 128 feet above the ground. If you can manage the climb and aren't afraid of heights, you'll be rewarded with views of the ocean, surrounding marshes, Caswell Beach and much of Brunswick County. On a clear sunny day the climb is worth the trek.
Admission to the lighthouse is free – tips are appreciated. Everyone who gives a tour of the lighthouse is a volunteer. Tours are conducted by appointment only.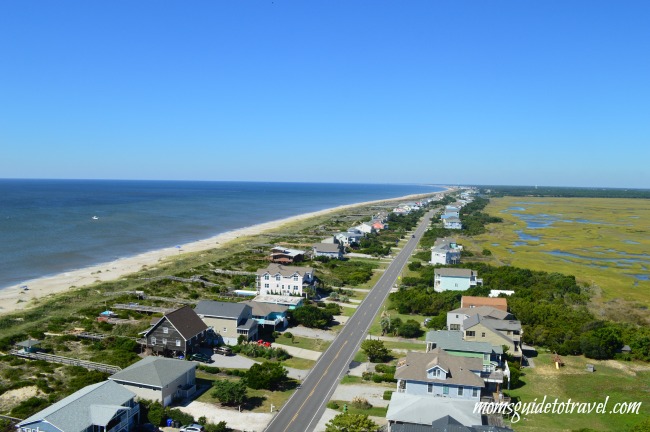 Overall, you'll find that a trip to the Brunswick Islands is a vastly different beach-going experience than you may be accustomed. Time seems to slow down and watches have little relevance. No matter which island you go to, whether it be the petite and secluded Sunset Beach or the second largest, Holden Beach, you'll take a step back in time to a more simpler way of relaxing with the family at the beach.
Have you ever heard of or visited the Brunswick Islands? If so, what's your favorite island? Even if you've never heard of or visited the area, I'd love to know what activity you could see yourself doing? Leave a comment below and I'll enter you in a contest to win your very own Brunswick County beach bag and towel! Giveaway ends Friday October 10th at 11:59 PM EST.
I was a guest of the Brunswick County Tourism Development Authority for my trip to the area. All opinions expressed within are my own.