Imagine taking a quick city getaway with the fam. In cities like Philadelphia, parking can be a nightmare, searching for a restaurant with kids a bear, grabbing a quick pre-dinner wine more drama than it needs to be, and entertaining the kids in the evening enough to put you to sleep early.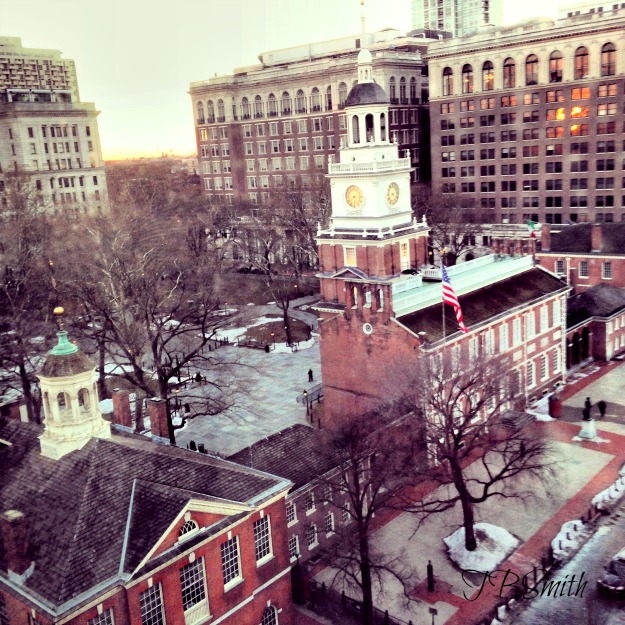 Kimpton's Philadelphia Hotel Monaco does a good job with its' Family Fun Night Package addressing all of those needs. As I contemplated when I'd visit the hotel again, I realized how much I appreciated the package, the little details that made me happy.
1. Valet parking
Parking in Philly is a beast. With the Monaco's prime location on Chestnut Street across from the Liberty Bell, it's almost impossible to find a space. It's a relief to exit your car right in front of the hotel, surrender your keys and just begin your getaway. Tip: Take care of your valet handsomely. The convenience and service in a hectic city is priceless. Outside of the package, valet parking costs $40 per night per car. The Family Fun Package includes valet parking for one car.
2. Hosted Evening Wine Hour and Kids Hour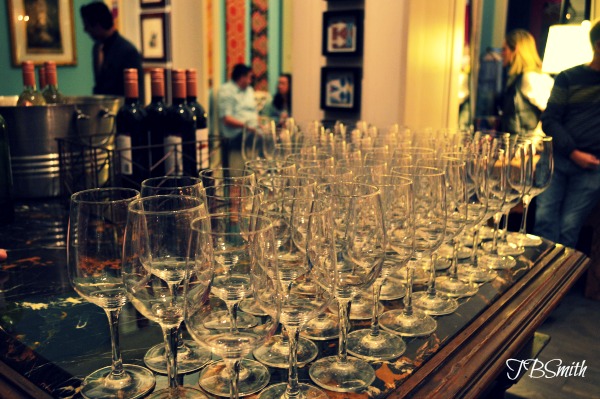 Although the wine hour and kids hour is available to all Kimpton guests, it's still a part of the total package of what you're paying for in staying at the Philadelphia Monaco. The kids get a chance to eat candy and enjoy games in the lobby at 4pm while parents get to enjoy a glass of wine at 5. Everybody gets their "time". Everybody's a happy camper.
 3. Movies in Bed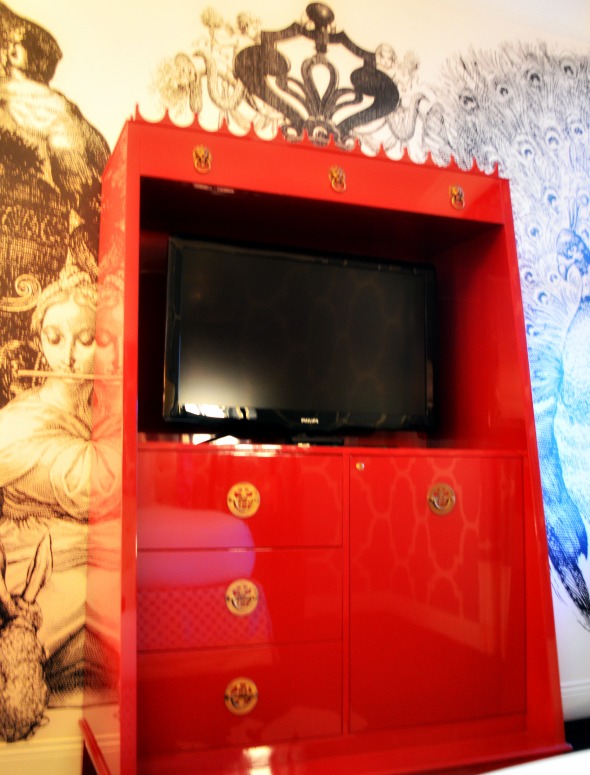 The In-room movie selection was surprisingly good. The Philadelphia Monaco had all the latest releases of both family movies and adult movies. Outside of the package , the In-room movie will run you $17.95 but is included in the family fun package. The hardest choice will be what to watch on your flat panel HDTV.
4. The Rooms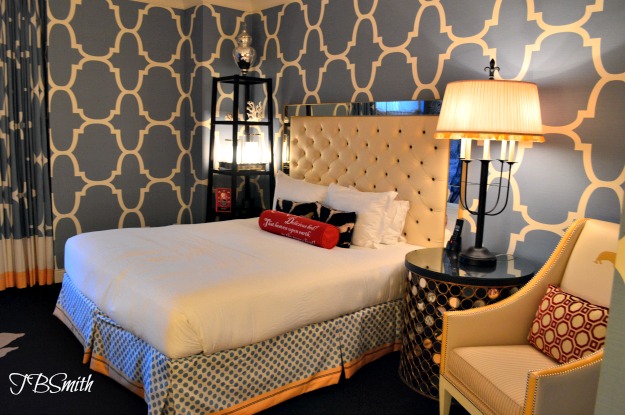 In general, the hotel's decor is fun, modern, and eclectic. Simply put: visual candy. The rooms are spacious and beautifully designed. I stayed in a Parkview King Room and couldn't be any happier. I had a wonderful view of Independence Hall and the park. My king bed was ridiculously comfortable with its' 300 count frette linens. I've seen well-made beds before but for some reason, this bed looked so pretty I didn't want to disturb the sheets.
To give you an idea of size, the Parkview Queen Queen room is 350 square feet – a good chunk of real estate for a family of four. Even if you decided to be more conservative with the Double Double room, you're still getting a decent 300-325 square feet to spread your wings. A desk to work on, modern furniture, a sliding bathroom door, bold wall paper and curtains…the colors are bold but still relaxing.
5. Late Check-out
With the Family Fun Package, you can check out as late as 2pm. For me, this is vacation gold. It was just enough time for me to wake up, have brunch, come back and let my food digest while I watched a movie – a perfect end to a quick city getaway.
Other things that I love about the Philadelphia Hotel Monaco:
The Robes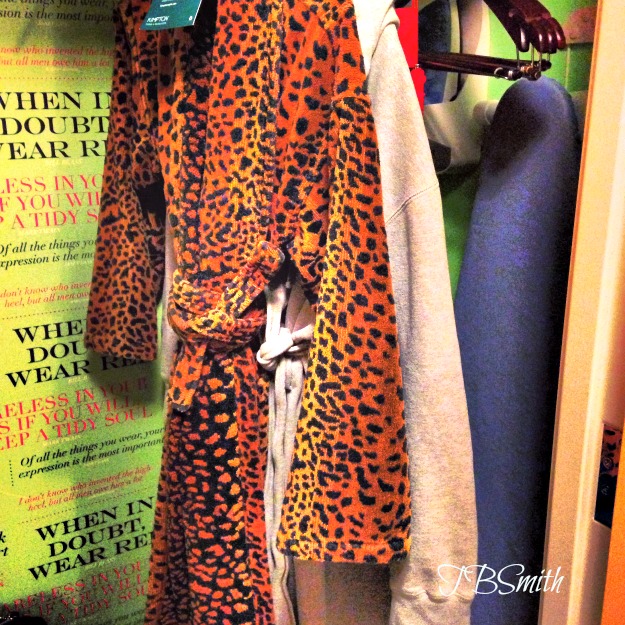 The robes are one of my favorite things about Kimpton hotels. The fun animal print robes for adults are sexy yet comfie and they make your relaxation experience that much cozier.
Technology Aware
One of the challenges for hotels housed in historic building is their ability to accommodate today's digital guests. This is not the problem at the Philly Monaco. They get it. Outlets, outlets and more outlets. I guess because I have so many devices, it's something that always sticks out for me.  Mom and Dad don't want to compete over outlets with the kids nor do they want to move hotel furniture around to access an outlet. I counted 11 easily accessible outlets in my room, from the bathroom to the side of my bed, to the desk, to outlets designed into the furniture, there was a place for me to be plugged in.
Great On-site Restaurants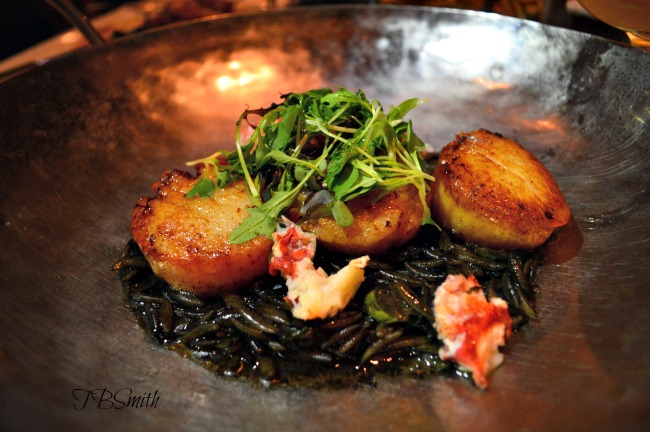 We dined at Kimpton's other Philadelphia property, the Hotel Palomar on 17th street. Square 1682 is a low-lit chic little restaurant that knows how to make simple foods like popcorn and carrots interesting. For starters, we had popcorn drizzled with truffle oil. I opted for the specials: a vast bowl of carrot purée soup and the jumbo scallops with poached lobster – both very delicious, colorful, and satisfying. To wrap up the evening, our host graced us with a large cheese plate with over five cheeses, fruit, nuts, and quince – a meal onto itself.
Disclosure: I was hosted by the Hotel Monaco to check out the property and experience the Family Fun package. I received no compensation – all opinions expressed are my own.