It's 9:30 on a business morning and I'm calling customer service to make changes to a reservation. I get a rep who I can barely understand, part due to our connection and part due to their accent. The company through whom I've made reservations is American. My travel is in America. I have very little time or patience to continue saying, "Can you repeat that please?" After their failed attempts to locate my reservation and a waste of 10 minutes, I hang up the phone highly annoyed.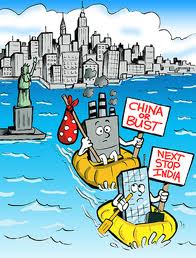 What's the deal? I get it about outsourcing. I don't necessarily agree or disagree. It's an issue that's not black and white. However, I do believe that big popular companies, such as the one through whom I've booked this piece of travel, should at least give their home-base customers the courtesy of supplying home-based customer service agents during normal business hours. When I call at 2:15 in the morning during some super late change of mind, I kind of expect to get someone from overseas. And I'm thankful that someone is awake with me. But when I call at 9:30 on a Thursday morning, even if I don't get an American per se, I expect to at least get someone that I can understand. Travel alone is stressful enough. Changing or making reservations shouldn't be.
How do you feel about it?