I had the pleasure of meeting Jody from FamilyRambling.com and IrelandWithKids.comlast year at the Blissdom conference in Tennessee. She was gracious enough to set up a tour of the Gaylord Opryland while we were there and we've stayed in touch online since then.
Jody has two daughters, ages 5 & 7 and is an Iowa (where she lives in a suburb of Des Moines) and Ireland (where she often travels with her fam) expert. You can follow Jody's adventures on Twitter via @iatraveler and learn more about her in this week's Mom Traveler Spotlight!
ABOUT IOWA AND IRELAND
Regardless of popular perception, there is a lot to do in Iowa.  In Des Moines we have plenty of parks, lakes and open space for play, a zoo, a terrific Science Center, Adventureland Amusement Park, theater and museums.  We even have an English Castle.  Outside Des Moines you'll find historical sites like the Amana Colonies, the birthplace of Buffalo Bill Cody, the Field of Dreams and even the Ice Cream Capital of the World.
Accommodation Recommendation: Des Moines has every hotel chain you can name, but a popular place for families is the Ramada Tropics Resort.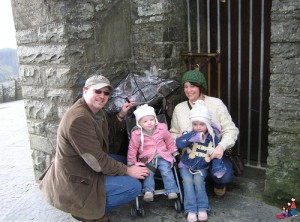 As for Ireland- it is truly a magical family destination.  Castles, faerie glens, incredible history.  Bunratty castle tops the list for a fun family day, and Killarney is a perfect central location for a first visit.
Accommodation Recommendation: In Ireland we usually choose bed & breakfasts.  Harbour View in Doolin is perfectly set up for families, and Bunratty Meadows near Shannon is very welcoming.
TRAVEL STARTS
I began traveling solo in my mid-20's.  When I married, in my early 30s, my husband and I traveled practically every weekend.  When our daughters were born we never thought about not traveling.
TRAVEL ADVICE FOR PARENTS
Children are smaller and notice different things than you will.  Take the time to look from their perspective.  And slow down.  Remember what you do see with fondness; don't rush through it.
BIGGEST CHALLENGE TRAVELING WITH KIDS
I've been really blessed to have raised good travelers.  I think the biggest challenge is to not bring too much.  Pare down; your kids don't need as much as you think they do.
ALL THE PLACES JODY'S LIVED AND TRAVELED
I've lived in Iowa, Minneapolis and Boston.  I've traveled to most states in the US (still need to get to Alaska and Hawaii), a bit of Canada, some of the Caribbean, London and much of Ireland.  We've a lot of the world yet to see.
FAVORITE DESTINATION 
Ireland.  Always.  It's my passion.  The friendliness of the people, the beauty of the country, the mystical history and the magic you can find around every bend of the road.  I would love to live there.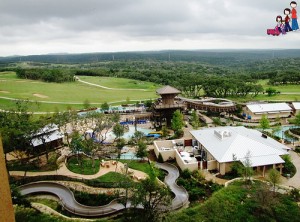 MOST SPECTACULAR RESORT/HOTEL JODY'S STAYED IN
Wow, this is difficult.  We love the JW Marriott Hill Country Resort in San Antonio for the incredible pools, fabulous kids club and amazing restaurants.  The Gaylord Palms in Orlando is so welcoming and has everything under one roof; their ICE celebration at Christmas time is just amazing.  And the Omni Majestic in downtown St. Louis is the most fabulous boutique hotel you can imagine.
NEXT STOP
Memorial Day weekend will find us in Chicago's Southland for the Gaelic Park Irish Fest, then it's off to Ireland for 2 weeks.  About 10 days after we return we'll hit the road for an RV adventure to Montana with stops at a few National Parks and a week with Austin Lehman Adventures on their Montana Family Adventure.  No plans after that- but in December we'll be heading back to Ireland for Christmas!
HOW TRAVELING HAS CHANGED JODY'S WORLD VIEW AND HER PLACE IN IT
I think I've mostly seen what we take for granted.  Even just the difference from living in the Midwest to living on the East Coast.  The openness, big yards and less traffic of the Midwest are under appreciated by practically everyone (as is the low cost of living/ good job market/competitive pay which affords us a pretty great lifestyle).  Which is fine with me- if everyone knew just how nice we have it here in fly-over country we would be over-run!