Erin (@kidventurous) and I had the pleasure of meeting earlier this year in D.C. at a tweetup for local travel writers and bloggers. She's such a sweet person and wears an invisible cape in my opinion, managing 4 children (ages 8, 4, 6, and 2), a full-time job, as well as travel blogging at www.kidventurous.com.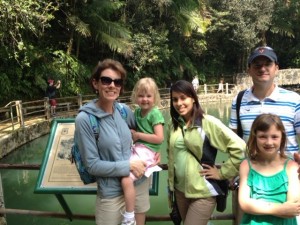 Erin lives in Ashburn, VA just 30 minutes outside of D.C. If you want to know about things to do in the D.C. area with your kids, she's also an excellent resource. Join me in learning more about Erin in this week's Mom's Traveler Spotlight:
ABOUT WASHINGTON, D.C.
There's a lot to do in DC, so much of which is free. Of course the museums are fantastic, like the National Museum of Natural History, the National Air & Space Museum and the National Museum of American History. A few of my faves that are not free but are unique to DC and worth checking out include the Newseum, International Spy Museum and the Crime & Punishment Museum. Heads up that I've seen discounts on all three through Groupon, so keep your eyes open if you're thinking about a trip to DC. You can also visit the U.S. Capitol (stop by your Congressman's office when you do), the White House, and loads of monuments, like the Jefferson and Lincoln Memorials.
TRAVEL STARTS
I don't think I yet recognize myself as a "traveler," but I'm on the path. My kids are getting to the age where (I'm hoping) the travel experiences will be more valuable and educational to them, and that's exciting to me. We'll be in Puerto Rico for Spring Break, and I can't wait for them to see the old fort, the rainforests, Old San Juan. There's so much more to see and do in Puerto Rico than hang out on the beaches (though we'll be doing that too). I really like the educational aspects of the trip.
TRAVEL ADVICE FOR PARENTS
I think getting sufficient rest is key. You need to build downtime into the middle of your day and going to bed at a consistent, reasonable hour is important. We went to Walt Disney World in November, and you see some of the these parents with young kids who are just go, go go and then they're all up until 10 p.m. watching fireworks. The kids are exhausted, and it really doesn't look like much fun for anyone. We always take a break in the middle of the day for naps or pooltime, and then try to stick to the same bedtimes we'd have at home. I think it makes a huge difference in the quality of our vacations.
BIGGEST CHALLENGE TRAVELING WITH KIDS
Car seats. I hate dealing with car seats anytime and especially on vacation. When we travel and know we're going to be renting a car, we usually will rent a car seat at the same time, but when we visit my in-laws in Florida we have to bring our own. Ugh, I can't wait until everybody in my house is out of a car seat!
ALL THE PLACES ERIN'S LIVED AND TRAVELED
Except for a brief eight-month stint in Atlanta, I've lived in the Washington, DC area almost all my life. As far as places I've visited, I've primarily been to Europe (London, Paris, Brussels, Amsterdam, Barcelona, as well as various cities in Ireland and Italy). I also spent my honeymoon in Australia, and have been to the Bahamas and Curacao. Getting ready to head to Puerto Rico for Spring Break.
FAVORITE DESTINATION
I really loved Paris. I went there so many years ago, when I was a junior in high school, and even then I remember how beautiful it was. The city, the language, the culture. C'est magnifique! I also loved the castles in the Loire Valley. Gorgeous!
MOST SPECTACULAR RESORT/HOTEL ERIN'S STAYED IN
That's a tough one. With kids there aren't many opportunities (or much interest) in staying anywhere super spectacular. When we took the kids to Curacao a few years ago, I think the most spectacular part was that our hotel room was steps away from a tiki hut that served chicken fingers and pina coladas after naptime! The kids loved that!
NEXT STOP
We went to Puerto Rico for Spring Break! We had a fun time. We had great weather, and were really lucky since apparently it rained 15 inches the week BEFORE we arrived! Phew! We went to the El Yunque Rainforest, toured around Old San Juan, went on a Bio Bay kayaking tour, went to the beach, all kinds of fun stuff. I'm also planning a two-week roadtrip from DC to Boston with stops in Philadelphia and New York. There's so much to see and do between here and there. Ultimately I really want to take the kids to Europe or South America for a month or so during the summer and this two-week journey seems like a good first step for me!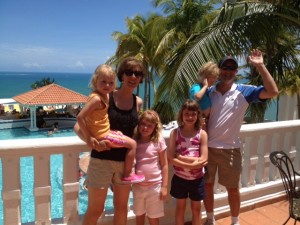 HOW TRAVELING HAS CHANGED ERIN'S WORLD VIEW AND HER PLACE IN IT
I think it's amazing to realize just how much is out there and how small we really are in this world. Now that my kids are getting older I'm so excited to be able to travel with them and show them the world.