I'm not sure who was more excited about our trip to Disney World, me or the kids. It's been twenty plus years since I've been to Magic Kingdom and the land of the big Mouse. I remember the days when we traveled one week every summer from New York to Orlando. My mom's best buddy would organize a bus trip for family and friends from Brooklyn, Queens, the Bronx, and Manhattan. Preparing for the trip was just as fun as actually taking it. We got so much enjoyment out of shopping for bathing suits and summer clothes; buying rolls of film for the family camera; packing suitcases and preparing snacks, sandwiches, salads and fried chicken for the bus ride. The trip to Disney was always the highlight of our summer. Those were the days. Now that I'm a mom, I realize how much work my mother put into getting the family ready for our trek and I'm grateful.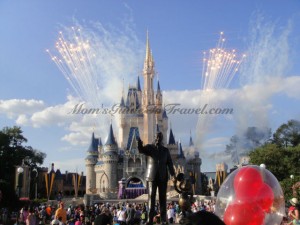 I always saw Disney World as a place for kids, and planned to return there for the sole pleasure of my own. I admit, I was wrong. There's no underestimating what Disney World does for people. Now that I've been back, I'm a believer in the magic again. I understand the excitement, the joy, the allure, and love of it all. Going back was like being there for the first time.
My husband has his own memories and I wasn't quite sure how excited he was about visiting Magic Kingdom. Everyone has their favorite park but since we were only going for the day, after several interviews and some light research, I figured that Magic Kingdom was the best place to go if we had to choose just one. Even with the 91 degree heat and heavy crowds, my husband was excited, in his reserved macho way. I could see it welling in him.
The crowds and their ensuing Disney World fever can be overwhelming if you allow it. Traveling to a theme park with a young one who has special needs comes with its share of anxiety. I opted not to overdo it on the research and park planning, except to report to guest relations for our Guest Assistance Card. I know that there are Disney World bibles and Park Secrets manifestos online but sometimes too much information can be….well, too much information. All I needed to know was what attractions were appropriate for my 4 year old and where I could find gluten free meal options. We kept it pretty simple.
Arriving at 10:30 am and leaving at 9:30 pm, we enjoyed lunch, snacks, a parade, and about 7 rides. They were: the Carousel, Space Mountain (hub and the oldest); It's a Small World, Liberty Square Riverboat, The Magic Carpets of Aladdin, Snow White's Scary Adventure, Stitch's Great Escape, and the Tomorrowland Speedway. Although it may not seem like a lot for the theme park aficionado, this was a long day. My youngest was a trooper – no nap and no melt downs.
Disney World park attendees provide an excellent level of customer service and are very helpful. We secured a gluten free meal and were accommodated for qualifying rides. They really do a wonderful job at helping families create beautiful memories.
I was provided with 2 complimentary one-day passes to Magic Kingdom by Disney World. All comments and opinions in this post are my own.