Hurricane Season and Travel Insurance

After this hurricane season travel insurance purchases will probably increase.
What we've experienced this year with Hurricanes Harvey, Irma, Jose and Maria is frightening. As we measure our hurricane preparedness, many of us are considering how we protect ourselves both in travel and in our homes.
The 2017 hurricane season has just started and it's already out of control
This time of year I'm usually hiking a volcano in Costa Rica but this year I decided to sit still.
Thank goodness for small graces.
Although I had no plans to be in Houston, the Caribbean or Florida, a couple of the women I travel with live in those places.
You never know what a hurricane will do.
Personally, I'd rather not be in the air while a Maria is swishing around the atmosphere.
Would you?
But what if you're traveling this time of year? You want to ensure that you're covered with insurance if your trip is interrupted?
You've been busy vacation planning for either a girlfriend getaway or that annual family vacation.
Then Mother Nature decides to act up.
How do you protect your travel investment? Is travel insurance the answer?
Travel Insurance Expert and co-Founder of TravelInsurance.com Stan Sandberg explains what travel insurance covers and how to buy travel insurance.
Want to hear the interview while you multitask? Listen to the audio segment here:
Rather read? Well continue…
Frequently asked questions about travel insurance, flight insurance, and travel insurance that covers hurricanes
The following questions are ones that friends and readers have asked or submitted. Some of these are even questions that I have.
The average traveler (especially younger ones) are clueless about insurance.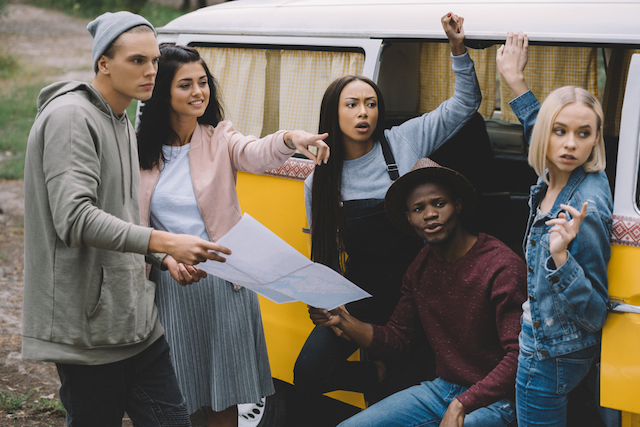 I think many don't opt for travel insurance because either:
they don't think that they'll need it or
they don't think travel insurance is worth the cost or
they are unclear about what it covers.
I've personally heard more stories of there being a clause where a traveler wasn't covered than I have of travelers being completely covered.
On the other side, I've heard horror stories of travelers getting really sick overseas or dying and families being in really sticky situations.
So how much does travel insurance cost?
Make sure to either listen or watch the interview below with Stan and I where he breaks it down quite easily.
I ran through an exercise on the TravelInsurance website.
It was for a hypothetical $1900 trip to Costa Rica for four days at the end of September, traveling on my own.
I'm sharing these details because these are answers to the questions that the survey asks in order to generate a quote. (Where are you traveling? What's the value of the trip? How long are you traveling? When are you traveling? How many travelers are on the trip?).
The system also asks my age and where I reside – two details that Stan mentions are important variables in how your travel insurance is priced.
The quotes I received ranged from $13.32 to $200.
The least expensive was a medical insurance quote from Roam Right. It did not cover me for "trip cancellation" nor "flight accident."
However, it did cover me for $5000 for trip interruption.
Admittedly I felt a little overwhelmed looking at the list of insurance options for the first time.
The higher plans cover me for $100% of the trip, including cancellation. The cheapest of those plans costs $55.
There's a lost to consider in a plan. Here are the things that a plan could cover:
trip cancellation
trip interruption
medical evacuation
medical protection
baggage loss
flight accident
accidental death
When is it more worth it to by trip insurance? Does it depend on where you're traveling?
In an email, Stan mentions that:
Hurricane season begins on June 1 and generally runs through the end of November. It's a long season, with unpredictable storms across several months. The areas most affected are along the U.S. East Coast and Atlantic region. If you're flying into or out of any of these areas, your risk increases, and the more we encourage purchasing travel insurance.
What is covered by your credit card and what's not covered?
No one knows. LOL!
Here are other travel insurance questions that were answered in the interview.
What should I look for in a travel insurance policy?
What does travel insurance cover? Is it a percentage of the trip? Is it a cost per person or per travel party (like a family)?
At what point in the planning process do you have to purchase insurance? Do you have to add it on at the point of sale or can you add it later? And if so, when is the latest that you can purchase travel insurance?
If we're on vacation and I fall off a curb, is my medical care covered by the insurance?
What are examples of big differences that you see between some insurance plans?
What is an example of the best insurance plan?
What do travel insurance buyers need to beware of?
How much can I expect from my travel insurance to pay out if my flight is cancelled due to a hurricane?
Do I have a deductible like with car insurance or medical insurance? How fast would my claim be processed?
You can watch the replay of the live video below if you're a more visual person and would like to see the interview:
I think we answered all of the submitted questions. If you noticed that we didn't, let me know.
And if you have additional hurricane travel insurance questions please leave them in the comments below.