Hands-free travel with Bag Voyaage is the way to go. If you don't know me, let me just tell you that I get very excited to share truly awesome things with people. It could be information, new knowledge, products, services, whatever. If it's good and has had a positive impact on some part of my life, I'll share it with family and friends.
My newest "discovery" is a company named Bag Voyaage. Those followers that see me on Twitter will know that last week I couldn't stop singing this company's praises. I went to a blogging conference in Tennessee and flew there hands-free!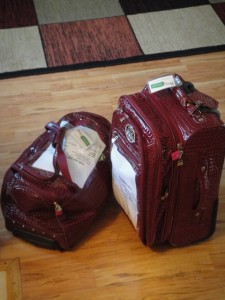 What do I mean by hands-free?
Just that. Nothing in my hands except my boarding pass and my laptop on my arm.
Bag Voyaage, who sponsored part of my trip to Blissdom, picked up my luggage from my front door on Tuesday and delivered it to the Gaylord Opryland by noon on Thursday.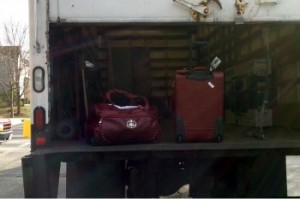 My flight arrived at 7:10 pm that evening. That's right folks, the luggage was there before me! When I got the call from the hotel's business center that they had my package there waiting for me, I kicked myself. Why didn't I squeeze myself into the luggage with some snacks and a small oxygen tank so that I could get there early too?
The whole experience was flawless.
I felt like a spoiled brat as I walked through the airport weightless. I arrived at the hotel and headed straight to my room without the customary assistance of a bell man unloading my bags from the taxi.
"M'am, do you have any luggage I can take up for you?"
"No John, that'll be quite alright. My luggage was delivered to the hotel for me."
"Oh. Really? Cool."
"Yes. Yes, it is. Have a nice day." –> Eww, snob! Yup, totally.
Not only did I save time (checking -in) and money (on baggage fees and bell man tips), I saved my strength and the hassle.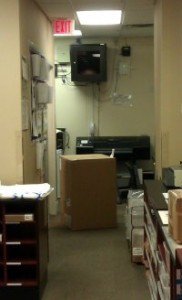 When it was time to leave Tennessee, I left my luggage at the business center on Sunday morning. I caught my flight at 10 am, and my luggage was picked up on Monday. If you're returning on a weekday, more than likely, you're luggage will be retrieved that same day. But I wasn't worried. I had all my necessities and plenty of excess clothing at home. I knew I wouldn't be in dire need of anything. My luggage arrived on Wednesday at noon.
I'm excited about the services this company offers for travelers, especially my fellow traveling families. Think about how much stress this reduces for us as we travel with our kids. The best part of this whole experience is that my husband, the cynic, was also excited about the service. Besides knowing that I wouldn't have to be weighed down with luggage while traveling on my own, he didn't have to load and unload it for me at the airport! (Ha! I think that's the real reason.) No, but really, he mentioned that it was a must-use for our family when we travel in the future.
If you want to learn more about Bag Voyaage and hassle (and hands) – free travel, check out their You Tube video: http://www.youtube.com/watch?v=dQUHGbrLVuM
Let me know what you think and feel free to ask any questions you may have. Happy Travels!