[Post inspired by a lunch conversation with fellow conference attendee and traveler Rachel Martin from Finding Joy.]
This past Thursday, for a trip to the Blissdom social media conference, I took a brief hour and fifty minute direct flight from Baltimore to Tennessee on Southwest airlines. I was quickly reminded why it's not my favorite way of flying. As much as I enjoy "no baggage fees", Southwest flight attendant humor, free pretzels and overall, good service, I don't particularly care for the anxiety that stirs up in me when I fly with the airline.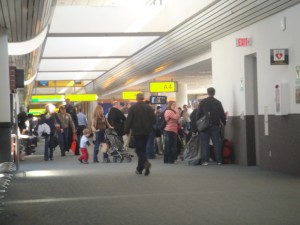 What's this anxiety all about?
Well, first, it's the unknowing and uncertainty of where my seat will be. The assigned seating rule of other airlines works well for people like me who aren't seating – risk averse. Unassigned seating is just a little too free and hippy for my conservative flying tastes. Yes, I know, if I'd set my alarm exactly 24 hours before my flight departs, then I'd ensure myself a better boarding class and number. But I don't always think of that. I admit, even as an avid traveler, I'm forgetful!
So what happens when you don't check-in soon enough with Southwest?
You get some high number in the C class. Then you have the joy of playing the eenie-meenie-mynie-mo game as you walk down a long and quiet aisle of faces trying to avoid your gaze, deciding which two bodies would be the safer bet for a middle seat sandwich where you get to be the meat and cheese.
The second part of the Southwest anxiety is the boarding process. The gate area looks like cattle stalls. Lining up is a hoot. People are secretly trying to either cover up their own boarding passes so that they can skip the line or they're trying to take a glimpse of yours to make sure you're standing where you belong. You either feel like telling them to mind their damn business or get to stepping (aka carry your butt to your assigned stall – Moo!).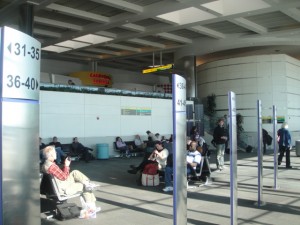 If you happen to get a good number and score a window or aisle seat, ha haa, now you get to watch the losers with the piss-poor numbers walk by. You're either looking away quickly when you see some face you'd rather not have sitting next to you or you're sneaking peeks for that "right one". When you find them, you struggle to find the balance between putting on a subtly inviting smile that says "hey come sit next to me", and not looking too eager, where they'll think you're a nut job to avoid at all costs.
However, in a split second, when you were happy at first that everyone was walking past your seat, your emotions betray you. Watching passenger after passenger walk past, NOT choosing to sit next to you, you begin to wonder, "Why DON'T they wanna sit next to me?" Does my hair look a mess? Do I have crust on my face? Yo, what's up? Then that once secure inner voice starts screaming: "Hey, pick me, pick me!" And all of sudden it feels like middle school again. You're waiting anxiously for the dodge ball team captains as they take turns picking their players bypassing your name, leaving you to be one of the last ones left in the draft.
What the H***?! How did this happen?
That's Southwest for ya. It's plays a horrible game on the traveler's emotions. What thoughts have run through your head when you've flown Southwest?
My question to the airline: If you can assign cattle stalls, why can't you just assign seats?