Guest post from Tricia Clarke, freelance journalist, who recently traveled with her family to the Gaylord National Harbor resort in Washington, D.C.
I first fell in love with the Gaylord National Harbor after attending a weekend conference there in 2010. When I returned recently to celebrate my son's birthday, the huge 18-story glass structure, set along the shores of the Potomac River, seduced me all over again.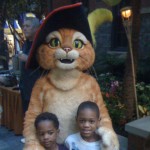 The lavishly decorated hotel offers a variety of specials but one of the features that draws hundreds of families in is the chance to meet the Dream Works characters. Our room was on the 17th floor and my sons loved riding the glass elevators at the Gaylord National Harbor.  Our room was nicely decorated and the beds were very comfortable. (I especially liked the magnifying makeup mirror in the bathroom). The free WiFi and bottles of water were nice amenities but it turns out they're not so free, as we learned at the end of our stay with the $15 resort fee.
For breakfast, we ate buffet-style at Pienza – an Italian eatery, one of three onsite restaurants in the Gaylord National Harbor's atrium. It wasn't the best hotel breakfast I've had and my son's weren't really keen on anything but the cereal and fruit.
After some fun in the indoor pool and getting soaked by the splash zone fountains and a trip to D.C., which is only 20 minutes away, we spent the evening up close and personal with Dream Works characters like Alex the Lion, Princess Fiona and Kung Fu Panda. All four of the Gaylord's locations (the others are in Orlando, Dallas and Nashville) feature the 'Dream Works Experience' and the ingenious idea offers families a 'Disney-like' encounter without the lines and the crowds.
The Dream Works packages include breakfast with the characters, a 2-hour party, and plenty of picture-taking opportunities. My boys had a wonderful time doing the 'cha cha slide' with Puss in Boots, the' wobble' with Shrek and dancing to the Madagascar theme song with King Julien. Later on, our room on the 17th floor provided the perfect view for Saturday night fireworks, launched from a boat on the river.
Despite catering to a variety of travelers (during our stay we witnessed a wedding, a conference and a Beatles music festival!) the Gaylord National Harbor does it all at a very high standard. It's a great place for a family break, offering a slice of luxury at an affordable price.
Tricia Clarke is a freelance journalist and creator of www.britsacrossthepond.com – a website celebrating all that's British in America. Follow her on Twitter @britsacrosspond.com. Photo courtesy of Tricia Clarke.