As the Fall ushers in and the days get shorter, figuring out what to do for family travel tends to be fairly easy around my house. We usually take a family day trip. At least, that's what we've done in the past. We'd pack our bags for the day (or the night) and hit the road, choosing the most scenic routes and the least bit of congestion – some place where we can see the changing leaves. This year we changed it up – we took it to the water instead of the road. Our first Fall family day trip was last Sunday on the Chesapeake Bay with a local non-profit, Captains Caring and Sharing, an organization that provides boating opportunities for youth with serious illnesses and disabilities.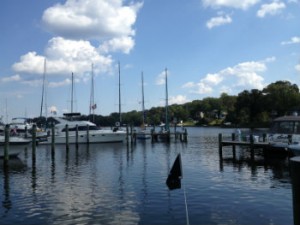 Thanks to co-founders Bob and Cheryl Krajcsik and a compassionate boat owner-volunteer, our family had the opportunity to enjoy an afternoon at sea after a long physically and emotionally taxing week in the hospital.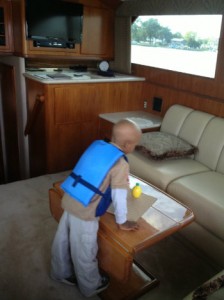 The outing was unbelievably therapeutic for my four year old. The weather was perfect and I'm not sure we could have asked for a better day on the Chesapeake.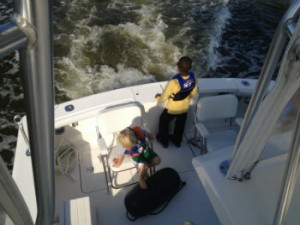 We spent a few hours on what I believe was a 50-foot power boat. The owner, Rich, and his two children were accommodating and wonderful hosts. Both of our eight year old sons got along well, playing Legos in the galley while his ten year old daughter kept my youngest and I company on the bridge. After a week of not eating or talking, within fifteen minutes of being on the boat, my four year old smiled and opened his mouth, letting air in and joy out. Hooray! It could have been raining hail for all that mattered – my son's happiness and recovery were what made my day.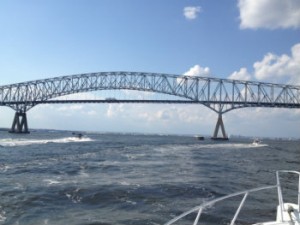 Our afternoon started out leaving from a marina in Pasadena, MD. We cruised through the Chesapeake Bay past landmarks such as a cement plant, the old abandoned Fort Howard, under the Francis Scott Key Bridge and in viewing distance of Baltimore's Harbor, where we spotted the Bethlehem Steel plant, Fort Mc Henry, a Carnival cruise ship in port, and the USNS Comfort.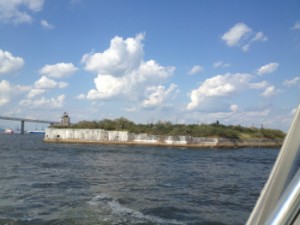 After our excursion, we were greeted back at the yacht club with a hearty picnic, games for the kids, pumpkin painting, and goodie bags for the boys. Our gracious host thanked us for letting him take us out for a break and we thanked him for giving it to us. I'm not sure if I could have thanked him or the organizations' founders enough for the part they played in bringing a smile not only to my sons' faces but to the faces of other children who were there for a relaxing day trip. They truly cared and shared.