A few weeks ago I spent three fun-filled early Fall days in an unsuspecting place that would make for a great family trip: Bethlehem, Pennsylvania.  Attending a media event there, I learned about the range of activities the region has to offer visiting families –  perfect for a low-cost mini vacation.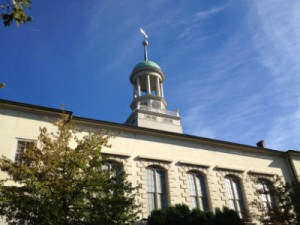 BETHLEHEM
Bethlehem is a small town with a long history. A three-hour drive from Baltimore, Bethlehem was founded in 1741 by Moravians, a closed religious community from the Czech Republic. The town is filled with 18th century Germanic architecture and holds more original 18th century buildings than popular Colonial Williamsburg. Bethlehem is home to the Moravian College, Lehigh University, PEEPS candy, the Crayola Factory, and Bethlehem Steel. Bethlehem is also known as "Christmas City". According to the hotel's onsite historian and our walking tour guide, Conde Naste named Bethlehem's Christmas service the "most beautiful Christmas service in the world."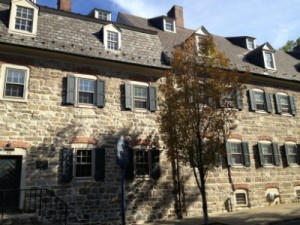 HOTEL BETHLEHEM
Historic Hotel Bethlehem sits prominently at the base of Main street. Driving up to it, the first thing that came to mind was "old". I wasn't sure what to expect inside. Parking was a little awkward with the structure being to the back side of the hotel – unattached. The setup made lugging heavy bags through the rain a small inconvenience but once I stepped inside the picturesque lobby I got over it. Dark, open, and warm the lobby had an understated sophistication to it. The walls felt like they had stories to tell.
The hotel was built in the 1920s on the site of the Eagle hotel, an old Moravian hotel built in 1794. Renovated since then, there are some things that have stayed the same like the elevator. It's one of those older elevators that you'd imagine an operator managing – the kind you definitely won't find in your modern cookie-cutter hotel. As slow and creeky as it was, I'm glad that the elevator is one of the non-renovated features of the hotel. It adds to the authenticity as well as the historical charm.
THE SUN INN
For another taste of early Bethlehem history, visit the nearby Sun Inn. On my first evening, I took a tour of this 250 year-old inn located just up the street from Hotel Bethlehem. It was part history tour part paranormal investigation, complete with EVP machines. The inn was built in 1758, run by Moravians, and served as a refuge for soldiers attacked by local Native American tribesmen.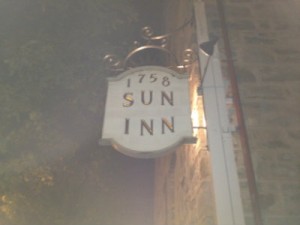 The paranormal tour would be a fun activity for the adults and teens in your family if searching for ghosts is of interest.  Personally, I'm not one to go looking for "trouble" but I was very intrigued by the long history of the Inn and others' paranormal experiences.
DINING
There are several options for dining right near the hotel. Just across the street I had appetizers at a tapas restaurant called Tapas on Main. The sangrias are A-mazing. I would've been content sitting there for hours with friends or my husband, enjoying tapas, talk about ghosts, and sangrias. Tapas on Main is a good choice with kids as well – just no sangrias (or maybe just one). No need for a kids menu, the plates are small but substantial and there's lots to choose from, more interesting than the standard chicken nuggets and fries or mini pizza fare that restaurants have come to justify as required items for a kids menu. Frankly, my son would've enjoyed the shrimp dish I had and been content.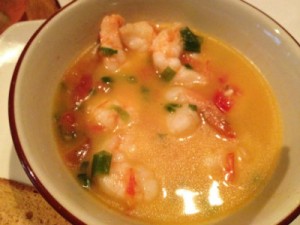 Another restaurant on Main Street that can work for a family is Bethlehem Brew Works, especially if mom or dad are fans of beer. Craft beers are made right on the premises.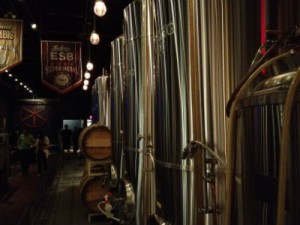 If the family is a fan of seafood and prefer a more upscale setting, Emeril's Chop House, located at the Sands Casino Resort Bethlehem, is a nice place to spend your hard earned dollars. My salmon dinner was tasty but the highlight of my meal was the barbecue shrimp and grits appetizer. The shrimp were large and the grits were smooth and creamy. Yum! What a way to start dinner.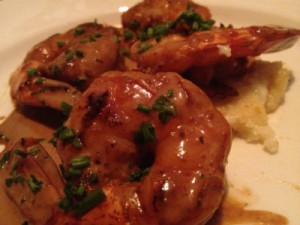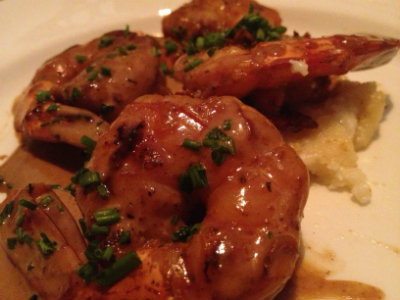 ACTIVITIES
If you have a sitter or are traveling without kids to the area, the Sands Casino Resort makes for a fun extra-curricular activity. The structure is part casino, part resort, part discount mall, complete with several places to dine. The Sands also has occasional entertainment like boxing and concerts.
For the kids, they can visit the Crayola Experience, a visitors center where kids can get creative and participate in themes and projects. Just Born (where PEEPS and Mike & Ike are made), the Mack Truck museum, and C.F. Martins Guitar Company (the largest acoustic guitar maker in the world) also offer fun, interactive, educational tours.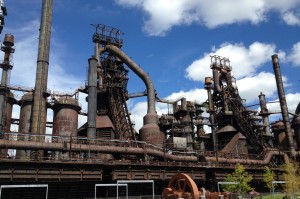 Overall, it was neat to discover somewhere new that would be a viable destination for a family trip. Bethlehem was a town I knew little about.  It's not a high profile destination but rather, one of those best kept secrets. As a drive-to destination for Mid Atlantic families it makes for an economical choice for a mini vacation.