Have you ever had the experience where a food has transported you to its place of origin? Back in November, when I took a trip to London for a travel conference, I stumbled upon a chocolate demonstration at Ecuador's display stand. When I spotted the trays of mini Ecuador chocolate delights and a large bowl of melted chocolate, I knew I'd stumbled in a chocolate lover's (my) dream.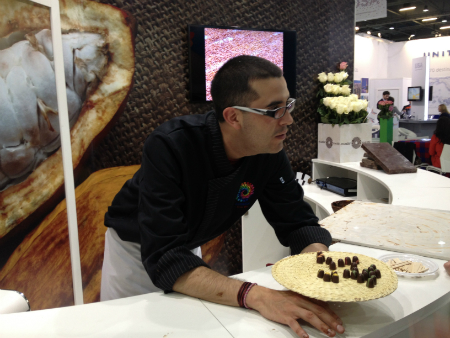 Ecuador's resident candy chef enthusiastically gives me a tempering demonstration of the country's award winning organic chocolate. I picture myself as the marble slab upon which he smooths the chocolate. I don't think I hear half of what he says. The bold and powerful smell of the chocolate transports me to the cocoa farms of Ecuador, where the cacao is harvested.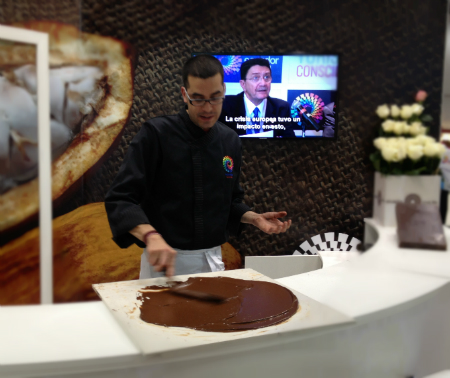 This is what chocolate-maker Pacari wants.
Pacari Chocolate is recognized for producing some of the world's best chocolates and has received international awards for quality and tastes. Notably, the company practices social responsibility in Ecuador, working with 2500 families on small organic cocoa farms in conditions defined by equality, justice, and an overall love for the environment.
This is one farm vacation I wouldn't mind taking. Pacari has won several international chocolate awards last year, including the award for Dark plain/origin bars.
Back to my chocolate man.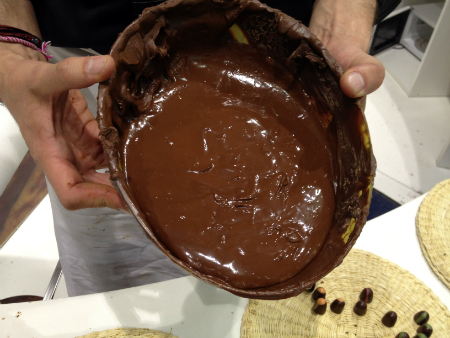 After a few minutes of tempering and some cocoa re-education, the chef offers me a chocolate bar of my choice. I choose the 72% cacao Los Rios Single Region Fine Chocolate. High levels of antioxidants never tasted so good! This was one delicious bar of chocolate; something you close your eyes for and eat slow. I've never had chocolate make love to my taste buds like that before. (Can you tell I love chocolate?)
The Los Rios Single Region's flavors are complex – several notes of tropical fruit are easy to detect. Eating this bar is akin to drinking fine wine: you nibble each. individual. square. slowly. intentionally.
I've just been to Ecuador!
The bar travels with me from London back to the States. I feel like that annoying, torturing sibling that eats your favorite food in front of you without sharing, obnoxiously slow. I prolong my gastronomic experience for what has to be three weeks. Talk about self-control and will-power. Gratefully, I learn that natural food retailers like Whole Foods carry Pacari's bars. Great! I can take a trip to Ecuador any time I please.
Have you ever tasted Pacari Chocolates? What's your favorite bar? Or what other brand do you love?