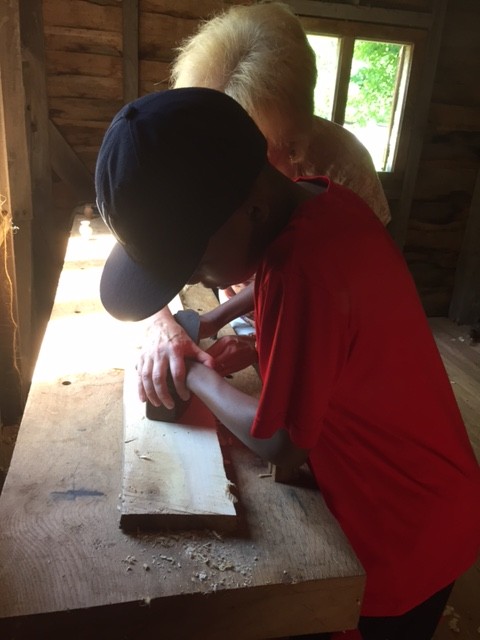 Our family is in the thick of our summer travel madness. I knew July would be busy so I had to think hard about choosing summer travel over choosing summer camp.
I opted to keep the boys out of summer camp so that we could focus on travel and learn more being out and about. I'm practicing what I preach about traveling around the corner by finding local activities when we're not on the road.
Choosing to not do summer camp freed me of the guilt (and financial burden) of missing paid days of camp.
A week ago we all went down to Charleston with my sister and nephews to visit my in-laws. This past weekend just the boys and I spent four days exploring Philly. I wanted to flex my travel solo with kids muscles. Out of necessity, this happens at least once a year. This weekend I realize that if I don't have to, I'd rather not!
Whew! It's a lot. I gotta say, I notice a big difference in my attitude when I'm traveling with them during warm weather vs. cold. I have less patience when I'm hot and I don't like it. Just being real. This is what a day in the heat traveling solo with your kids looks like: 
Summer Learning
It's important to me that I make sure the kids are getting a lesson from wherever we travel. I like to schedule educational outings to balance the fun and ask them questions to see what they've learned. For my baby with autism I just try to introduce him to a new word since I know most of the deeper stuff that we're seeing is over his head.
Annapolis
In Maryland, they visited London Town and Gardens just outside Annapolis. Here they learned about life on an early colonial settlement. We all learned that people didn't drink water but rather beer, including the kids, because water was contaminated and often made people sick.
Charleston
In Charleston, we visited Emanuel AME church where the tragic shooting of 9 Christians occurred in June. We paid our respects and watched the news unfold, living history out ourselves. We visited a slave plantation that recently opened up on James Island where my in-laws live. We've passed that plantation a hundred times, me always asking my husband why we can't we and visit, him always replying because it's private property.
Until 1990, families still lived there in some of the old slave houses. My sister, the kids and I were astonished. Shocked to be honest. Although it wasn't the first plantation I've visited, it still was a challenge to walk through as I imagined the back-breaking work our ancestors endured in scorching heat. We got a taste of that weather as the heat index hovered in the 105 area. My sister is done visiting plantations.
Philadelphia
In Philadelphia, we learned about mummification at Penn's Museum of Anthropology and Archaeology. It's a fascinating museum with several amazing rooms of Egyptian artifacts, mummies, sarcophagus and more. We saw a mummified cats head in excellent condition as well as the mummies of children, adults, and other animals.
Our Philly getaway also took us to the Seaport museum where we learned about the Delaware River's past, including the transportation of human cargo. The African American exhibit was one of the most fascinating in the museum. Harrowing in many ways but excellent because of the artifacts there and how the exhibit brings things such as standing on an auction block or sitting in a cargo box to life.
The museum and especially the exhibit is worth a visit.
End of Family Summer Camp
We'll be heading out for a Carnival cruise (which I don't plan on doing solo this time around) to the Caribbean and then we'll round out our summer adventures with a weekend trip to Virginia Beach and/or Williamsburg. I don't know yet what we'll discover and learn at our stops in the Caribbean but I'm sure I'll find something. Without a doubt there's plenty to learn in Williamsburg so that's a trip I can count on to deliver some real educational value as well. 
What about you? Where has your family traveled this summer? Do you seek educational opportunities when you take your family vacations?
If you're interested in ideas for creating your own family summer camp, sign up for my travel consulting services and let's work on an itinerary designed specifically for you and your kids. After all, the world is their best classroom.
Sharing is Caring. I'd love if you'd share this post with your network by clicking any of the sharing icons below!