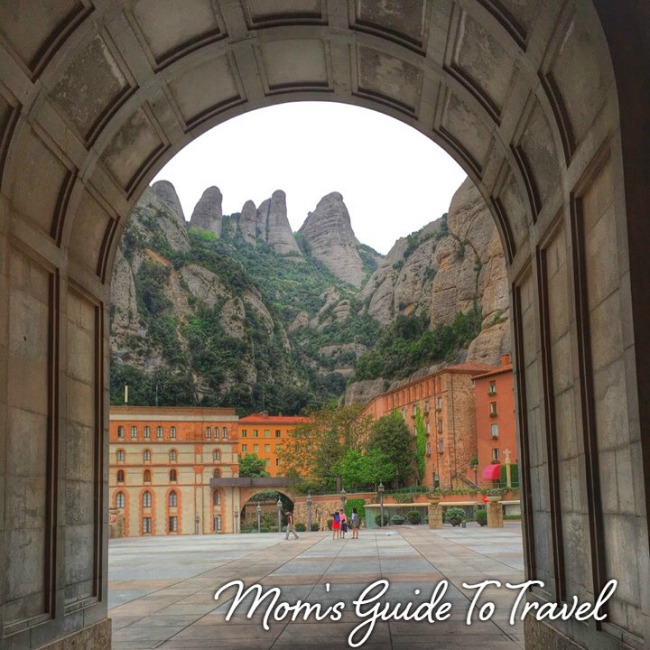 Montserrat means "serrated" or sawed mountain.
Earlier this week I climbed Montserrat in the province of Barcelona, Spain. No easy feat with a weak knee but I believe my sports training physically prepared me for the experience.
Montserrat in physical context
Four years ago, when I committed to run a triathlon I had to learn how to swim. When I learned how to swim I had to learn how to race. When I learned how to race I had to learn mental perseverance.
Getting in the water is only part of the battle. Physical feats aren't about strength, they're about mind over matter.
Most women in that first triathlon were better swimmers than me. I'd just learned how to swim months before and here I was jumping head first for a .675 mile swim.
I saw at least a dozen women start and then bail out before my heat even got into the water.
This didn't bode well for my confidence.
Peace comes from Focus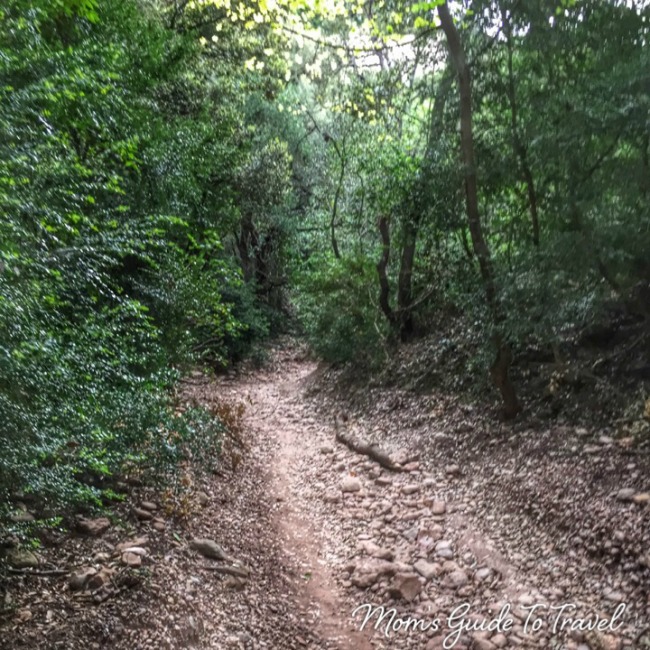 I practiced pinpoint focus in order to put the thought of the swim, this crazy self-challenge, out of my head.
I centered my thoughts on my swim coach's advice. "When you get in that lake, don't look to your left, don't look to your right, don't look in the distance at the finish. Look at the water right in front of you, stroke after stroke. Before you know it, you'll be done."
So that's what I did.
Even though my hips and shoulders ached, and my breathing labored, I focused right in front of me. I advanced forward, stroke after stroke, until I was eventually done.
Finishing the swim was an amazing high. I didn't quit – it was the ultimate reward.
It's that kind of attitude that led me to believe I could hike the mountain Montserrat, just outside Barcelona.
The challenge of Montserrat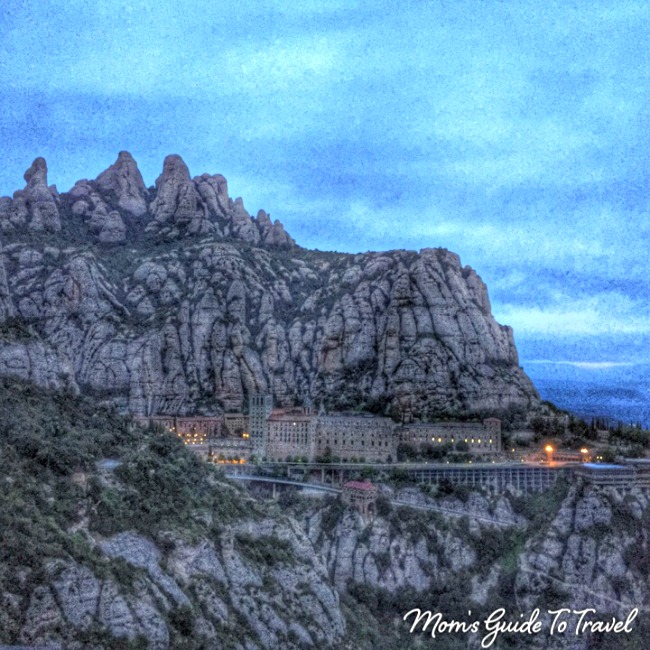 I knew what I was getting into, that with a recovering ACL it was going to be a supreme challenge to walk up the mountain. I accepted the fact that it might even be painful.
But I was searching for something.
Besides wanting to honor my commitment to the trip, first, I was sold on the idea of seeing the sunrise over Montserrat. I never wake up for sunrises when I'm on press trips. I'm always too exhausted.
Second, it's been so long since I've put my body through any rigorous exercise or physical challenges. My surgery was this past December and my accident last August. For obvious reasons I've been taking it easy, allowing my body to heal.
I think that that "crazy" gets etched in you after the first time you accomplish an extreme sporting event. And no matter how hurt or out-of-shape you are, you will either a.) come back to it or b.) push your body to its limits.
Third, I crave the adrenaline of personal accomplishment, particularly after crossing a finish line. In fact, I miss it.
Fourth, I felt that the mountain was pulling me towards it. There was something that I needed to find, some conclusion that I needed to come to.
The whole visit to Montserrat was turning into an existential experience.
It was hard for me to stay back and say "no."
Plans, Visions, and Reality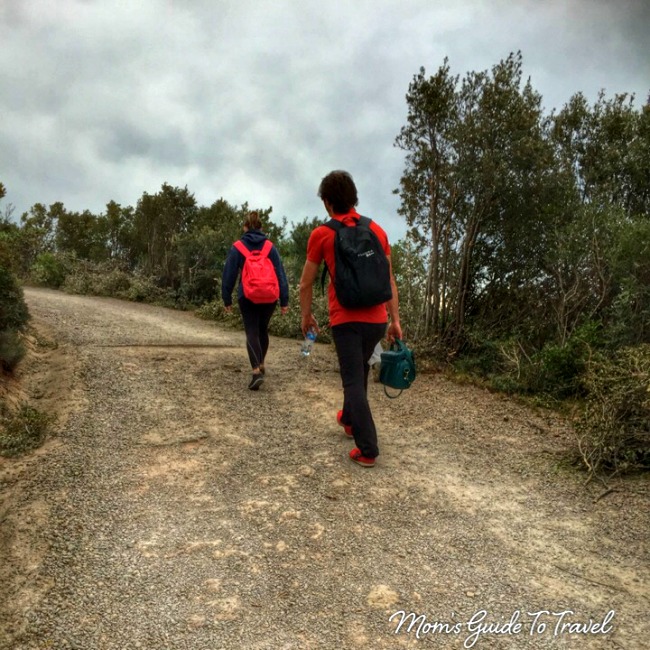 Our guide Carlos worked with the Montserrat guides to make another plan, where even if I climbed up to the church of Sant Joan where we'd have our hot chocolate and coco (a type of sweet bread they make at Montserrat), I wouldn't have to walk the stairs on the way down.
The vision of having hot chocolate on a hilltop underneath a sunrise with a Benedictine monk was my big motivation.
Turns out I had created an entire fantasy of a monk serving me hot chocolate from his small hermitage. There were never any plans of a monk meeting us up there. And the hermitages aren't open unless someone has requested to use them.
I had successfully created this dream by pulling little bits and pieces of our trip together from our itinerary and unsuccessfully translating Catalan conversations between Carlos and the guides.
Needless to say I have an active imagination.
Not only was the monk serving me hot chocolate an illusion, so was the funicular that would bring me back down the mountain. Turns out it's under maintenance until the end of May, when the high season begins.
Darn it!
So the story (and the reality) goes like this: we walked for four hours starting at the crack of dawn (6:05 am). The sun did not rise in a clear blue sky but rather behind clouds.
That picture-perfect moment that we all had envisioned became something else.
We still got to witness the break of dawn on Montserrat from a hill top. And we still captured beautiful pictures – just under different lighting.
I don't know how much we hiked in total but we pushed ourselves relentlessly up steep inclines. Silly woman that I am, I was wearing Michael Kors fashion sneakers. NOT what you want to wear walking hiking up Montserrat.
Had I known I'd be hiking, I would've packed differently. No complaints though – I survived.
The reward of Montserrat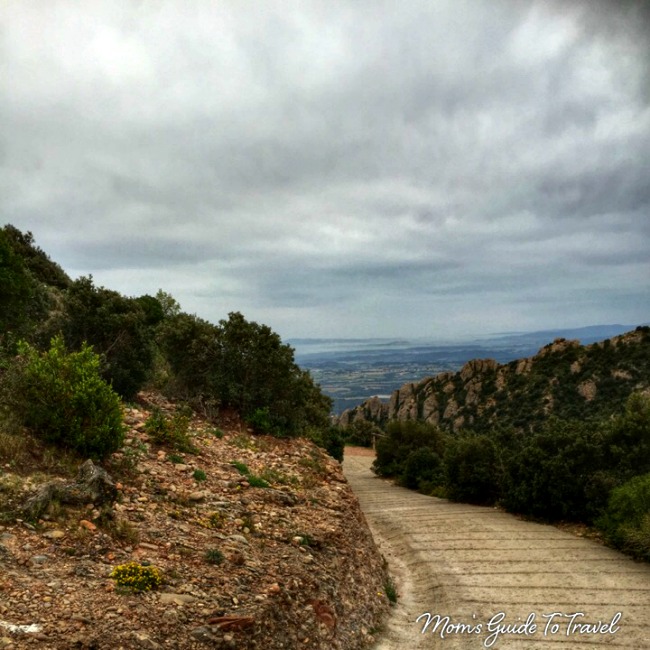 No doubt, the mountain is a beast, however, the views are unlike anything I have ever seen. Pilgrims, hikers and rock climbers flock to Montserrat for their own sense of accomplishment.
Your first time coming to this mountain you have to dig deep and identify your own internal motivation for pushing forward. Honestly, each degree higher that we climbed, I wanted to turn around and walk in the opposite direction.
However, I chose to continue on because there was some unknown energy pushing me forward.
One thing I realized about myself is that I do not like to quit.
Just like life, as much as things hurt, there is a beginning and an end. And even through the discomfort (my knees were screaming!), there is beauty to be found along the way.
The Beauty of Montserrat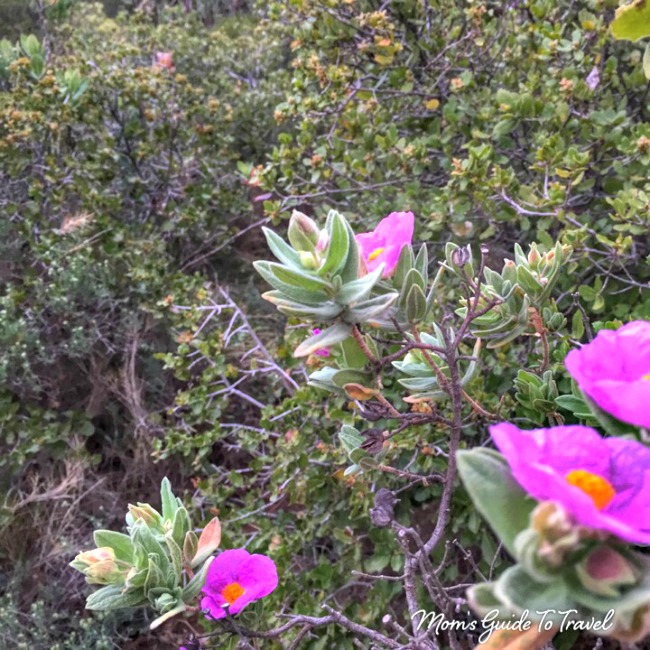 I broke bread with new friends and enjoyed the thickest cup of hot chocolate with absolutely wonderful locals. Our guide Carlos took care of me and carried my camera most of the way.
From a fallen tree limb, he also made a walking stick for me.
I immediately thought of Moses and smiled. I was grateful for my religious upbringing, able to make the analogy.
We saw wild goats roaming on hilltops; spotted hidden caves, erected crosses and silent hermitages on a number of peaks. We traced descending ravines and dried-up streams.
I inhaled the scent of native flowers and touched precious Catalonia oak trees.
Internal peace on the mountain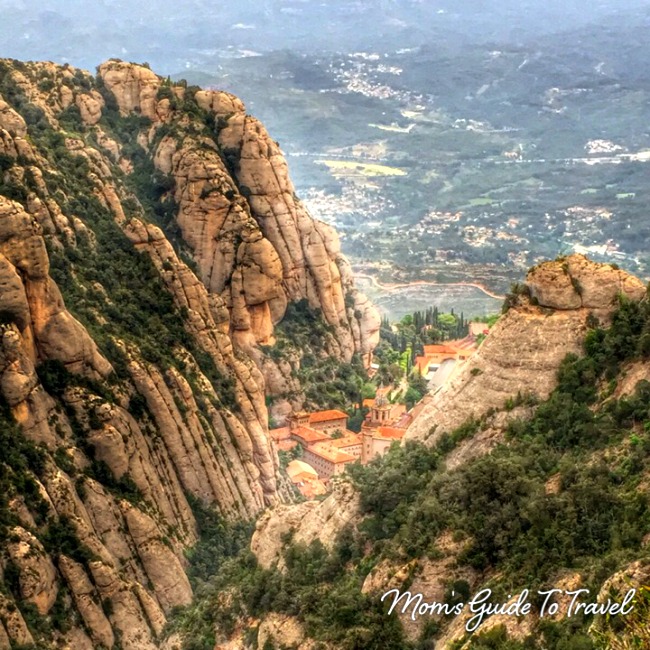 A butterfly landed on my shoulder on my way down from the mountain, a physical struggle of over 850 steps. I took it as a sign of encouragement and counted quietly to ignore the pain.
We started our journey in the wilderness before nature was fully awake. And we finished it just before the heat could derail us.
As I took that 852nd step and looked back up the mountain from where I came, I exhaled a sigh of relief. Carlos and our guide Sílvia congratulated me.
I propped my walking stick up against a statue that sits at that last (or first) step, readying it for the next person.
I thought of all the pilgrims that sought this mountain over the ages for enlightenment and refuge. If they couldn't find what they were looking for here I'm not sure where they'd find it.
Montserrat is indeed a majestic place.
As the monk who spoke to us paraphrased from German writer Johann Goethe,"You won't find your internal peace unless you find your internal Montserrat."
I visited Montserrat as a guest of the Diputació Barcelona to whom I am grateful for the experience. All opinions expressed are my own.