An American princess meets a Genie in a lamp. She's granted three wishes – her mission is to find the prince of her dreams, someone who also loves horses. The Genie graciously takes her on a journey around the world to help the princess. In the end, she finds that her prince is closer than she thinks.
This is an abbreviated summation of the plot of the American Princess, Arabian Nights' current featured production. As we journey with the princess to find her prince, we are introduced to 11 breeds of horses performing a variety of disciplines and dances. We saw a black stallion, an American Shetland pony, a palomino American Saddlebred, and of course, Arabian horses. All the horses are as beautiful as they are talented.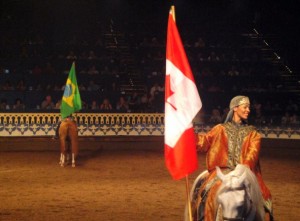 Located in Orlando, around 20 minutes from Kissimmee, Arabian nights is a fun family dinner show that runs for 90 minutes. It's jam-packed with action, stunts, tricks, dancing (by the horses) and music.We particularly enjoyed watching the black stallion and the American Cream as they showed off not only their individually unique beauty but also complex acts with their riders. One word: mesmerizing. The American Cream moves steadily as riders perform various acrobatics on her bare back. At different intervals, one rider jumps through a flaming hoop and one does a back flip as the horse gallops in a circle, carrying them. These were the most hair-raising elements of the show for me.
I was very happy to enjoy the VIP experience provided to my family by Arabian Nights. The upgrade gave us:
early access to the arena
unlimited wine/beer for adults; beverages for kids
a sneak peek into the stables
activities for the kids in the performance pen
photo opp for the kids on the draft horse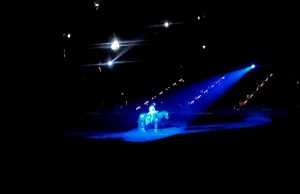 I think the VIP experience is well worth it if you're traveling with your kids. My boys loved running around the performance space with other kids and taking a picture on top of one of the large draft horses. I enjoyed checking out the horses' stable and getting a chance to talk to a few of the performers before dinner and the show. My husband enjoyed the unlimited beer. When I asked my 8 year old what he thought of the show, typical to a rough and tough child, he requested less romance and more fighting next time. I couldn't help but laugh. No wonder why I enjoyed it so much – mommy's a sucker for good choreography and romance.
I was provided complimentary tickets for my family by Arabian Nights. All comments and opinions contained in this post are my own.