Every week I contemplate entering my husband and eight year old into a buffalo-wing eating contest. The amount these two can put away is astonishing. Overall, we're big fans of chicken and as a health-living mom, it's my go-to protein for my diet. When we travel, I'm always on the look out for restaurants that honor the bird as its usually easier for me to find menu items that can accommodate my youngest's gluten-free diet. It was good to know that we had a few options in the area.
The first place we went was Ker's Wing House in Kissimmee. We were looking for something quick and easy after a long day at LEGOLAND. Located in the middle of Kissimmee on Vine Street, Ker's is much like a sports bar, a real guy's kind-of place, similar to a Hooter's. That being said, I didn't take my boys in to dine. Remember, we were looking for something quick and easy, To-Go. Though my husband loved the restaurant, I wouldn't call it kid-friendly. But the wings were okay, especially in a last-minute quick bite-to-eat pinch.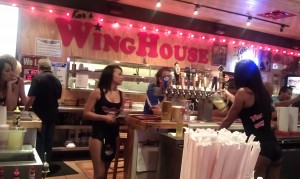 In Downtown Disney, I found better options for family dining. Again, we wanted something relatively quick and informal. My 4 year old's tolerance and patience for restaurant-dining is very low, so we do our best to work around that. As soon as I saw the "World's Greatest Chicken" and "Gluten-free cupcakes" signs, I rushed towards Pollo Campero, located in Downtown Disney, next to the T-Rex family restaurant. (T-Rex would be my first choice if there isn't a long wait and we have plenty of distractions on hand for my youngest.) The market where Pollo Campero is located houses three other eateries as well as tables for dining. The variety was perfect for a family with different diets and tastes.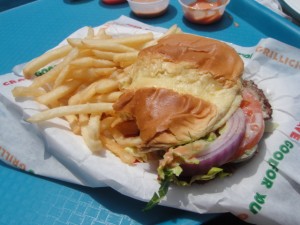 I found grilled chicken for my husband and youngest, fried chicken for my oldest, and a veggie falafel burger for myself. Pollo Campero also offers spanish side items to accompany their variety of chicken entrees. They feature black beans, rice, fries, plantains, empanadas and a few other menu items. The next counter over, at Fresh A-Peel, where I opted for a falafel burger, you have a choice of regular burgers as well as grilled chicken sausage, which I thought was very different for a quick eatery. You also have a choice of hand-tossed salads that they make upon request.
After you've had your fill of the main course, there's an awesome gluten-free bakery a few feet away called Babycakes. They offer cupcakes, donuts, cinnamon rolls, and breads – all gluten free. Unfortunately, we were so stuffed, we didn't purchase a cupcake. And besides that, I had already fixated my mind on a piece of Godiva chocolate at its store, right at the entrance of Downtown Disney. No matter what we eat, for mom, chocolate trumps everything!