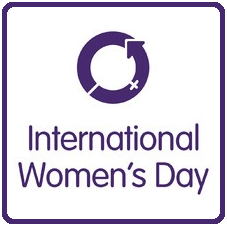 March 8th is International Women's Day. It's a day celebrated around the world. The day has been observed since the early 1900's and today, it is a global day celebrating the economic, political and social achievements of women past, present, and future. It honors the work of the Suffragettes, those early pioneers for women's rights to vote, celebrating women's success, and reminding us of inequities still to be redressed.
A modern progressive world needs equity. That is the theme this year for International Women's Day.
In the past year we've seen too many stories about violence against women and girls around the world. With time, and a lot of noise, that will change. It has to change. To think that in 2013, we're still having conversations about gender equality is a little preposterous but the evolution of man can be slow at times. And that's why woman was created – to help propel that change and kick it in high gear. Think I'm over-exaggerating? Let's take a moment here to reflect on all of the major social movements we've seen in the past 300 years. Women were either the catalyst for many of them or they helped spearhead them right next to a man (e.g. the Underground Railroad, the Civil Rights Movement, the Suffragist movement, etc).
In some countries International Women's Day is equivalent to Mother's Day, where children give small gifts to their mothers and grandmothers. Who knew? It's an official holiday in places like: Afghanistan, Armenia, Azerbaijan, Belarus, Bulgaria, Burkina Faso, Cambodia, China (for women only), Cuba, Georgia, Guinea-Bissau, Eritrea, Kazakhstan, Kyrgyzstan, Laos, Madagascar (for women only), Moldova, Mongolia, Montenegro, Nepal (for women only), Russia, Tajikistan, Turkmenistan, Uganda, Ukraine, Uzbekistan, Vietnam and Zambia. Thousands of events are held throughout the world to inspire women and celebrate achievements. The top 5 countries leading the charge with IWD events are the United Kingdom, who leads the charge, the United States, Australia, Canada, and India. Find out here where there may be an event happening near you.
On the International Women's Day site, you will see over 100 companies and organizations that work for the advancement of women. And just as we salute women making moves, we salute the companies that make it possible for them to do such.
Let's continue to fight for equality for women, equal opportunities and equal pay. Women around the world are doing great things. And so are women right around the corner. What are some other movements that you know about, where women spearheaded the cause?