Several years ago my husband and I bought a pair of His and Hers Movado watches. We paid several hundred dollars for these watches, making a comfortable home in our fine jewelry collection. I'd researched how to purchase expensive jewelry but never thought about looking up insuring it or tips for traveling with jewelry.
Even still, I was very conscientious about wearing my watch, reserving it only for special evenings out, events, or business meetings. On a long weekend trip to Virginia Beach my husband brought along his Movado, unbeknownst to me. After an evening out, we returned to a spotless hotel room, no watch in sight. 
Inconvenience of Theft
We complained to the front desk, spoke with the on-duty manager, filed a police report, and vowed to pursue the matter until the watch was either returned or we received compensation. After days of terse emails, return phone calls, and a few social media threats, my husband was reimbursed for the value of the watch.We achieved our end goal but it took way too much time, hassle and effort.
We both learned from that experience, diligently locking up our jewelry when we travel and leaving the more expensive pieces at home. It would be ideal if I left all of my jewelry at home but a girl's gotta accessorize.  My days vary when I'm traveling and I like to be prepared. And I know other women who love their jewelry can relate. Here are some of my personal tips for traveling with jewelry.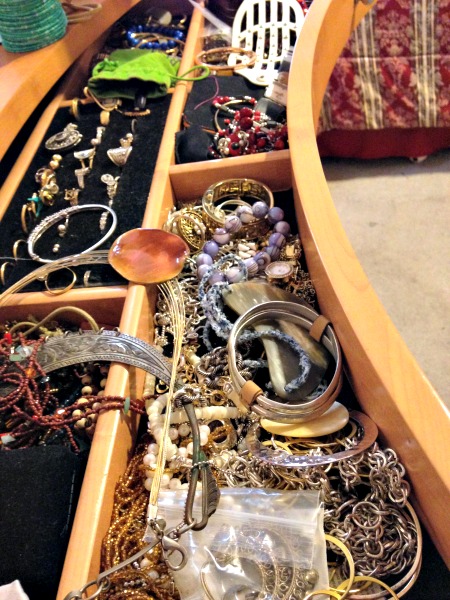 Traveling With Jewelry Tips
Leave the really expensive pieces at home. Costume jewelry has come such a long way, why take the risk?
Carry your jewelry in a drawstring or small accessory bag and keep it in your purse or carry-on. I prefer to keep it in my purse because people are always going in and out of the overhead and I don't want to worry about it should I fall asleep on the plane.
Don't leave any jewelry exposed in the hotel room no matter how luxurious the property. This sounds like a no-brainer but people assume that just because a hotel is upscale that they're safe. Don't make that assumption. I always locate and use the safe immediately. I check it when I get back to my room to make sure everything is still there.
Don't wear jewelry in questionable locales. Understand that in some places, like Brazil for instance, people will rob the earrings out of your ear. A friend of mine relayed a story to me a few weeks ago about a traveler friend of hers who had her nose ring yanked. Being safe is much more important than being fashionable.
To protect your investment, get insurance on your jewelry from a company like Perfect Circle Jewelry Insurance. Other than leaving your valuables at home, this is the best protection you can get. Perfect Circle Jewelry Insurance, a subsidiary of Jewelers Mutual Insurance Company, are established experts in jewelry insurance. A few benefits that I like from Perfect Circle include: worldwide coverage, no deductible is required, and I can take my jewelry to my preferred jeweler should I need to get it fixed.
Jewelry Twitter Party
Want to learn more tips about traveling with jewelry and how you can protect yourself? Join Traveling Moms, myself, and other mom travelers for a Twitter Party on July 21, 2014 from 9-10 pm EST. We'll be discussing more tips and tricks traveling with jewelry and you'll have a chance to win a beautiful piece of jewelry for your collection. Grand prize is a pair of Oval Hoop 14k Yellow EcoGold Earrings valued at $1010.
This is a sponsored post on behalf of Perfect Circle Jewelry Insurance. Though I wish it never happened, our watch theft experience is true and all opinions expressed within are my own.