Flying on the plane with my boys, ages 3 and 7 has gotten easier over the years but I'm still anxious with my 3 year old. It's hard to keep him entertained for long periods of time and Lord knows he can't be bothered to sit still on a cramped flight. On this trip he did amazingly well – even with connecting flights. I'm talking about no fighting, no screaming, no crying, no kicking the seats, and no repeating myself three and four times. I was so proud of him and his older brother, I couldn't help but beam at their exceptional behavior.
So what made the trip so peaceful and manageable? I believe it was a combination of a few things which included ample snacks, individual dvd players (a movie can eat up at least 30 -65 minutes of devoted attention span), and the following toys and activities:
A fully charged and accessorized Nintendo DS for the 7 y.o.
The iPad complete with lots of children's apps including this new one from Ruckus Media Group, Spot the Dot – a fun, entertaining and challenging application that teaches shapes and color recognition. It is wonderfully interactive and the last level was even a small challenge for mommy in finding the designated shape. My 7 year old really enjoyed this app (as he got everything correct) and turned it into a timed-challenge between he and I, to see who could spot the shapes the fastest. My 3 year old is still warming up to it – he's still in love with A Present for Milo.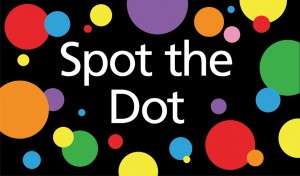 A few action figures (primarily Captain America – the new "it" toy) and cars.
My home-made Gluten Free Putty (i.e. play doh) for the 3 y.o. I'll post a video of how to make your own putty, hopefully this week.
A prickly rubber toy (I have no idea what the formal name for this would be, my 3 y.o. loves it and it makes a great tactile toy for kids on the autism spectrum). Check him out with it here – he was humming, it made him so relaxed: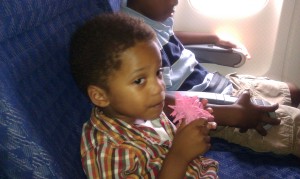 A good old fashioned coloring book with crayons.
What are some toys and activities that have worked well for your kids when you fly with them?
* Photo courtesy of Ruckus Media Group