In the past week I have read a few stories about traveling with kids and the disparity between those who travel with them and those who don't. Of course the latter group is highly against the former being anywhere near them when they're traveling, especially flying . We parents know that most kid-less travelers wish our families would take a kids-only airline somewhere or better yet, stick to the back of the plane with a sound proof partition around us. We get it. They're looking for a little bit of rest, relaxation, and preferably a much-needed nap. No problem. The chair-kicking and caterwauling can get on any sane person's nerves. However, traveling with children is the way of the world.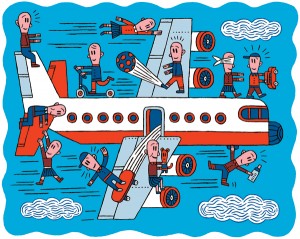 I've been in a couple of situations where I've traveled on a plane with my kids and gotten "the look".  Let me tell ya, as a girl from Brooklyn, people who've offered me "the look" don't realize just how lucky they were that my kids were in earshot. Generally speaking, my children have been excellent on the plane. It's been over a year and a half since we've flown last but my then 5-year old was entertained by his movie and my then 1-year old was being, well, a typical 1-year old. Those "looks" have deserved many a non-kid friendly response on my part. Being the mature, responsible mom that I am, I've spared my children the potential ignorance. 
There's no easy way to fly with kids. There are ways to manage it, but it's not cut and dry. Little do these other passengers realize that parents try their hardest to make the flight comfortable for themselves, their children, and others that they don't even know. How? They try by carefully picking flight times that correspond to naps; packing snacks, toys, books; offering bottles, breasts, IPods, DVD players, gum, and any other distraction that would keep their child happy, entertained, and calm. 
Here's a letter to rude travelers flying without kids: 
There's but so much within parents' control. Yes, we know you want us to just avoid flying with our children altogether, but that's not gonna happen. We don't control the plane leaving on time, or other late passengers, or mechanical failure, or turbulence and storms, or tummy aches, or ear discomfort, or runway delays, or other crying kids that wake ours up, or the airlines' stinginess with cookies, or unavailable gates, or nutcases acting out on planes, or whatever the heck sets our kids off in the first place. We know you think we're all-powerful because we've brought life into this world but there's a limit to our awesomeness and omnipotence. We-are-not-God. Everything is not in our control! 
Listen, you were a bratty kid once yourself. Kids are here to stay – they aren't going anywhere. As long as there's a seat on the flight and we can afford it, we're traveling with our kids. Deal with it. Purchase a first class ticket and some noise reducing headphones and deal. You're too grown to have tantrums about something that YOU have no control over. It's wasted energy. Settle down and take a nap. Take comfort in knowing that most of us are doing our best. Jimmy, Sally, Pedro, and Malik are learning how to travel. So, save us parents "the look". It's counterintuitive and creates unnecessary tension for us all. We're stressed enough as it is. We want to get to our destination as quickly as you do and your un-niceness does little to motivate us to make you more comfortable. It actually makes some of us, especially the ones that have that inner New Yorker, a little antagonistic. 
–          Parents traveling with kids 
One day, many of the kid-less travelers will be parents themselves and they will feel our pain. Thank you and shouts out to those passengers who have been understanding, patient, and helpful on the plane. What goes around comes around. And the circle of life continues.