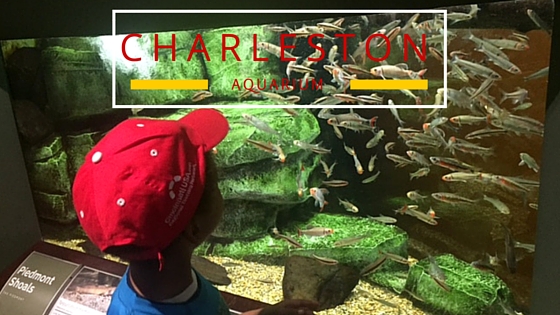 There are more things to do in Charleston SC aquarium besides looking at fish. The attraction is an interactive experience both in and outside of the building.
Young kids aren't the only ones that love it. Every parent and grandparent I spotted in the exhibits shared in the wonderment and excitement with their children.
Things To Do In Charleston Aquarium
Here's a short video I put together of my son and I enjoying the Charleston aquarium. This is just a snippet of the colorful sea creatures you'll see if you visit.
If you're fortunate enough to find street parking outside the private residences near the aquarium, you'll not only save money but you'll also spot a well-kept open field for the kids to play. If you don't find street parking, there's a parking structure on Calhoun street directly in front of the aquarium.
Liberty Square Park is a nice place to sit for a spell before or after your aquarium visit. There's a beautiful water fountain with a sculpture of birds in flight next to a pair of swing benches. It's a peaceful place to sit, swing, and enjoy the Carolina sunshine.
The aquarium experience
As soon as you purchase your tickets be prepared to have your photo taken by an aquarium employee. We did this our first time visiting when my oldest was a toddle but this time I passed. Equipped with my own camera phone, we took photos in multiple picture-worthy locations.
Before entering the aquarium you'll find an interactive water station. You'll probably hear it before you see it.
This is the first station where your kids can get their hands wet. An aquatic handler (totally making up that word here) educates visitors about the stingrays in the pool they stand in front of, instructing brave souls how to properly interact with the sting rays.
This is one of several stations where children can touch something. Another popular stop is the hermit crabs on the top floor and whatever other animal the aquarium puts on deck for a close-up encounter.
If your kids are skilled at kayaking and want to get an even closer encounter to fish, consider taking them on an excursion and try your hand at kayak fishing in Charleston with them.
There's also a 4D IMAX movie experience at the aquarium if you want to add a little extra to your ticket.
Where Is The Aquarium In Charleston SC?
The aquarium is located in downtown Charleston. It has one of the best locations in the city.
Adjacent to the ferry that transfers visitors to Fort Sumter, the aquarium sits on the waters of the Cooper River looking out towards Mt. Pleasant. If the weather is nice, you can spend a significant amount of time on the deck staring out at the water as boats of all sizes sail by.
Best Time To Visit The Charleston Aquarium
I visited family in Charleston for Spring Break and took my youngest to the aquarium. I prepared myself for the worst with the crowds but thankfully, the Southern schools weren't out for break quite yet.
However, we did run into a school field trip. There's always a field trip to an aquarium. Always!
Honestly, if you want to avoid the crowds, go on a weekday during regular school hours. The aquarium website suggests before 11 am or after 2 pm. We visited before 11 and I was happy with that decision. Why?
Full tummies so no need to by expensive aquarium food
the facilities were still clean, a product of little traffic early in the morning
smaller crowd
During the summer and holiday months, forget about it! Just accept that it's going to be crowded. If the aquarium is anything like ours here in Baltimore, I would suggest getting there as soon as the aquarium opens.
How Much Does The Charleston Aquarium Cost?
Admission for adults (13+) is $23.95 for an aquarium ticket only, $29.95 when you add IMAX 4-D experience. Prices for children 3-12 is $17.95, $22.95 with IMAX.
We added IMAX onto our ticket, might as well get the entire experience. It was my youngest's first time and I hadn't been there since my 12 year old was 2. Spending the extra money wasn't a big deal as it's not a place I visit often.
I'll have to say this: I didn't care for the 4D IMAX experience.
We saw Ice Age and although the movie is funny, I don't like water hitting my face in the dark. I also think it was a little jolting for my son. The bubbles and rocking chair were fine but no water in the face. No no.
It's not an inexpensive outing so I suggest you keep costs down by waking up early, eating a nice breakfast, packing snacks and going to the aquarium early to spend at least half the day there. Might as well get your money's worth!
The aquarium is open from 9 am – 4pm with the building closing at 5pm so you have plenty of time.
Members of the military get a discount and you may be able to get a few dollars off with AAA membership. I always ask.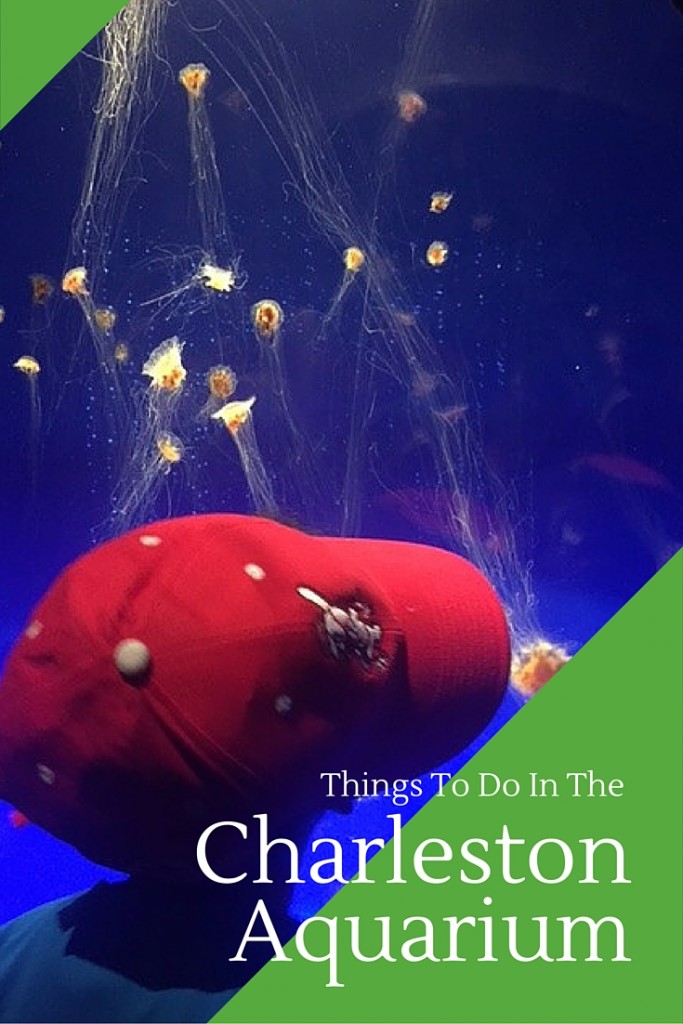 Whatever you decide to do, you'll enjoy the aquarium and its location. I think it's a fun attraction for the entire family to experience with each other while in Charleston.