Every Halloween my 9-year-old goes out with a best friend of his for the night. My girlfriend escorts them through her neighborhood, hanging back a little as they approach door-after-door like big boys. This has been their tradition for the past 4 years. Eventually, she (and I) will give them even more travel independence but today is not the day.
I live 20 minutes away from them so I'm never entirely sure where they're going and I rely on my friend's call or her text when she's on her way to my house to drop my son off. This year we might just simplify the whole process and give Glympse's Track N Treat app a try.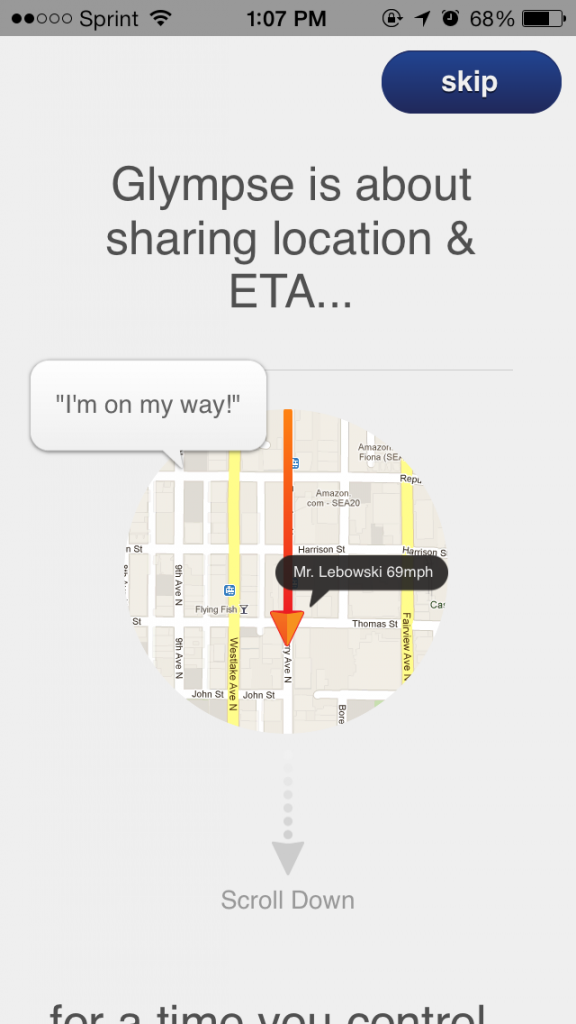 Glympse is a temporary location sharing app that allows invited users to see your location in real time. It's GPS meets Maps meets "Where you at!?"
It's a neat app to track someone's movement but I gotta admit, it's a bit NSA. Guess you can call me Jack Bower. For Halloween, that's exactly what I want.
On October 18th, Glympse unveiled their Track N Treat app for iPhone, specifically to enable parents, guardians, and friends to keep an eye on children this Halloween. Parents can set the app to share a location and send their phone with a child or other adult and watch in real-time as their kids go from house to house. The company also has a main tracking app that CEO Bryan Trussel says "is perfect for travelers and travel scenarios where you want to find your companion or share your location with one person or many, for up to four hours at a time. Often we find people using it on road trips, in amusement parks, or sharing it with others while they travel abroad, so someone always knows that they are safe. We inadvertently share our location on a daily basis — either via phone or text message — and we want to make it simple, easy and interactive, so others can watch where you are while you travel from destination to destination."
My husband and I tested the app out as I was leaving to make a grocery run. After downloading the app, I had to complete four steps before he was able to track my movements.
Step 1: Let people know who I am.
Step 2: Input the number or email address, manually or from my address book of who should be able to track me.
Step 3: Send them an invitation.
Step 4: Enable location-sharing for Trick or Treating in this case. You have to allow Glympse access to your locations. iPhone will ask that question almost immediately after Step 2.
The recipient will get a link that they can click on through their phone or their computer, through a web browser and see where you're at! Now my husband can "see" me and watch all the little detours I make when I say "I'm going to the grocery store." But the good thing is, I can go to Step 4 in the app and pause location sharing if I want.
Criticism: There needs to be a Step 5: Stop Glympse. Other than shutting out of the app or pausing location sharing, it's not intuitive how you stop someone from being able to track you or stop the app from running.
Also, the app is similar to any GPS app as far as draining your battery, so you'll want to shut it down once you're done with your trip.
Overall, the Glympse Track N Treat app is pretty cool, simple to use, and can give parents a little piece of mind on Halloween as their little goblins take on the neighborhood for the night. If you want to get the free app for yourself for your iPhone, you can download it on iTunes. Hope you and your kids have a safe night out.