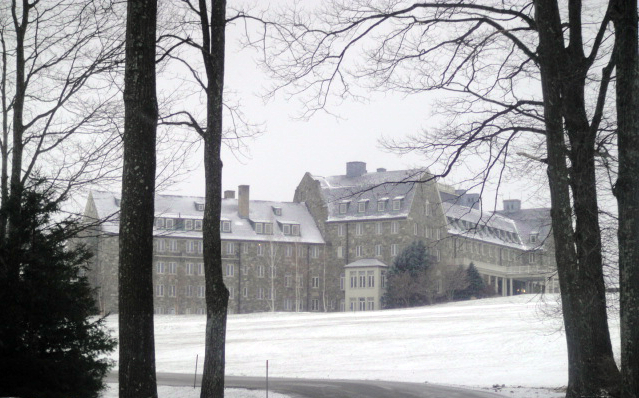 Last month, on our trip to the Pocono Mountains, we stayed at the Skytop Lodge, a family-friendly resort, about a four-hour drive from the Annapolis area. One of the first things that stood out for me about Skytop was that it was an all-inclusive resort. Made sense. With all the activities that the Lodge offers, in addition to meals and afternoon tea, who wants to itemize everything?
Before you frown your nose up at "all-inclusive", take a breath. In this situation it works. Don't think you'll be driving off the resort to catch a burger or go exploring down the road.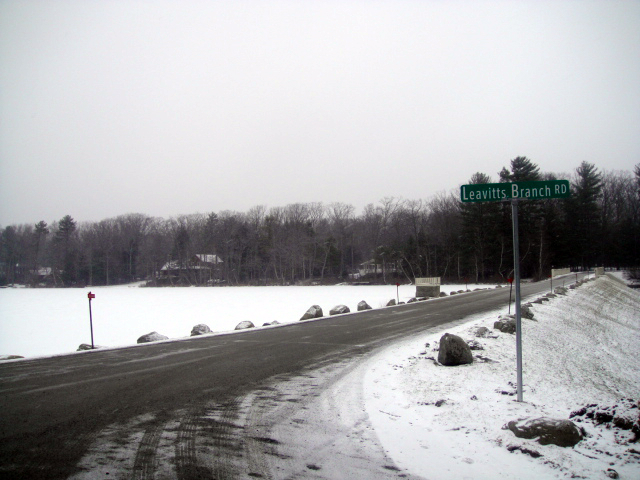 "Down the road" isn't all that convenient in this non-commercialized mountain area, especially when it's snowing. Unfortunately, I experienced this the hard way when I had to leave the resort to get some Tylenol for my youngest, something I try not to forget to pack when I'm traveling with the kids.
Skytop Lodge was built in 1929 and continues many of its family-focused traditions. There are no hats, sneakers, sweats, jeans, or tanks to be worn in the dining room for either lunch or dinner (LOVE this!). And definitely, no cell phones (a resort after my own heart). As for dinner, men have to wear a jacket; women and children are to be dressed appropriately as well.
It's such a pleasure to visit a place that upholds traditions.
On Saturday evenings, Skytop offers live music and dancing followed by the Skytop traditional grand march for the whole family to enjoy. This is something that the resort has been doing for years.
Afternoon tea is served at 4pm, a perfect interlude between a cold day on the grounds and dinner. My boys enjoyed their hot chocolate while I elatedly sipped down my tea.
Glance around the dining room and you will see that all of the tables are reserved with each family's name cards. This practice vaguely reminded me of my days in boarding school where we sat at dark brown wooden tables and chairs in our assigned seats.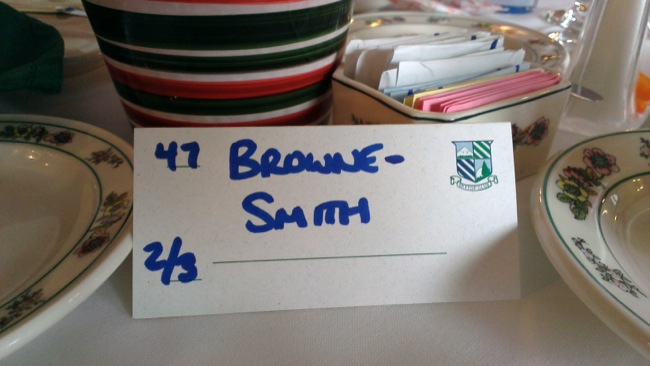 Although assigned seating isn't everyone's cup of tea, I have an appreciation for this kind of tradition.
We had the pleasure of sitting next to a couple who've been vacationing at the Lodge for 30 years. They told us that they started coming when their kids were around our boys' ages.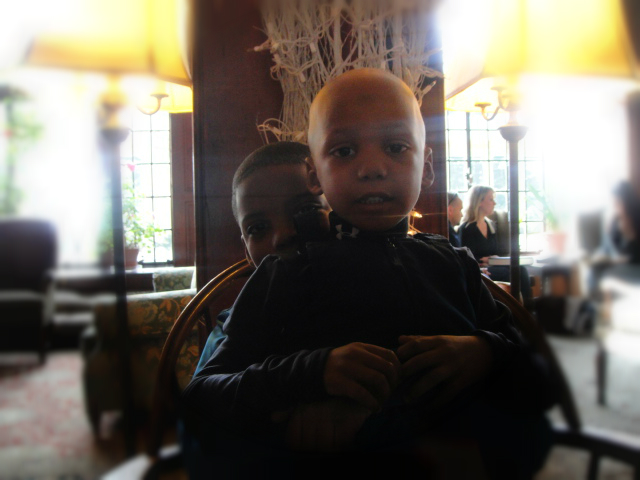 Now empty-nesters, the couple stills love coming up to Skytop for winter getaways and a piece of that tradition. My mind briefly wandered forward to our lives 30 years in the future.
I interrupted the daydream,  not wanting to rush these precious moments with our boys. As Goethe notes, "All we have is today." And today is what I wanted to enjoy with them – those smiles of being on a winter getaway with mommy and daddy.
Speaking of our day, we had a list of activities to enjoy on our weekend stay.
Soon enough I learned that two days was too short to fit in all that Skytop Lodge has to offer. First on our list was to unpack and make our selves at home in our private Streamside Cottage, complete with a fireplace.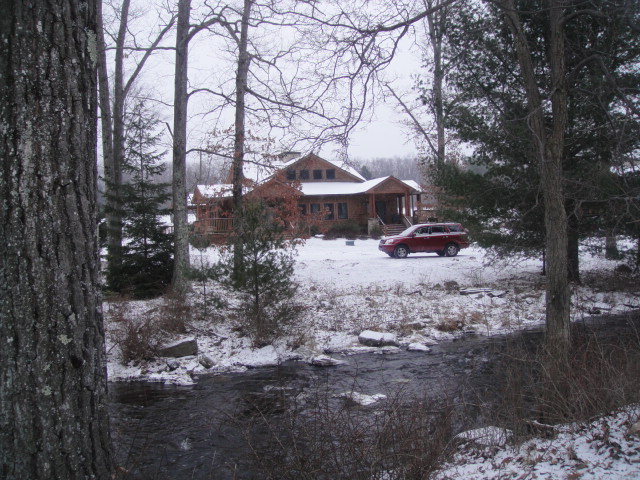 The whole time we were there, I don't think the temperature outside went above 16 degrees. It was C-O-L-D! Luckily, the fireplace heated our cottage within minutes.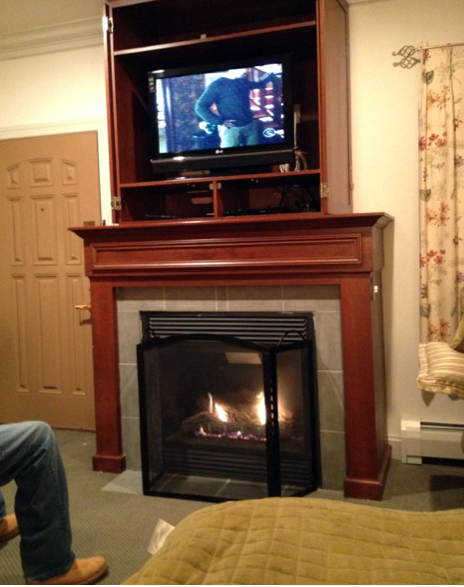 The age of the lodge shows, especially if you prefer more modern amenities in your accommodations – I didn't mind it. Our cottage was very cozy and private. It had a king size bed and sleeper couch but since my kiddos can never get comfortable on sleeper couches (I don't blame them), we all crashed in the bed together. Our boys could make as much noise as they wanted, jump around and bounce off the walls, and I didn't feel like I was disturbing anyone.
In public spaces, like the dining areas, the main hall, and the card room, "nostalgic" comes more to mind than "old."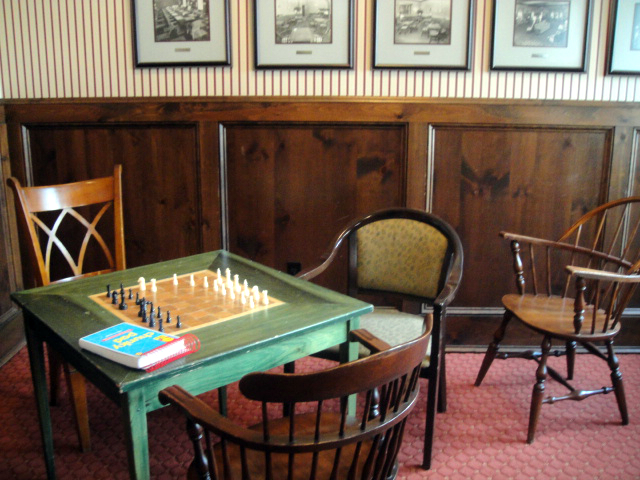 When you see the beauty of the grounds on which Skytop resides, you're less inclined to spend much time inside the room.  I'm no photographer but I was in picture-taking heaven.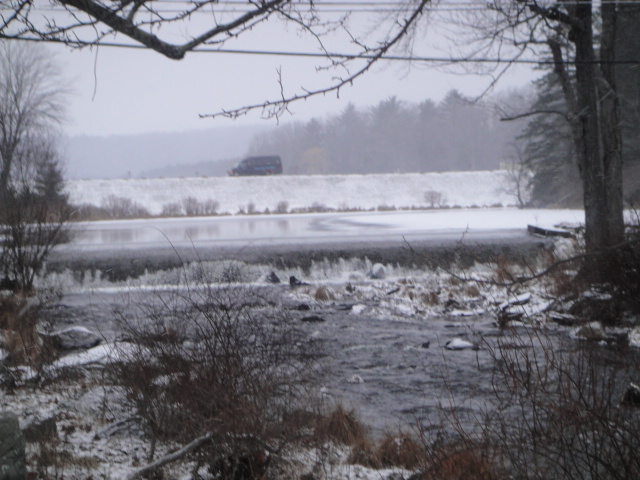 From a frozen lake where tobogganers glided, to a semi-frozen stream or a wooden bridge or the snow-covered golf course, there was so much to see and appreciate on the premises before actually signing up for an activity. It's all so picturesque. Even during the winter, Skytop Lodge offers organized guide-led nature hikes.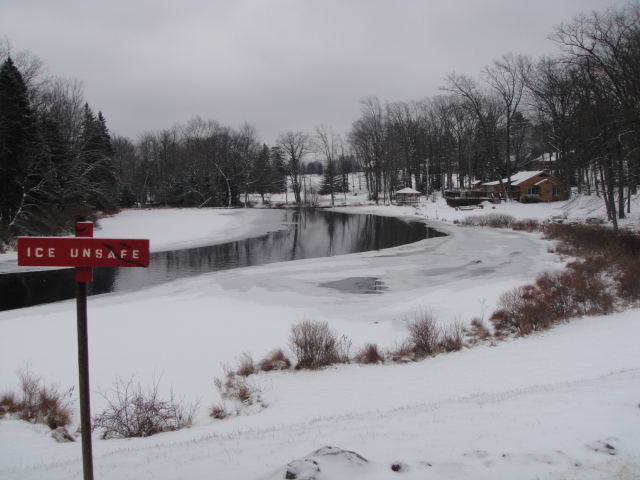 Our agenda started bright and early with breakfast at 8am and dog sledding at 11. After doing some exploring once we finished breakfast, we knew it was time to layer up for our adventure. We were all very excited to check out dog sledding for the first time.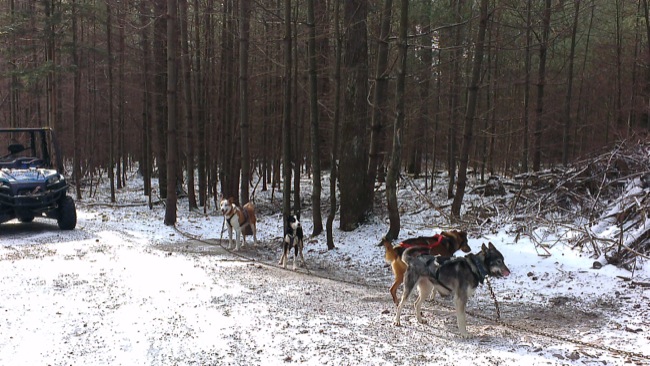 Unfortunately, there wasn't any snow to try it out the traditional way (the dogs need at least 4-5 inches to pull the sleigh safely), so we enjoyed it the way owner Kim Darst trains her Iditarod-hopeful team when there's not much snow on the ground…via 4X4. Yes, you heard right – 4X4. Here's a view from the back of them pulling us:
http://youtu.be/ZYzan4a183o
It was pretty fun, and we were amazed at their strength and speed, although the little one was just about frozen.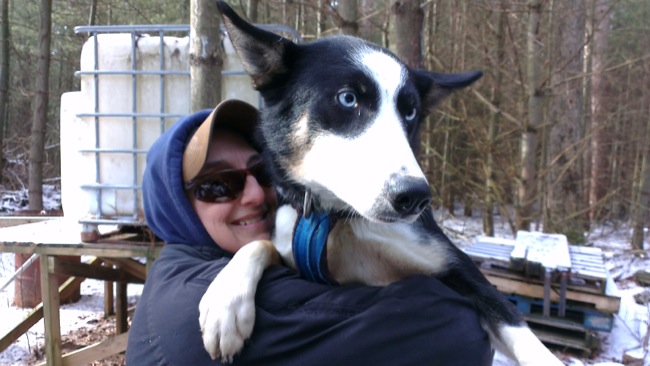 When we left, another family was on their way in to enjoy the activity. It doesn't come cheap though. For a family of 4, the experience is around $200. The family that came in after us was two adults and three kids.
After warming up inside with some food and some heat, my oldest and I reported to the Adventure Center to brush up on our snowboarding with a lesson. Skytop has its own mountain, which was a big plus. Although Camelback Mountain Resort is only 20 minutes away from Skytop, with its 50 year history, snowmaking horsepower, and rep as the biggest snow tubing park in the country, we just couldn't pull ourselves away from Skytop just yet.
Most of the people we saw on the mountain were skiing but we love our snowboarding. There was also a hill adjacent to the ski area for sledding. When it was time to go up the mountain, I understood why I think I saw so many skiiers. Instead of a chairlift, Skytop has one of those ski tow systems, easy enough for skiers but not so much for snowboarders. Let's just say, my son and I had issues getting the hang of it! This was another one of those "nostalgic" characteristics of Skytop.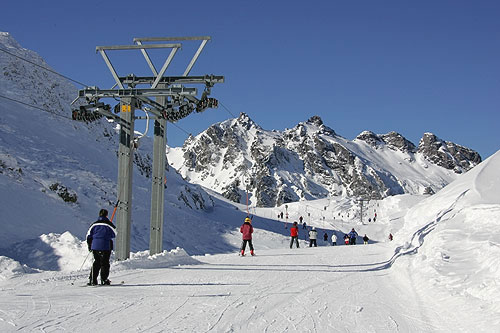 After a few hours on the mountain, we were zonked. I had all intentions of going tobogganing – Skytop is one of the few places were you'll find this activity – but my little one just couldn't bear the cold and he got sick so we had to cut our getaway short (although I did check out the Skyview Spa before we left).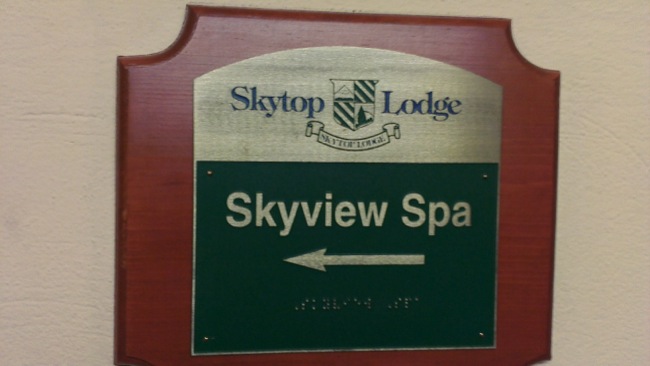 The resort also offers ice skating, a treetop adventure course – complete with a zip line, cross country skiing, and snow shoeing.
Winter at Skytop Lodge, or any other resort in the Pocono Mountains, is all about the outdoors and having fun with the family.
My stay at Skytop Lodge and activities in the Pocono Mountains were courtesy of the Pocono Mountains Visitors Bureau.