On average, I spend 260 minutes a day in my car, dropping my boys off to school and therapy. Add running errands to the mix, and I'm easily spending over 5 hours a day behind a wheel. Some of that time is spent sitting and waiting. However, 67% of it is spent actually driving. This is a huge chunk of my day. As an entrepreneur, avid texter, and social media addict, I'll admit that I've picked up some bad habits along the way. Thank goodness, the marketers at Parrot found me. Their Parrot Minikit+ hands-free kit is literally saving my life.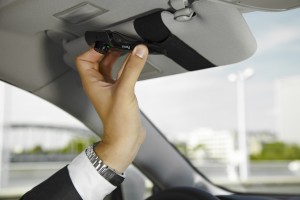 Let me admit this: I love gadgets. So, in the rare case that I agree to review one, the geek in me gets super excited. My first thought when I read the users manual for the Parrot Minikit+ was that this is something that I've been mentally asking for. I know that I have poor behind-the-wheel habits, such as talking on my cell while driving, texting, scanning emails, and even tweeting. There you have it, all my dirty sins on the table. But daily, I've been working on changing that behavior and I've been improving.
The Parrot Minikit+ does everything for me. It's a Bluetooth device that connects and syncs with my cell phone. It has the capability to connect two phones simultaneously but I'm not sure that I want to share this particular toy with my husband. Here are all the things I can do with the Parrot Minikit+:
I can use voice recognition to call a contact
Manage all incoming calls by voice using standard commands
Listen to my Android's driving directions
Through a separate TextFriendly fee-based service, I can listen to/compose/delete/reply/forward emails
Compose/Read text messages
Update my Twitter and Facebook statuses
….all by VOICE!
Short and sweet, the technology is awesome! The device attaches to my visor and I talk normally into it to activate any of the commands. It's user-friendly and once you sync your phone book you won't have to worry about any annoying ear piece or painful crook-in-the-neck from cradling your phone while you drive. If you opt in for the TextFriendly service, you've raised the ante to hands-free communications about 10 notches.
My husband (the same person I don't want to share my new toy with), has been my guinea pig all week as I've tested out the Parrot Minikit+. I've sent him emails, text messages, and dialed him, all by voice command. Surprisingly, there were no errors. The automated voice that comes over the Parrot ,when you activate it to make a call, asks in a refined English accent, "Who do you want to call?" Sometimes, the system gets it wrong with names that aren't as phonetically simple as Charles, Tracey, Kala, and Mommy – the people that I call the most. So, I either have to figure out how the system might read the name in my phone book and pronounce it that way or quickly find it directly in my phone, press "Call", and proceed using the device. When the Bluetooth of your phone is connected, the call automatically transfers to the device.
There's so much more I can say about the Parrot MiniKit+ but the one thing I want to highlight is that this is the perfect device for us moms on the go, whether we're chauffeuring our children for hours on end or conducting business on the road. This is one of those gadgets, we shouldn't live without. And guess what? I'm giving one away! Whoo hoo! Follow the Rafflecopter instructions below and you'll have a chance to win a Parrot MiniKit+ for yourself. This is worth saying again – it's pretty awesome!
THIS CONTEST HAS ENDED – CONTEST WIDGET REMOVED
* I received a Parrot Minikit+ to review but was not compensated for this post. All opinions expressed here within are my own.
[Photos courtesy of Parrot Inc.]