One of the great things that I've found about social media is that it has made the world even smaller by connecting us to people of like minds that we wouldn't ordinarily meet. It's been great to meet so many exciting moms that share the passion of travel like I do, whether it be travel in the U.S. or travel abroad. Our shared love for family travel and experiences exploring the world with our kids is what brings us together.  This week, I'm very excited to introduce you to our next Mom Traveler, Julie Henning (@RoadTripsFeedMe). Julie is an Editor at Road Trips for Families and Madison Mamas, for her Wisconsin adventures. Come, let's learn more about Julie and her journeys.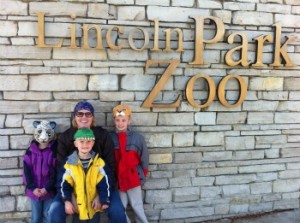 Julie has three kids, ages 5, 6, and 8.
WHERE JULIE LIVES
Madison, Wisconsin has been our home since 2009.
THINGS FOR FAMILIES TO DO THERE
I've compiled hundreds of ideas for family-friendly fun in my two iPhone apps: Madison Loves Kids and Milwaukee Loves Kids. From a day trip to the University of Wisconsin, to a short drive to the "big city," our family goes on an adventure any chance we can get. Two years ago we learned about a high tech treasure hunt called geocaching where we use a GPS to find hidden containers (called "caches").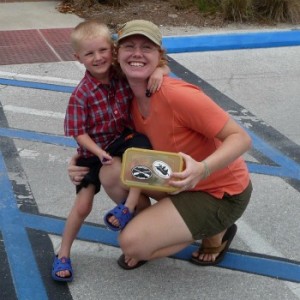 WHERE TO STAY
Madison has a plethora of hotels; for a first-time visit try and stay near State Street or the University of Wisconsin-Madison campus (rooms fill up quickly during football season). A few weekends ago we had a lovely time in Fond du Lac, a community located on the banks of Lake Winnebago, Wisconsin's largest inland lake.
TRAVEL STARTS
My first solo plane trip was at the age of five, flying from Grand Rapids, Michigan to Orlando, Florida for a visit with my snowbird grandparents.
WHAT PARENTS SHOULD REMEMBER WHEN TRAVELING WITH KIDS
Learning this lesson the hard way, we've learned to lower our expectations on the number of things one itinerary can hold. We're still rolling with the punches (pink eye in Kentucky) and letting fate intervene (why drag everyone back to the hotel pool if they're having a blast throwing rocks into a lake). We also keep an emergency kit in our trunk, including rechargeable battery with jumper cables.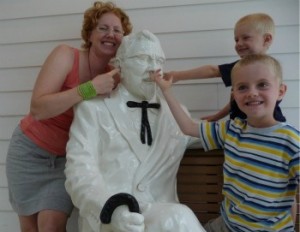 BIGGEST CHALLENGE TRAVELING WITH KIDS
Traveling without another adult is hard. Without adult conversation or a general concept that mom's need privacy in the bathroom, solo travel can be exhausting if you try and accomplish too much. Next summer we're leaving a Frisbee and soccer ball in the trunk – moms need to burn off steam too.
PLACES YOU'VE LIVED AND TRAVELED
I lived in Longmont, Colorado while working and going to grad school. Three words: white water rafting!
FAVORITE DESTINATION
Milwaukee. The best-kept urban secret in all of the Midwest, Milwaukee has culture, festivals, and food like you wouldn't believe.
MOST SPECTACULAR RESORT YOU'VE STAYED IN
No lie, our room at the Wild Dunes Resort near Charleston, South Carolina was extracted straight from a Laura Ashley catalog. The Resort at Squaw Creek in Tahoe was equally amazing.
NEXT STOP
We're heading to Austin, Texas for spring break the first week of April. On our loose itinerary is Barton Springs, Enchanted Rock, the Ladybird Johnson Wildflower Center at the University of Texas. One night we plan to watch the famous Congress Avenue Bridge bats on their nightly feeding.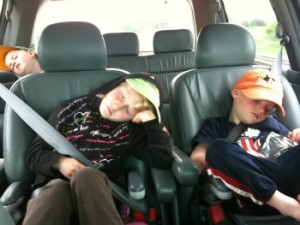 Our dream is to travel to one new country/year. With kids' out of diapers and not taking naps—it's time to earn a few stamps. That said, even traveling to different regions of the country, we feel fortunate to have so many experiences and opportunities.