A family trip to the Orlando and Kissimmee area would be remiss without a visit to the area's local theme parks and attractions. Traveling with special needs adds another dimension to a family's theme park adventures. If you have a child with autism, you're not quite sure what to expect from them and sometimes all the research and prep in the world inevitably goes to the dogs. However, one of the first things you should do when you arrive at places like Disney World and LegoLand is report to guest services. Let them know your child's individual need and they'll give you a valuable piece of paper – the Guest Assistance Card. Disney World's pass looks like this: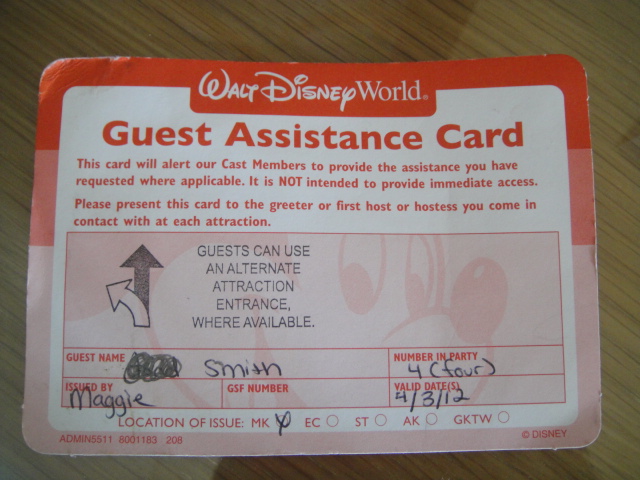 It's good for up to 5 family members, including the guest with special needs. Although the pass doesn't eliminate your wait time at rides, it will help to shorten it significantly. This comes in handy during peak seasons like Spring Break, when the average wait time for rides runs about 90 minutes. For shows, attendants will escort you through a separate entrance and listen to your seating needs (i.e. the front, close to the exit).
LegoLand will give you a pass like the one below when you report to Guest Relations after you enter the park: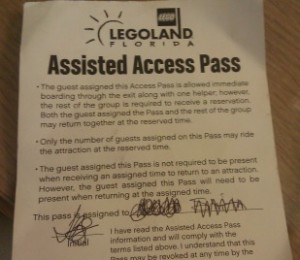 The child/person needing assistance and one other person will be provided immediate access to rides. If the whole family wants to ride together, you will be assigned a time to get on the ride together. You go to the Exit for the ride (all except The Dragon) and the attendant at the attraction will mark the back of your pass – it's kind of like an appointment. When it's time to get on, you report back to the Exit and they let you on the ride. The back of the pass looks like this: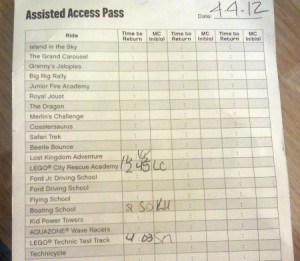 Some attendants adhere to the rule, some don't worry about it and let you on pretty immediately. Either way, I think the system works well. Of course, I prefer immediate access (who doesn't?) – I always feel like I'm racing against the clock when we're having good moments and I want to capitalize on that precious time. Yet, even with having to come back at a scheduled time, rides are so close at LegoLand that you can walk to the next attraction/activity or grab a snack. Before you know it, your appointment has arrived.
I'm very grateful to LegoLand and Disney World for being so accommodating and helping in a big way to make our visit pleasant. We didn't wait longer than 15 minutes for any one ride during our visit to Disney. At LegoLand,  all except once or twice, we enjoyed immediate access. Our day moved along very smoothly with only 1 brief melt down. Hooray! Families dealing with special needs, whether physical or developmental, appreciate any help they can get.