Our drive from Baltimore to Farmington, Pennsylvania was a scenic and peaceful one. The three hours seemed to fly by as we cruised through dynamite-blown passageways of the Allegheny mountains into the Laurel Highlands. As our car's engine revved into the next gear to make the steep climb, I couldn't help but wonder how the early settlers made it through elevations of wilderness on their trek westward. Once we arrive at Nemacolin Woodland Resort, we figure out our own "why".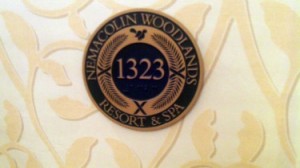 Pulling up to the Chateau, one of six accommodation options at Nemacolin, we were immediately impressed. Valet were ready and waiting with carts and a smile. The Chateau's lobby reminded me of the Ritz in London, though it was inspired by the one in Paris. Regardless of the country, it is grand – from the chandeliers to the artwork to the furnishings. I couldn't wait to see what my room looked like.
Needless to say, I wasn't disappointed. Our bell man showed us around the suite, explaining how to use everything. He wasn't explicit in his explanation of how the mini bar, jar of cashews and gummy bears worked – just saying "Here are your snacks, refreshments, and cordials, and here is the key." Later on my oldest had his eyes fixated on the gummy bears, one arm length short of opening it until my husband checked a price list to see $9 price tag staring back. Disappointed, my eight-year old got a lesson in math and comparative pricing that day.
Our room was spacious – the crystal chandelier and coffered ceiling adding even more depth to the space.  Our family of four never felt cramped in the room. My four year old had enough square footage to build up speed, running from one end to the next, while my oldest had ample hiding spaces for his Lego men.
All in all, aside from a fridge to store things, the room had everything we needed.  What excited me most was the bathroom's double vanity! A small detail but it's always a plus when I get a little space to myself. 🙂