This year marks the 100th anniversary of the gift of trees from Tokyo to Washington, D.C. The National Cherry Blossom Festival is underway in the nation's capitol. Events began a couple of days ago and run for five weeks until April 27th.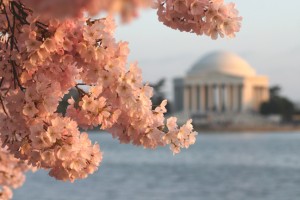 Sponsored by Safeway, the festival features Family Days, a collection of family-friendly events to encourage participation and education about cherry blossoms and Japanese culture. Family Days are free events featuring hands-on activities and performances by groups from around the globe. Activities include:
Creating shoji screens and pop-up architecture at the National Building Museum
Making cherry blossom popcorn trees with Safeway
Constructing wood-clothespin kokeshi doll ornaments with Howard University
Dressing up in traditional Japanese clothing and writing postcards with the National Children's Museum
Making a cherry blossom pin out of kimono cloth with the Textile Museum
Listening to an interactive lesson on climate change, renewable energy, and energy conservation from Sharp Electronics Corporation's Solar Academy program
Decoding blossoms with the Spy Museum
Two other events that are signatures of the festival (and ones you should make an effort to check out) include the famed National Cherry Blossom Festival Parade and the Sakura-Matsuri Japanese Street Festival, which both take place on April 14th. Art and cultural exhibits, as well as musical performances will run throughout the five weeks, providing an informative peak into different aspects of Japanese culture, whilst promoting community spirit.
Photos courtesy of National Cherry Blossom Festival.org.